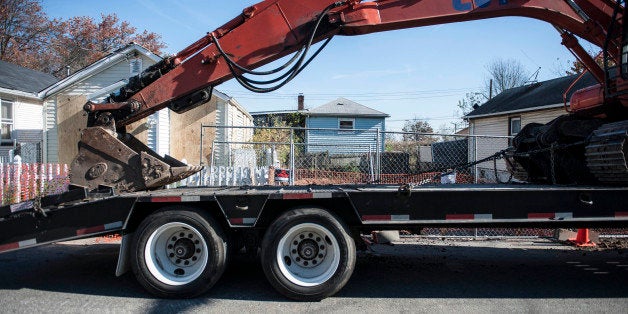 This summer on the south shore of Long Island, here in Long Beach, New York, Superstorm Sandy has finally begun to recede in our memory. The boardwalk is open and better than ever, new dune grass is growing and the ocean breezes are as intoxicating as ever. Still, this and other shore communities continue to recover. Writing in this week's Long Beach Herald, Alexandra Spychalsky reminds us of the storm's past and present impact:
More than 500 days after being displaced by Hurricane Sandy, which flooded her one-story bungalow in the West End, Sam Gallo finally came home on May 30, having given entirely new meaning to the term "red tape." ...Gallo's home was one of 865 in Long Beach that were deemed by the Federal Emergency Management Agency to be substantially damaged, meaning that the cost of repairs would be more than half the appraised value. Owners of those homes were told to either elevate them or rebuild them. Nearly 20 months after Sandy devastated Long Beach, recovery, for many, is not yet a thing of the past. City officials estimate that fewer than 5 percent of residents remain displaced -- roughly 1,750 people. But while some are on the brink of returning home, progress for others has stagnated while they wait for grant programs to distribute funds.
Ms. Gallo and her wife Desiree struggled with delays in federal and New York State rebuilding programs and ended up using their retirement funds to rebuild their home. Spychalsky's excellent piece provides a vivid reminder of our government's wholly inadequate capacity to help rebuild and reconstruct communities after natural disasters.
Some analysts and observers think we should abandon the shore, or that insurance rates should be raised dramatically to discourage development in areas of great vulnerability. I think their image of the shore must be based on the Hamptons or Malibu, because once you get past the ocean front, most of my neighbors in Long Beach are far from wealthy. Here on the West End of town, most of the homes are converted summer bungalows that were renovated over generations and represent decades of sweat equity. Moreover, it is not clear to me where one can live without being vulnerable to the growing impacts of storms and other natural disasters. We have overflowing rivers in the Midwest, droughts and brush fires in the west, as well as the possibility of damage from earthquakes, tornadoes and even terrorism.
The reason we have government is to provide security and protect us from harm. We give up some measure of freedom and treasure to obtain this security. In the aftermath of Sandy I proposed that the federal government create a national tax that would provide revenues for a disaster reconstruction trust fund. These funds would be paid out to individuals and communities that suffered from disasters. The criteria for receiving funds and the level of funding available would be clear and set in advance. There would be no political and bureaucratic processes prior to funding. The trust fund would be paid into by all Americans and would include enough money to ensure that it never ran out. In this way all of us share equally in the payment and all of us have the security of knowing that our homes are fully insured.
The idea that people should be discouraged from living by the shore is built on a set of assumptions about the market and mobility that are ill-informed. Raising insurance rates by the shore would not discourage the wealthy from maintaining shorefront mansions, but it would destroy the market for the more modest middle class homes a block or two inland. All that sweat equity invested in those homes would disappear.
Then there is the fact that most cities are located near water. New York City has over 600 miles of shoreline. Boston, Los Angeles, Chicago, San Francisco, New Orleans, Miami, and nearly every major American city is located near a body of water. Where would everyone go? And as a society, is it really more cost-effective to abandon the shorefront and the billions of dollars we've invested in infrastructure? Surely, a more resilient, better-protected community is a better idea than a ghost town. Moreover, what if you moved from the shore only to see your home flooded by a swollen stream? Or destroyed by a tornado or earthquake?
Even without the destabilizing impact of climate change, a nation with more people and more areas settled is likely to place more people in the pathway of natural destruction. Even without more frequent and more intense storms, more and more of us will experience these disasters. Additionally, modern life has created greater dependence on collective infrastructure for energy, water, transportation and sanitation services. We need to recognize our greater interdependency and vulnerability and set aside more resources to respond to emergencies and rebuild after they are over.
I know this is the era of limited government and no new taxes, but we need to acknowledge the need to do better on post-disaster reconstruction. We need a new tax and a more effective government-managed response. Rebuilding a home doesn't cost less if you wait two years. You just create a more miserable experience for the displaced family.
My guess is that it will take a few more years of climate-driven destruction to build enough of a political coalition to place a community reconstruction trust fund on the national political agenda. It would also require a functioning federal government, and an end to the idea that government is a beast to be starved.
While government is the only institution capable of leading reconstruction, there are deep management problems in current government efforts to rebuild communities and homes after disasters. Due to the political nature of the funding process, HUD and FEMA find themselves in a boom and bust cycle of funding, and resort to overuse of contractors who are not prepared to administer the assistance programs they are being paid to implement. Government managers do a very poor job of managing these contractors and results are fairly predictable. Writing in the Los Angeles Times recently, Joseph Tanfani reported that after Sandy:
New Jersey officials ended up hiring some of the same companies that stumbled in Louisiana and Texas [after Hurricane Katrina]. Today, thousands of frustrated homeowners are still waiting for assistance, and hundreds of millions of dollars in aid are tied up in a system that no one seems able to unravel... Congress funneled billions more directly to cities and states for longer-term assistance. The Department of Housing and Urban Development has issued $41.7 billion in disaster-related block grants since Katrina hit in 2005. That compares with $1.7 billion in the previous 13 years, HUD records show. One result is that local and state governments frequently rely on private cleanup and consultant companies to handle the gushers of cash for them. Critics say those contractors often operate with little government oversight or accountability.
Writing in the New York Times, Liz Robbins depicts the long recovery within New York City and focused attention on the role of non-profits in avoiding government red tape and providing direct assistance to those in need. According to Robbins:
As the second summer since Hurricane Sandy begins, the storm seems like the distant past to many New Yorkers, its most public damage largely erased. But 20 months later, in pockets of the city, there are communities, including several in Brooklyn, where homes still have tarps on their roofs, plywood over their windows and gaping floorboards inside.... But while devastated New Yorkers have been waiting for help, faith-based, community and other nongovernmental organizations have stepped into the void left by a stalled city government to rebuild people's homes and lives. They work with disaster case managers to funnel aid to those who still need it.
All of this is evidence of our ad hoc, improvisational response to reconstruction. Government, private firms and nonprofits all have a role to play, but it should be a role within a well-managed, carefully organized pre-positioned response. We have such a system for emergency response, but not for reconstruction. Nonprofit and community based organizations should be integrated into a government managed reconstruction program.
In our book, The Responsible Contract Manager, Bill Eimicke and I discuss the need for government managers to become more skilled at contract management. Successful program implementation requires skills at managing networks of organizations cutting across levels of government as well as the public and private sectors. We identify a number of tools that public managers can use to secure excellent contractors and partners and manage their work. Many government agencies lack the capacity to effectively manage contractors, and some even think that once they let the contract, they can turn a key, start up the machine and walk away.
The lack of certainty about funding and the emergency nature of disaster reconstruction make it difficult for government to manage these contractors. No one knows how long the contract will be funded and so the top talent at a firm is not motivated to work on these contracts. The government itself lacks the capacity to effectively manage networks of large firms, state and local governments and nonprofits. A more stable and predictable funding stream and set of rules for reconstruction would enable government and contractors to learn the work and learn how to work together. It would also help if our elected leaders learned the difference between policy pronouncement at press conferences and program outcomes in the real world.
Calling all HuffPost superfans!
Sign up for membership to become a founding member and help shape HuffPost's next chapter