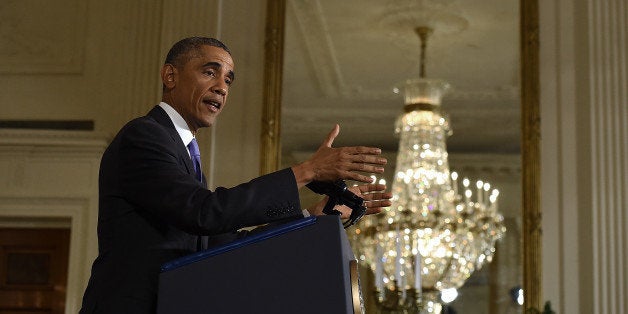 If President Obama loses the Senate on November 4, it will not be so much a mar on his presidential legacy as it will be a continuation of a recent two-term presidential tradition. Our last four full two-term presidents, Eisenhower to Bush II, have concluded their final two years in office without the support of either house of Congress. Seemingly, the populous becomes weary of any president regardless of party, if he is too long on our television and computer screens. We vote in the midterms against them, no matter how unpopular the opposing party in congress may be. This begs the question, "Is eight years too long for a presidency?"
Second-Term Midterm Results of Recent Presidents
Total legislature loss is a recent phenomenon; although, Cleveland and Grant also lost both houses during their second term mid-term elections. This is the midterm results of every two-term president since Eisenhower:
Dwight D. Eisenhower
Republican
1959 midterms
Senators lost: 13
US Reps lost: 48
Result: Arguably, the worst second-term midterm election result for a recent president. The slim Democratic majority in both houses enlarged to an overwhelming majority. The Democrats would maintain this lead until the 1981 midterms, 22 years later.
Ronald Reagan
Republican
1987 midterms
Senators lost: 8
US Reps lost: 5
Result: Reagan lost the senate and increased his losses in the US House.
Bill Clinton
Democrat
1999 midterms
Senators lost: 0
US Reps lost: 3
Result: Clinton lucked out with the best second-term midterm election result. He already had both houses against him going into the midterms.
George W. Bush
Republican
2007 midterms
Senators lost: 6
US Reps lost: 33
Result: Bush lost both houses of Congresses. It should be noted that officially the Senate was 49-49 after the elections; however, the two independent senators in the new congress would vote with the Democrats.
Barack Obama
Democrat
2014 midterms
Senator +/- range: 5 to 8 losses
US Reps +/- range: 6 to 9 losses
Possible result: Even with loses in the Senate, if Obama can manage to lose only five senators, then he will still maintain a lead in the Senate, as Joe Biden will be the tie-breaking vote in the event of a 50-50 vote.
It should also be noted that these loses in the midterms were never undone in the elections two years later; although, Clinton was able to get a tie in the senate. If all trends continue, then the 2016 midterm elections will probably end with Republican leads in both houses.
What Happens In Those Final Two Years?
The past presidents that have faced an opposing Congress during their last two years have generally accomplished a lot less than they did at any other point in their careers. Despite having a wall of obstruction against these presidents, some accomplishments were made during their administrations. Here are the presidential highlights of those two years by president:

Eisenhower (1959-1961)
• Endorsed the 23rd Amendment, allowing Washington DC to vote in presidential elections
• Recognized Fidel Castro's government in Cuba
• Signed the Civil Rights Act of 1960
Reagan (1987-1989)
• Iran-Contra Affair
• Senate rejects Bork nomination to the Supreme Court
• Homeless Assistance Act
• Balanced Budget Act
• Civil Rights Restoration Act, over his veto
• INF Treaty
Clinton (1999-2001)
• Gramm-Leach-Bliley Act, which repealed part of the Glass-Steagall Act
• NATO bombing of Yugoslavia
• Impeachment trial
• Children's Health Act
• CTBT Treaty rejected
• 140 pardons
Bush II (2007-2009)
• Vetoed stem cell research
• 4 vetoes overridden by congress
• Continuation of the wars in Iraq and Afghanistan
• Economic Stimulus Act
• Energy Independence Act
It should also be noted that candidates distanced themselves from Clinton or Bush as their terms were ending. Some argue that Al Gore's loss was due in part to distancing himself from Bill Clinton.
What Might Happen in Obama's Last Two Years?
Based off our historical examples, it seems like much of President Obama's domestic efforts will come to a halt or will be severely compromised when they are passed. So what can he do?
For one, all four previous presidents in this study had a fair amount of power in foreign affairs. Therefore, it seems likely that Obama will try to make up for other weaknesses by focusing on and trying to earn greater success in Syria, Iraq and the surrounding area.
Like Eisenhower, he may strive for moral victories. Like Reagan, he could have a judicial appointment rejected. Like Clinton, he could make a large number of pardons. Like Bush II, he could increase the times he vetoes legislation, even if the vetoes are overridden.
However, he could break new ground, possibly winning congress back before leaving office.
While the term of office is unlikely to change, it is interesting to ponder if a change would make any difference. The Confederacy had a six-year term with no reelection. Mexico has the same rule, but they are considering changing their term limit. The EU's president of the European Council has a two-and-a-half-year term that is renewable one time.
In the past, the founding fathers had differing views on both the years of service and term limits. Some, including Thomas Jefferson, believed that more than one term was too much (Jefferson would later change his mind when he was reelected.) Since then, there have been many ideas passed along either by scholars or in the news, which have varied in practicality and originality.
Calling all HuffPost superfans!
Sign up for membership to become a founding member and help shape HuffPost's next chapter