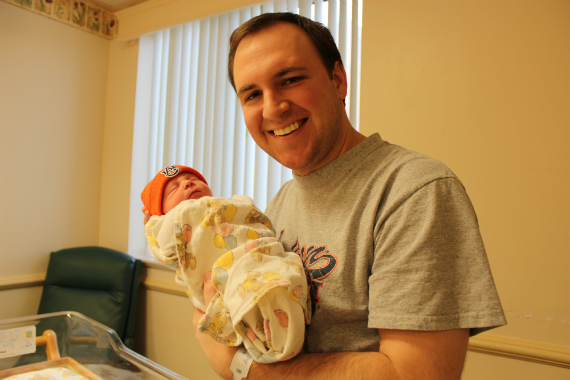 Creating a birth plan is standard practice for expectant mothers, and rightly so. In a stressful situation, you don't want to miss a chance to get an epidural or kick out an overbearing in-law.
But shouldn't expectant fathers have a birth plan too? A wise father would say he doesn't need a plan. He only needs to say yes to whatever his wife wants and needs.
But privately, an expectant father knows he desperately needs a thorough plan to avoid blacking out from the pressure to act like everything is completely normal and going great. Here are 10 suggestions for such a secret birth plan for dads:
Make sure your plan isn't ever confused with your wife's plan. The last thing you want to do during the frenzy of a delivery is grab your wife's birth plan instead of your own and mistakenly give someone permission to use forceps on you or, heaven forbid, cut your cord. Print your plan in a different color if necessary, because you don't want any confusion about who should be getting a circumcision.
Find a comfortable seat. When your wife is getting an epidural or delivering her baby, make sure you're sitting down so maybe nobody will notice when you pass out.
Bring an extra pillow. Pillows are helpful for sleeping (when permitted) and covering your eyes if there's something you don't want to see. But most importantly, your wife is going to want to hit you with something during the delivery and a pillow is the least harmful thing to give her.
When it comes time for your wife to push, make sure you offer her your non-eating hand to hold. You don't want her to break your eating hand into a million pieces when she's squeezing it.
Avoid making 'dad jokes.' If the labor is taking longer than expected and you ask your wife if it's okay to order pizza at the hospital, don't make the question worse by making a joke about having your own special delivery. Better yet, just plan to bring your own snacks -- but keep them in a place where she can't see them.
Avoid taking topless photos when your baby is breastfeeding. It's natural to want to be a comforter, but nobody wants the father taking his shirt off just because the mother does.
Request a room with an Internet connection and a place to charge your phone. This suggestion is explained in suggestions eight and nine.
Pack a smart phone or a computer. You are going to hear a bunch of words you've never heard before and see some things you've never seen. Use your phone or computer to Google them so you can understand the conversation.
Drink plenty of clear liquids. You are going to want to excuse yourself to the bathroom to clear your head or look something up on your phone, and drinking plenty of liquids provides a good alibi.
Bring a baby cap from home with your favorite sports team's logo. Teach your baby as soon as possible who they're supposed to cheer for so you can experience the highs and lows of sports together.
Related