Every so often someone claims Rudolph Valentino was gay.
No one would deny that Valentino is a gay icon. He was a gorgeous hunk of a guy and an interesting and appealing personality. Over the years, his good looks and on-screen persona, as well as the legend of his tragic early death, has gained him admirers on both sides of the aisle. But was he gay? Or, it might be asked, was he straight but open to sexual experiences with men?
The issue of Valentino's sexuality was brought-up recently in the media, including the New York Times. In two articles on Justin Spring's newly published biography, Secret Historian: The Life and Times of Samuel Steward, Professor, Tattoo Artist, and Sexual Renegade (Farrar, Straus and Giroux), the newspaper repeats claims put forth in the book that Steward -- the secret historian, had a sexual encounter with Valentino, the silent film star.
In its July 25th article, the New York Times prominently notes that Valentino's name is included in a card catalog labeled "Stud File." The catalog reportedly contains a "meticulously documented record" of Steward's various sexual partners. The article also mentions that uncovered in Steward's personal archive were some "80 boxes full of drawings, letters, photographs, sexual paraphernalia, manuscripts and other items, including an autograph and reliquary with pubic hair from Rudolph Valentino." (The autograph and reliquary are not pictured in the New York Times, but are pictured in the book.)
The New York Times further states "On each of the 746 cards that ultimately made up his alphabetized Stud File, Steward listed his sexual partner's name, his place in the lineup (i.e., the 354th person Steward had sex with), the dates and locations of every encounter, a coded description of penis size and of every specific sexual activity, and a brief comment. Of Valentino, filed under the actor's real name, Guglielmi, R., he wrote only: 'Nuf sed.'"
The claim that Steward "sexually serviced" Valentino was repeated in a second New York Times article, by a different journalist, on August 26th.
Does this mean that Steward, a secret historian of 20th century gay life, and Valentino, the legendary silent film star, had a sexual encounter? In the book, the circumstances behind this alleged incident are spelled out in greater detail. Its author, Justin Spring, writes, "Although Steward never mentioned the encounter in his published memoirs, he detailed its specifics in an interview he granted to a friend just four years before his death."
I had a friend at the best hotel in Columbus, the Deschler-Wallich . . . He called up one night and said, "Somebody has registered here. I don't know whether you'd be interested or not. His name is Rudolph Guglielmo." [sic] That was [Rudolph] Valentino's real name, of course. And I said, "Oh, my God, I'll be down in a minute." That was July 24, 1926.

"[Valentino] was returning from Chicago, where he had gone a second time to challenge the writer of that editorial that called him a "powder puff, who never showed up [for the duel to which Valentino had challenged him]. He was coming back on the train, and I don't know why he stopped in Columbus, but there he was, absolutely incognito, because he would have been mobbed otherwise. So I went down to the hotel, my autograph book in hand, and knocked on the door, and he signed it . . . [He had been showering and wore only a towel but] he took the book and sat down and signed it. For a long time [after], there was the imprint of his damp palm on the page [of the autograph book]. He stood up . . . and I was about to leave, and he said, "Is there anything else you want? I'm very tired."

I said, "Yes, I'd like to have you." And then he really did smile ... He reached over and pushed the door shut. I had it half open, my hand on the knob -- I was about to exit -- and he pushed the door shut with that hand, and with the other hand he undid his towel. And then he sat down on the edge of the bed."
Spring's denouement to this brief narrative reads, "Though pressed by his interviewer, Steward declined to give any further details of the sexual encounter. But young Steward emerged from the hotel room not only with the autograph, but also with a swatch of Valentino's pubic hair, which he subsequently kept in a monstrance at his bedside until the end of his life. The experience was all the more trenchant for Steward because within a month Valentino suddenly ruptured his appendix and died, aged thirty- one."
Let's examine the facts. Valentino did go to Chicago in 1926. And yes, he went there to challenge the author of a "pink powder puff" editorial which had questioned his masculinity. But, was he in Columbus, Ohio on or near July 24, 1926 -- the day the 15 year old Steward apparently obtained Valentino's autograph and pubic hairs.
The answer to the last question is decidedly no. That's according to the public record, and according to Jeanine Villalobos, Ph.D., Valentino's great-grandniece and a scholar writing a biography of the silent film star for the University of Texas Press.
Villalobos commented via email, "Steward's story, vivid as it is, cannot be true. My great-granduncle Rudy was definitely in New York on July 24, 1926: He was seeing off my great-grandparents and grandfather who were returning to Europe after a lengthy stay at Falcon Lair. After their departure, he went to see the celebrated Italian aviator, General Umberto Nobile, who was also departing for Europe that day. I have the news clips to back this up. On July 25, Rudy was attending the New York premiere of Son of the Sheik at 2:00 in the afternoon. Again, I have clips for this."
Villalobos added, "The autograph itself is certainly a fake: Rudy's handwriting is distinctive and consistent. To my eye, the date on the alleged autograph looks more like 1925 than 1926. If so, Rudy was in Los Angeles at this time, shooting The Eagle and supervising the construction of Falcon Lair. I have many letters and other documents that also confirm this."
"I know that Valentino's sexuality is a hotly contested matter, and I could be accused of bias," Villalobos stated. "So let me be clear that I was utterly agnostic when I first approached this issue, but there has been nothing in my subsequent research to support that he was gay, and much to support that he was straight."
Donna Hill, a Valentino scholar and the author of the just published Rudolph Valentino: The Silent Idol His Life in Photographs (Blurb.com), agrees with Villalobos' assessment. Hill stated "In reading the passages from the book and viewing the autograph, things do not add up nor does the timeline fit. Unquestionably, the autograph is a forgery. In my 30 years of research on the life of Rudolph Valentino I've never uncovered a single incident that led me to question that his sexuality was anything other than that of a heterosexual male. "
Steward's claim to have performed oral sex on Valentino rests on only a few pieces of rather circumstantial evidence -- a catalog card in his own hand apparently from the time, an account of the incident given decades later, a suspect autograph (close but no cigar), and some pubic hairs under glass. It might be interesting to know whose hair is contained in the reliquary -- but it's something only DNA testing might resolve.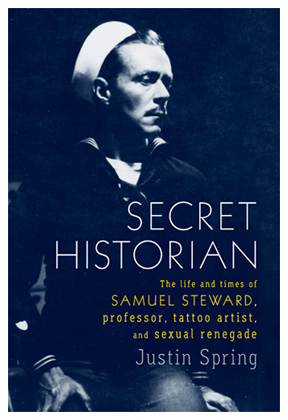 What motivated Steward to make such a claim some 60 years afterword -- and four years before his death? Steward was then an older man, and was, perhaps, wishing for a little attention and hoping to insert himself into history. And perhaps, he thought his claim to have had sex with a glamorous (though long dead) film star -- an erotic icon to many of his generation -- would go uncontested. Whatever his motivation, the facts don't add up. The signature doesn't match. And Valentino scholars agree the actor wasn't gay.
Steward made his claim in the wake of other claims -- of which he was no doubt aware -- regarding Valentino's sexuality by the likes of Brad Steiger and Chaw Mank in Valentino (1966), and Kenneth Anger in Hollywood Babylon (1965 / republished 1975). Steward and Anger, it should be noted, were well acquainted. Steward, later a tattoo artist of renown, was responsible for tattooing the word "Lucifer" across Anger's chest.
In the course of his truly remarkable life, Steward was not only a tattoo artist but a university professor, author, novelist, pornographer, and friend to the famous and infamous (Gertrude Stein, Thorton Wilder, the Hell's Angels). He is an interesting, multi-faceted personality in his own right -- and is more than deserving of a biography. The New York Times gets it right when it states that his archive makes for both a rare and revealing portrait of gay life in the early decades of the Twentieth century.
Spring -- an accomplished scholar, art historian and the author of earlier books on artists Paul Cadmus, Fairfield Porter and others -- has achieved something exceptional in writing Secret Historian: The Life and Times of Samuel Steward, Professor, Tattoo Artist, and Sexual Renegade. It is a groundbreaking book informed and informative, compelling, and otherwise well researched. However, its author misses the mark when it comes to the secret historians' purported sexual encounter with the silent film star. Samuel Steward did not have sex with Rudolph Valentino.
The actor's sexuality -- which has been the subject of considerable discussion over the last few decades -- is examined at length in Emily Leider's 2003 biography, Dark Lover: The Life and Death of Rudolph Valentino (Farrar, Straus and Giroux). After critiquing another book which claimed Valentino was gay, Leider presciently states, "Valentino exerted and continues to exert enormous power as an object of desire for both sexes. Lusting after him, imagining him as your lover, telling somebody that he was, isn't the same as bedding him."
Thomas Gladysz is an arts journalist and author. His interview with Allen Ginsberg on the subject of photography is included in Sarah Greenough's "Beat Memories: The Photographs of Allen Ginsberg" (National Gallery of Art, 2010). And recently, he wrote the introduction to the Louise Brooks edition of Margarete Bohme's classic novel, "The Diary of a Lost Girl" (PandorasBox Press, 2010). More at www.thomasgladysz.com.
Related
Popular in the Community