My mom is an incredible cook. I spent my childhood getting nourished by her mouth-watering Chicken Marbella and sweet corn frittatas, nursed back to health with her chicken soup, and immersed in Jewish tradition with her noodle Kugel, Matzo Brei, and slow cooked beef brisket. Home is the smell of my mom's cooking.
Whenever people ask my mom for her recipes (which happens often), she graciously shares and never fails to mention her secret ingredient: love.
I couldn't help but think of this the other day when I had the chance to sit down with Giovanni Rana, the founder and owner of Giovanni Rana Italian Pasta, who said the same when I asked him about his pasta. He made it clear that despite all of his know-how in the world of pasta, the most important ingredient of all--for his pasta and his success--is love.
The business of food these days is tangled up in politics, art, environmental issues, competition, status and celebrity, so it was particularly heartwarming to spend time with Giovanni, a mega successful CEO, who still sees his product as good old-fashioned love, as nourishment for families, as delightfully filling bellies of happy children and partners, friends and neighbors around the table.
And Giovanni, a perfect representation of the sweet, loving Italian grandfather I wish I had, truly embodies this love. His warmth was palpable and his smile infectious. And his story was all heart.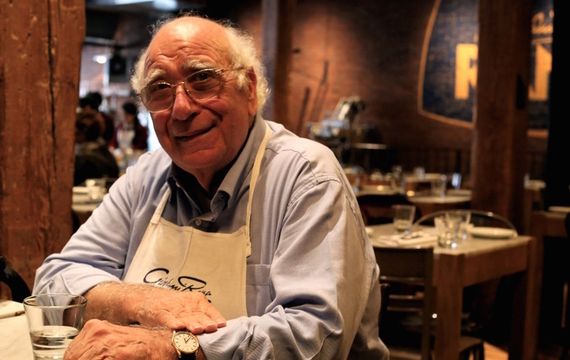 Giovanni grew up in a Cologna Veneta, in the province of Verona, Italy. At 13, he left school to work in his family bakery with his two brothers. Though he worked through the night (his shifts started at midnight), he fell in love with his pasta making duties--he loved the time he spent avere le mani in pasta, meaning with his hands in the dough and delivering the bread from the bakery to the villagers.
After a decade of working in the family business, Giovanni's mother sat Giovanni and his brothers down for an important talk.
"The three of you can't live from the same bakery," Giovanni remembers her telling them sternly. "Each of you need to find your own way, your own journey, your own inspiration."
It was just after World War II and Giovanni had been noticing the incredible shifts in the lives of the villagers--particularly the women, who were getting jobs outside of the home for the first time. As he delivered the bread each day, he recognized that traditional Italian habits and customs--particularly that of "fresh pasta made in the home by grandmothers, mothers and aunties"-- was radically shifting. These women no longer had the time to make the dough, but fresh pasta was only available in some grocery stories, and only on Saturdays.
And so Giovanni thought: I will be their hands, I will be their rolling pin, I will make the pasta for them.
Giovanni told his mom of his idea and recalls that his mom thought he was crazy, that no one would buy fresh pasta from outside of their house.
But Giovanni knew they would. And he was committed to making the pasta, as he told me, "in a way that reflected the same love and care that the women would have put into it."
What has turned into Giovanni Rana Italian Pasta, a huge global enterprise, was built one delivery at a time, on the back of a $9 secondhand motorbike--as Giovanni hand delivered hand-made tortellini door to door.
Giovanni's son, Gian Luca Rana, who has run the company for the last two decades, helped Giovanni carry the trays of pasta when he was small. This, Giovanni, told me, was absolute bliss--he loved building this business and sharing this "adventure" with his son.
Hearing about Giovanni's curiosity and passion inspired me. He used to sleep with a notepad on his nightstand because he would come up with ideas in the middle of the night and didn't want to lose them. He built a plant around his house so he could go into the kitchen whenever inspiration struck. He asked anyone and everyone for recipes, and never tired of asking questions and tasting new foods or combinations of ingredients.
He was never afraid to learn and try something new--whether it was making and selling fresh pasta commercially or investing in customized pasta making machines to replicate the loving movements of his own two hands in the dough. Now Giovanni and his family share his pasta with the world. Anyone who has met him is a witness to his commitment to be true to himself, follow his dream and share it with others.
Giovanni has enjoyed a lifetime of success, fulfillment and joy because he went for that dream of his - and we get to enjoy the labor of his love in every bite of his pasta.
Find out more about Giovanni Rana and his pasta here. He's inviting lucky pasta lovers to his house in Italy to dine with him!! Check out your chance to fly to Italy and join Giovanni at his dinner table here.

And for more about heart-centered living, check out Alexis's free online interview series, The Borrowed Wisdom World Summit, by clicking here.