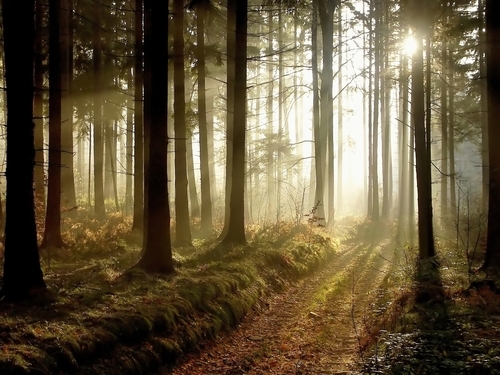 I confess: I've been keeping a secret from you.
Something big's been building in my life over the past year, and it's about to become real.
This June, I'll be celebrating a (ahem...) milestone birthday. About a year ago, I began to dream about how I'd love to celebrate. How I made that decision is a story in itself. But one day I just knew.
I would welcome my new decade by walking the Camino de Santiago.
If you haven't heard of it, the Camino de Santiago is an ancient pilgrimage route. It stretches 490 miles, from southwest France to the northwestern tip of Spain, which was once thought to be the end of the world. People have been walking the Camino for at least 1,200 years, seeking to understand the mysteries at "the end of the world"...and within themselves.
Fear after cancer is a real issue, but it's rarely talked about. It's time that changed.
The day after I made the decision, I began to walk...and walk and walk. In addition to the physical training, I read everything I could find on how to pack. Pilgrims on the Camino typically sleep in pilgrim hostels, but carry their clothing, personal effects, water and a meal's worth of food on their backs.
When you're walking 15-18 miles/day for five weeks in a row, the weight of your pack can make the difference between contentment and misery. But there are so many packing questions to consider. What if it's cold? (Could well be, in the mountainous portions of the route.) What if it rains? (Almost guaranteed in the end stretch, through the wettest province in Spain.) What if I can't find dinner? Or if I get lost?
What if, what if, what if.
Preparing for all the "what ifs" would put anyone's pack over the recommended carrying weight. But how do you decide what's worth taking?
The best advice I received was this: Be sure not to pack your fears.
When you're exposed to the elements for over a month, there's no way to anticipate every possible difficulty and uncertainty. Get clear on what's most important. Trust yourself to handle the rest, should you need to.
Here's where you come in. What are you carrying around that's weighing you down?
If you're a cancer survivor, it's likely that one of your answers is "fear."
Last winter I surveyed my community, asking "How would your life be different if you didn't have to worry about cancer recurrence?" The response was incredible: the highest response rate for any survey I've conducted. The comments about what survivors like you were afraid of touched me to the core.
• There are an awful lot of you feeling fearful of cancer recurrence (no, you're not alone)
• You're really concerned about the impact fear is having on your health, relationships and your ability to enjoy life ("Sometimes I can't sleep at night." "I keep thinking this holiday may be my last.")
• You haven't yet found a sustainable way to keep that fear at bay ("It's like a cloud over me all the time.")
Fear after cancer is a real issue, but it's rarely talked about. It's time that changed.
In my upcoming posts, we'll take a closer look at fear: why it's so pervasive among cancer survivors, why commonly recommended "remedies" don't always work, and most importantly, what you can do about it.
But now it's your turn. Leave a comment below and tell me:
• How often do you struggle with fear of cancer recurrence or progression?
• What would your life look like if you didn't have to worry about cancer?
Dr. Shani Fox helps cancer survivors get back in charge of their health and rebuild their confidence so they can make the most of their new chance at life. She encourages survivors not to settle for a "new normal", but to create a "new extraordinary".
Dr. Shani is the creator of the leading-edge "Back in Charge!" medical model for survivor care and the author of The Cancer Survivor's Fear First Aid Kit. Her messages about your innate power to create wellness and happiness make her a popular national speaker, radio guest and blogger for cancer survivor communities.
Dr. Shani will host a free webinar on releasing fear of cancer recurrence on Tuesday, April 5, 2016, 11 am Pacific/2 pm Eastern. Click here to register.