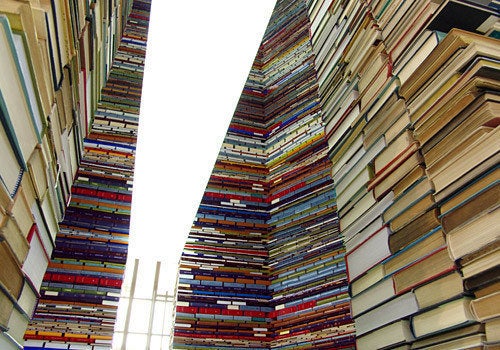 Book groups are a female phenomenon. Okay, maybe not entirely. There are definitely men out there who join, form, and lead book groups too. By in large, though, it is women who do most of the book grouping these days. This makes sense, of course. Women are the biggest readers and buyers as well. They read an average of 9 books a year, where men read only 5. They outread men in every category, except history and biography.
But if you've ever visited a book group, or have taken part in one, you'll know it's not just about the books. A book group offers so much more -- especially to women. They offer an escape from families, demanding kids, the laundry, and the drone of a ball game. They can be a place for a woman to show off her flair for making hors d'oeuvres or her passion for feminist literature. Some book groups even double as wine tasting events. In most cases, though, the most important ingredient is friendship. The book group offers a place to meet new friends or to sustain and nurture old ones.
Book groups are predominantly a female phenomenon. Why do you think this is the case?
Women will use any excuse to get together with other women. Whether it's a trip to the nail shop, a gym class, or a book group, women seize upon opportunities to be together to share feelings and emotions. What better stimulus than a good book, fiction or non-fiction, to get the conversation rolling, and the commitment to a book-group to provide an excuse for a regular girls' night out? Book groups offer women a chance to take what might be a solitary hobby -- reading -- and use it to nurture friendships.
How are books and book groups good for female friendships, in your opinion? Can they be bad? Any advice for women starting a book group with friends?
Sometimes your friendships get into a rut because you're so used to ruminating about what's wrong with your friend's life or yours -- after all, that's what friends are for. But a book group offers a prop (the book) that stimulates new ideas to talk about and creates a larger circle of friends with whom you can share feelings. It is also often easier to talk about fictional characters in a book than it is to talk about our selves.
You might learn new and fascinating things about other women's interests or life experiences from reading a book together. With a book as a talking point, you'll cover ground and topics you hadn't thought to cover with your friend in organic conversation. Importantly too, it takes many young mothers out of the 24/7 "mommy" role so they can talk to each other as adults.
Then again, books and book groups can be as divisive as politics. People may argue about what genre to read, how much time should be allotted for small talk, or what to do about the member who always comes late and never has time to read the book.
Just like friendships, no book group is perfect. Conflicts and disagreements are to be expected and need to be worked through. And by doing so, relationships are strengthened. It's important to maintain a lively mix of conversation that is both breezy and cerebral, with wine, cupcakes or hot cocoa around to lighten the mood in case the conversation gets too heated!
Just as a certain chemistry is essential to forge a friendship between two people, it is important to make sure that members will coalesce as a group. You want a mix of people: some who talk more and some who talk less. Nothing is as destructive to to the group as a member with an irritating personality who doesn't quite fit in. In fact, as a precaution, you might invite someone for a "tryout" before you commit to adding a new individual.
Any tips on how to deal with a book group break up?
Members of a book group can become quite attached to each other. In fact, the composition of the group may even be predicated on existing friendships, either close friends or acquaintances. But just like friendships among women, book groups (and writers' groups) are dynamic. Individuals are constantly changing and they may change in different directions. Other commitments come up, people go through personal angst, and have more or less time in their lives for each other as life proceeds through such stages as marriage, motherhood, career changes, and divorce or widowhood. There may no longer be a central core to hold the group together.
For these reasons, members should expect a somewhat changing cast of characters and be on the lookout for new participants (friends-to-be) to add to the mix. They also must come to terms with the reality that not all book groups last forever! And if the group survives, but you are catapulted from the group, you may want to assess why before you join another one.
You're having the launch party for your new book, Best Friends Forever in a beauty salon. Are beauty salons and book groups similar in any ways?
Aside from spas and some gyms, there are few female-dominated spaces where women can literally and figuratively let their hair down to talk and nurture one another. Book groups and hair salons fall into that category. When the sole independent bookstore in my town, Second Story Books, went out of business, I looked next door and decided that Donna Hair Design would be the perfect place for my book launch, which coincides with National Women's Friendship Day on September 20th.
Donna is also one of my best friends. But for me, the salon is a leisurely place where I feel totally comfortable and time stands still in my hectic life for that hour or two while I'm being pampered. In a small town like Chappaqua, the owners, operators, and other customers soon begin to feel like family and familiar friends. They've seen me at my worst, with wet hair, dye or foils -- and on the day of my father's funeral. Oddly, while the emphasis may ostensibly be on appearance, it's a place where women feel totally comfortable talking about what's important to them -- whether it's about books, politics, health, or their relationships.
Clearly, there are similarities between a hair shop and a book group. There is a certain amount of ritual associated with each because they are things women do regularly and look forward to. Most importantly, both offer easy venues, salons (in the broader sense of the term) where women can come together to share and emerge better off for it.

Joanne Rendell is the author of the new book Crossing Washington Square (Penguin), a story of two very different women with very different loves of books. Joanne is also the author of The Professors' Wives' Club (Penguin).

Related