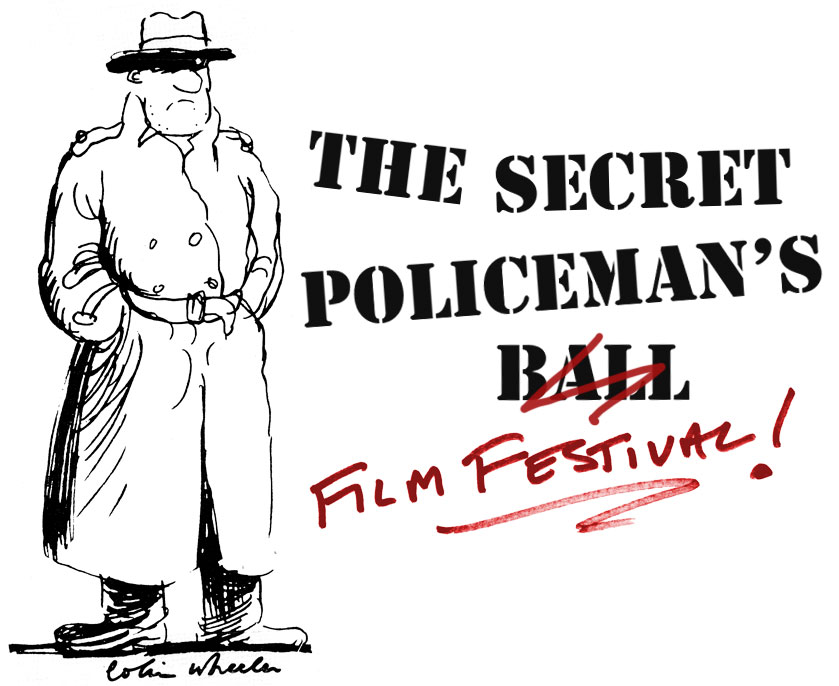 It's easy to grow exhausted, or at least confused, at the notion of a film festival - as Terry Gilliam responded when I once asked him about judging at Cannes, "You can't leave, and you're not allowed to sleep" - thus with surprise and delight I declare myself a great fan of Martin Lewis' Mods & Rockers Film Festival, which is now celebrating its tenth year. I love a lot of film - and film festivals - this is true. And yet: Unspool before me your Wonderwall, Woodstock and Wattstax; bring to me your real live Monkees and Monterey Pop-sters; let me revel in Baez and Beatles and Bowie - and yeah, I find it all ambrosial. Remember that Sunday afternoon in July '03, dedicated to the then-recently-passed Maurice Gibb, wherein both Cucumber Castle and Melody were screened? I was there, and loved every second of both. I show up for stuff I love.
Now what you may not know is that I was an '80s kid, raised very, very happily on '80s music and comedy (Oh, Young Ones, how I adore thee). I'm no Boomer - in fact, in general, they tend to annoy me. But one fateful morning in July, 1985, I sat down to watch "my" MTV - and I literally watched it all day long. The event: Live Aid. The effect on my life: Immeasurable. The primary notion of that glazed-eyed, dewy me of yesteryear: "Wait! I'd been told life was boring! You can help people with music? You can do this? And who the hell are Status Quo?"
Of course, most phenomena have their precedents, and for Live Aid the inspiration was, and thirty years on still is, the series of benefit shows collectively known as The Secret Policeman's Ball, staged not for famine relief but in support of global human rights, specifically for the then woefully unheralded organization known as Amnesty International. As a youth with his own Betamax and a passion for Python (hold your comments), I was well aware of the Secret Policeman and his fanciful friends, due to the 1982 American film (the first hit for Miramax) featuring highlights of the veddy British "mock 'n' roll" institution. This, dear readers, was no Hee-Haw. But how did it all fit together? How was this bridge between Boomers ("Them") and Gen-X ("Us"), between Limeys ("Them") and Yanks ("Us"), built? And for what purpose?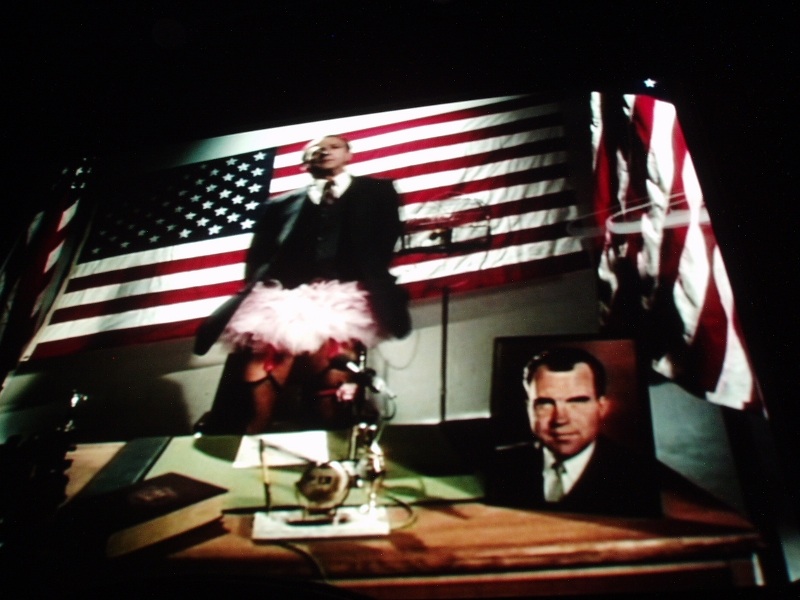 A screen-grab of the 1982 TV spot featuring Monty Python's Graham Chapman as the head of The ORAL Majority - calling for the banning of the "Secret Policeman's Other Ball" movie. Ironically, the TV spot itself was banned by US networks - a ban that contributed to the huge success of the movie. Click here to see the banned TV spot.
Deeply curious about this - and of course because he invited me - I boldly rode the L.A. Rapids to the opening night festivities of Ball-producer and fest-founder Mr. Lewis and his ready-to-Ball cohorts, and before my eyes in the foyer of Hollywood's historic Egyptian Theatre, the generations elegantly interwove; the barriers ceased to be. As we munched the customary little beige fried things and some nursed the donated German beer (which our Master of Ceremonies defined as "War reparations"), I saw over here pretty young "hot" people, in between some confounded Gen-Xers such as myself and my director friend Paul Todisco (Freak Talks About Sex; One Day Like Rain), and over there seasoned geniuses such as John Altman, musical arranger for The Secret Policeman's Ball extravaganzas and Monty Python's Life of Brian - the John Altman of the embarrassingly huge C.V. including work with some of the coolest dead guys ever, including Nick Drake, Jimi Hendrix and Bob Marley. (Later in the evening at a special private gathering, Altman would whip out his soprano sax - alongside Wings guitarist Laurence Juber and composer-pianist Nick Glennie-Smith -- and proceed to blow all our minds. And I don't even like the saxophone! Bravo, Maestro!)
But what's it all about? What are these Balls? To answer, I turn to a quote from Pete Townshend (whose All the Best Cowboys Have Chinese Eyes essentially never left my turntable in '82, btw), who was the first rock musician to play a Ball (in '79), and who clarified, via the evening's documentary, "One of the aspects of human energy is that we can get together, join hands, and say, This is not right!" I like that. Very clear. Likewise, a guy named Paul calling himself Bono (shown during his ÜberMullet days): "Some people have suggested to me, 'Can we not just get this over, this charity business?' But we're not going back to sleep!" Likewise. Now me, I looove going back to sleep. But the Bono guy sums it up: Amnesty.
Representing Amnesty at the evening's gala was lovely Sandee Borgman, veteran UNICEF coordinator and music manager, and Director of Entertainment Relations for Amnesty, whom I got to interview on the fire escape in the warm night air of June -- which was all-in-all a nicely saucy way to learn what Amnesty is actually doing: "What we want to do is carry the torch on from this - as we look at this, thirty years ago, and it was amazing, you saw it - it's our job to get the music program going again." She cites State Radio, a Boston band represented at our soirée, who have, "taken violence against women and the death penalty under their belt, and delivered them to Senator Kerry's office." For the first time this year, Borgman and her crew will be taking Amnesty to the huge Warped Tour (via Fallout Boy, et al). Genuinely curious, I asked about the practical applications of Amnesty, and came Borgman's reply: "It's not like the U.N. organizations; with Amnesty, it's a grass-roots organization. It's not so much about mobilizing money; it's more about mobilizing public opinion. We need manpower, we need public opinion, we need to change things from the ground up. That's how we change it to be better for tomorrow."
Our Master of Ceremonies for the evening (and the whole fest, in both Los Angeles and New York) was, of course, Martin Lewis - co-creator/producer of the Secret Policeman series and the festival, and a trustee of the American Cinematheque. "I'm fortunate to have been one of the folks, who, along with John Cleese - Monty Python's John Cleese being the prime instigator - who started the Secret Policeman's Ball shows, way back in the 1970s. In L.A., of course, we're always caught between pride and vanity. Vanity means that you always have to be much younger than you actually are, so by vanity I would say I'm thirty-three years old, which means I never could have produced these films. My pride trumps vanity because I'm so proud of the work that I did to help Amnesty - and the work that everybody in these films did - so... pride trumps vanity," he concluded. "Yes, I was involved with these shows." (By all appearances, that's putting it mildly!)
With the history lesson covered, Lewis then brought guest of honour Neil Innes (Bonzo Dog Band; The Rutles; The Seventh Python) to the fore, and the two proceeded to interview the living hell out of each other! This was purely wonderful. Friendship is always splendid to behold - friendship between and among absurdly talented men moreso. A couple of favorite exchanges:
Lewis: "I'd like to ask the first question."
Innes: "Why?"
Lewis: "I'm asking the questions here, young man! Do you remember how you first got involved involved in Amnesty International, how it came about that you performed in that great production back in 1976?"
Innes: "Well, the long answer is that someone called Alexander Graham Bell invented the--"
Lewis: "Can we have the short answer?"
Innes: "Cleese rang me."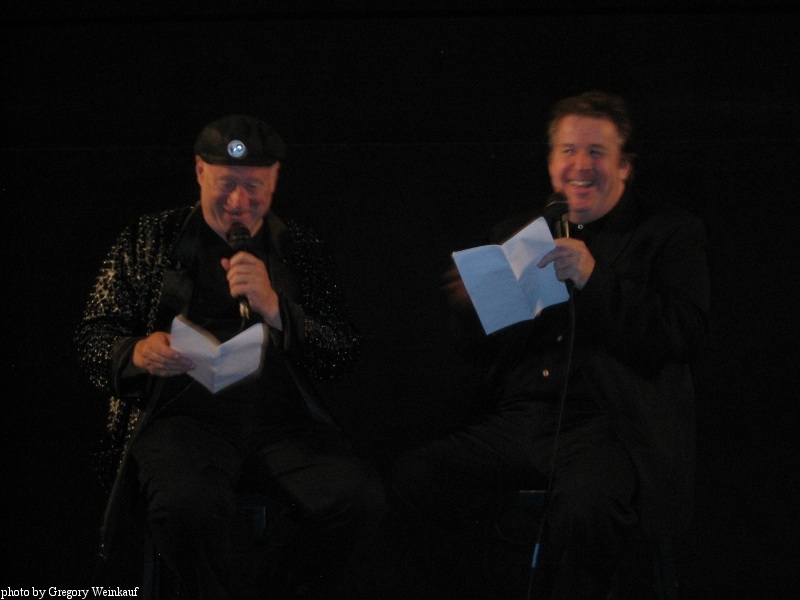 Neil Innes and Martin Lewis conducting some Pythonic business to the amusement of the crowd.
Innes: "Moving on, to when we went to Drury Lane, it was you that coined the name 'The Secret Policeman's Ball' - you see, I've learnt a thing or two: Make the question so long he can't really say anything - but you actually introduced the big rock stars into the Amnesty thing, so how did you go about that? How did you pull that off?
Lewis: "That really came about because John Cleese, alone among the Pythons, was not a rock music fan. Cleese liked John Williams playing classical guitar. And for the 1979 show, he invited John Williams. And I said, 'Would it be okay to have something a tad more contemporary as well?' And John just said, 'It's not my cup of tea. If you want to organize that, you go do that.' And I was like a kid in a candy store! I knew Pete Townshend a little, and I phoned him up and asked if he would do the show - and at first he was very circumspect. He said he was nervous, and this didn't make any sense to me; this guy played at Woodstock in front of half a million people. But he said to me, 'No, that's with The Who. It's easy to be in front of half a million people when you've got Roger Daltrey, Keith Moon and John Entwistle alongside you.' So he was nervous, but he did do it. What Townshend also did was to set an example for others. When it came to the 1981 show, I phoned up Sting - I only had to get as far as saying 'Secret Pol-uh--' and Sting said, 'I'll do it!' Same thing with Phil Collins and Eric Clapton. All these other musicians wanted to do it, because they'd seen an example set by someone they respected. The ultimate example of the effect of the shows was the case of Bob Geldof. I got him to perform in the 1981 show, and he then took the concept of using music as an instrument of consciousness raising far bigger than any of us had dreamed of. So I think it's a wonderful success story, that these performers saw others and it inspired them to do something themselves."
And do something they did - and do. O! M! G! Words really cannot express the massive buffet of comedy and music contained in this three-decades-plus tradition. Opening night of the fest, we beheld but a sampling - but the juxtaposition of Python alums and say, Lou Reed playing with Peter Gabriel, or some guy called Hugh Laurie doing a rather convincing English accent with his pal Stephen Fry, or Sinead O'Connor and Radiohead and French & Saunders and Steve Coogan and Emo Phillips (who, it bears mentioning, attended the gala, and posed wildly). Oh: And Kate Bush. Oh, Kate Bush, Kate Bush, Kate Bush...
However, since I really cannot put my thoughts in order whilst Kate Bush is singing, or even whilst considering the very concept of Kate Bush...as I am now...hmmm...ni-i-ice...erm...Oh: I was in a way grateful that her performance in the anthology film was limited to a snippet - although to hear her singing Running Up That Hill live over the temple-like Egyptian's mighty sound system as I first entered the cinema was, for me, admittedly dreamlike. Yum.
Fortunately, helping to take my mind off how much I still want Kate Bush every single second of every single day and night and I shall not be satisfied until she is mine forever Amen -- our guest of honor Mr. Innes showed up at the after-party, positioned himself at the keyboard, and thoroughly rocked off our socks! Whew. Delivering glorious renditions of "Run Away" (a fun call-and-response number - originally recorded for - but cut from Monty Python and the Holy Grail) and a plaintive, stirring new Ron Nasty tune "Imitation Song".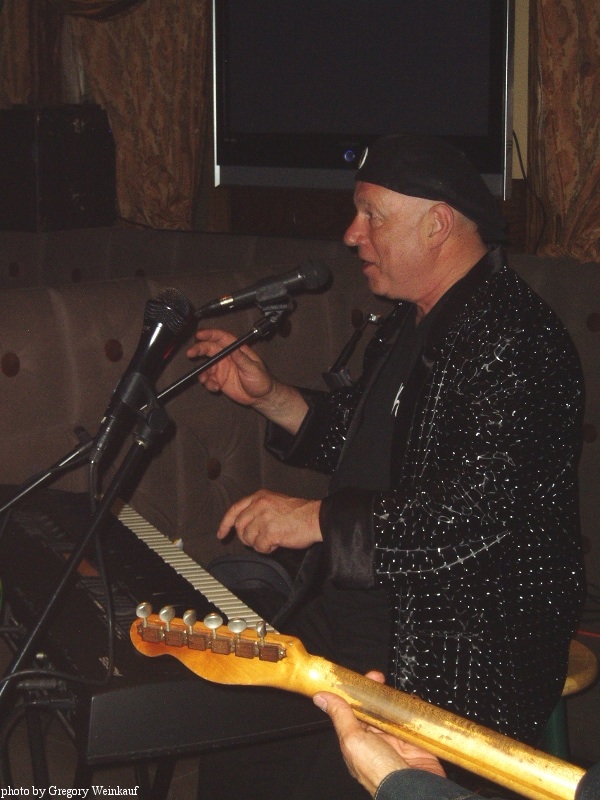 Innes effortlessly reminded us that he's a grade-A songsmith and one of the greats. And, shortly after he fled the scene (he'll be back), Mr. Lewis went wildly anachronistic, wowing the room with a booming, quasi-Shakespearian recitation of "A Hard Day's Night" we won't be forgetting any time soon (that's our Martin).
MORE ON HUFFINGTON POST ABOUT THE FILM FESTIVAL
OFFICIAL FESTIVAL WEBSITE
Popular in the Community