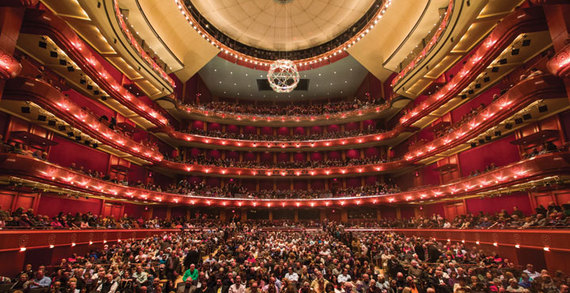 Each day, as the ongoing chaos in our world is on full display in the media cycle, I'm reminded of how essential arts organizations are to our communities. They provide a home and a platform for conversations and artistic expression that our society thirsts for. But I'm worried about them. Currently, they're fighting a range of headwinds that threaten their very existence -- and it's not just isolated cases. From challenges with fundraising and decreased arts coverage in press outlets to the struggles of growing an audience base to, much more recently, security concerns, there are many things that keep these organizational leaders up at night.
Yet, I remain optimistic. Yes, many of the headwinds are beyond our control. But not all headwinds are created equal. And the one that arguably matters most is the one we can sway -- audience development.
As someone who covers marketing technology in the cultural space, I've seen first-hand how technology can support audience development efforts like never before -- scaling the challenge from the insurmountable to the achievable. Between Google and Facebook, there are user-friendly platforms that have made micro-targeting a cost-effective possibility for budget-strapped arts organizations. Even the smallest of organizations can now employ robust analytics programs -- that were never before available for many cultural organizations -- as data sources critical to their marketing plans. What's even more exciting? This is just the tip of the iceberg.
Recently, I had the privilege of sitting down with a colleague of mine, Michael Hirsch, who is the Managing Director of a start-up I helped launch last year called VRRB Media (pronounced "verb"). Because he works everyday with marketing directors on the front lines of arts organizations across the country, I wanted to hear his expert opinion. Is my optimism well-founded or just plain wrong? Here is our conversation.

Damian Bazadona (DB): In a nutshell, what does VRRB Media do?
Michael Hirsch (MH): Using first party data of over 15 million consumers, we are a media network that helps cultural organizations with their audience development efforts while providing unique data insights.
DB: What is the most consistent challenge you hear about from marketing execs in arts organizations?

MH: Budget, budget, budget. Aside from the short-term pressures of driving sales for existing programming, there is a new expectation to expand audience bases within the confines of tight budgets. While every organization has a "tried and true" audience, statistically that audience is in danger of not being replenished. There is also often an inherent apprehension about deviating from past marketing initiatives.

DB: What are arts organizations doing to address these concerns?
MH: Savvy ones are using their existing audiences as a vehicle for future ones. This means both investing in the happiness of their most loyal consumers and, at the same time, investing in the pursuit of data that sheds light on the demographic and behavioral DNA of those audiences as a way to clone future audience types. It's exciting and something only recently made possible in the boom of digital advertising technologies.
DB: You seem to be joining a new wave of media properties where the focus is on using buyer behavior as a model for identifying new audiences for arts and culture brands. Why specifically "behavior" and what does that actually mean?
MH: At VRRB Media, we have research that supports one very basic principle for most arts organizations -- past patron behavior is the greatest indicator for future patron behavior. Our technology and data partnerships pool millions of past ticket buyers and match it against user data from arts organizations to identify new audience targets. It's an incredible example of the advancements we're seeing in the world of targeting -- this focus on the behavior, not just the digital destination.
DB: I know you have a substantial pool of arts and theatre data from across the country. Any top line findings you would be open to sharing?
MH: Our focus is heavily centered on buying behavior -- not only ticket-buying behavior but also general shopping patterns. Arts and culture audiences consistently tend to skew high for pet ownership and the corresponding services, along with travel and pharmacies. (Traveling and pet ownership seems like an oxymoron in my house but maybe that's just because I have demanding pets!) These audiences also skew higher than most would think for "deal" shopping, which is contrary to assumptions often applied to this affluent demographic. I work with a fair number of organizations who want to avoid leading with price, but our data shows audiences are more price-conscious than people realize. In terms of what they typically don't buy, they tend to index low for kids products, back-to-school shopping and gun ownership.
DB: What is the biggest piece of advice you would share with arts marketing leaders?
MH: Make no assumptions about who your audience is. There is no question that a key ingredient of knowing your audience is spending time in the venue with them and feeling the energy of the room. I never underestimate the power of "gut" and what you see with your own eyes. However, data doesn't lie, and I see many organizations that are living by assumptions on audience make-up from 20 years prior, which is not the best way to ground your audience development strategy. Listening to your gut while using current data to develop your audience is a powerful combination that the savviest of cultural organizations understand. The lesson is consistently the same: research, test, research, test.
REAL LIFE. REAL NEWS. REAL VOICES.
Help us tell more of the stories that matter from voices that too often remain unheard.