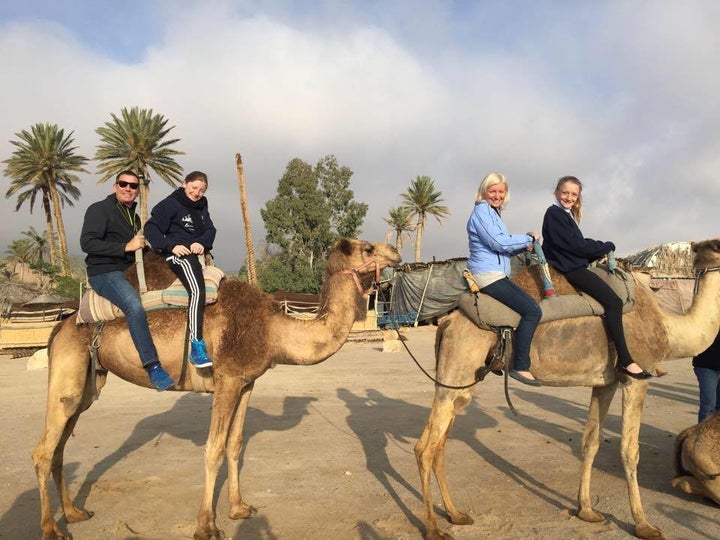 Out in his backyard in Montclair, New Jersey, one afternoon last spring during the middle of the week, Doug Everson was picking up dog poop, as usual. 
When he came back inside the comfortable colonial home he shares with his wife Carolyn, 12-year-old twin daughters, four dogs and one rabbit, he noticed a new photo on Carolyn's Facebook page. She was in Israel for her job. Carolyn is vice president of global marketing solutions at Facebook. And while Doug toiled away outside, she was hanging out with a Nobel prize winner.
"This is our reality: I'm picking up dog piles and she's meeting Shimon Peres," the 57-year-old Everson told The Huffington Post, laughing.
Everson seems to relish the contrast. About four years ago, after spending decades in the pharmaceutical industry as a top executive, he retired from Merck and decided to stay home with his twin girls and their many pets so his wife could truly focus on her demanding career.
Now, Everson said he's glad he can spend his days caring for Taylor and Kennedy, making sure they have a parent around to look after them. "It's the right thing for us," he said. The family is also able to travel with Carolyn around the world, a great learning experience for the girls.
"Having Doug home and supporting our girls (and our 4 dogs) has without question enabled me to do what I do," said Carolyn in an email. "It is a true partnership, one we call Team Everson. I couldn't travel the world and do what I do for Facebook without his unwavering support." 
The Eversons are part of a small, rarefied group breaking the rules on how men and women at the top of the economic food chain arrange their lives.
For decades, men scurried up the corporate ladder propelled by wives who took care of the less-glamorous demands of home. And while these days the typical couple is dual-earner, that framework hasn't budged all that much. Many women wind up handling the home work, even as they pursue full-time careers. And as a result they get trapped on the middle rungs of that ladder and watch their husbands ascend to the top.
Nearly 75 percent of male Harvard Business School graduates said that their careers took precedence over their partner's, according to a recent survey conducted by Harvard Business Review. Women were also far more likely to handle primary responsibility for the kids.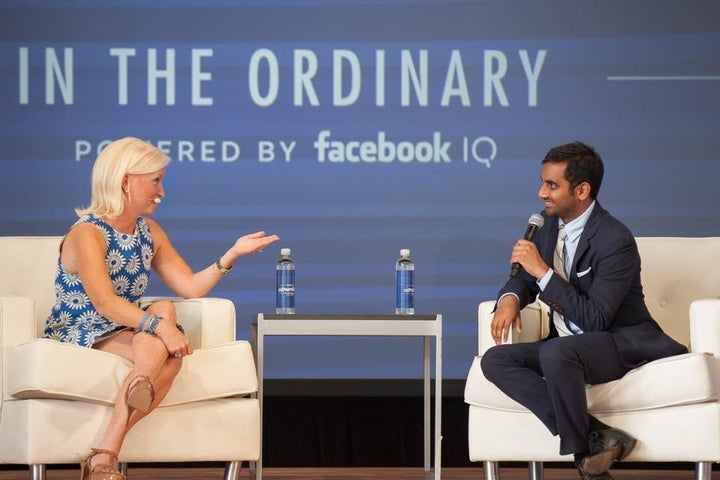 The Carolyn Eversons of this world are still pretty unusual: Only a quarter of executives and senior-level managers at companies on the S&P 500 are women, according to research from the women-in-business nonprofit Catalyst.  Even at Facebook, where chief operating officer Sheryl Sandberg has made a name for herself by urging women to advance, only 23 percent of leadership positions are held by women.   
Some in the business world are working relentlessly to fix this toxic swirl of bias and lost opportunities. Companies are offering better benefits for working parents -- longer parental leave, more flexible scheduling. One private equity firm is now even paying for women to fly their baby and nanny with them on business trips.
There's also a growing recognition that flex-time isn't just for women or just for parents -- more men and single workers want it, too. When both genders avail themselves of these policies, it's harder to hold back women for taking advantage of them.
Still, there's work to be done at home. Sandberg's Lean In Together initiative urges men to take on more of the burden of housework. Sometimes, that means men just stop working outside the home.
In the grueling world of finance, an increasing number of women have stay-at-home spouses. There were 21,617 mothers in finance with stay-at-home spouses in 2011 -- up from 16,196 in 2000 and 2,980 in 1980, according to data cited in the New York Times a few years ago. 
For the Eversons, Doug's decision to stay home came just as Carolyn's career was taking off. She was offered a global executive job at Microsoft that would require extensive travel -- the kind of work that can cause a lot of agony for anyone with young kids at home.
"We opted to view the job as a positive," said Doug on a recent August afternoon, talking to HuffPost from his backyard where he was, again, picking up dog mess. Everson, who has two older sons from a previous marriage, was also awaiting the arrival of a grandson.
The Eversons decided they'd take their daughters along on her Microsoft business trips at least once every three months. "Once you start doing things like that, it's hard to have a big boy job," he said.
At the time, Merck was downsizing and offering older executives buyout packages. The timing was perfect.
Everson was soon scooped up by Facebook, and the company asked her to move to London to help with hiring for a top position. The entire family was able to move overseas temporarily for six months.
"If I was working we couldn't have done that," Doug said. "It was a phenomenal experience for the family."
Calling all HuffPost superfans!
Sign up for membership to become a founding member and help shape HuffPost's next chapter