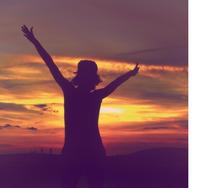 WHAT'S EATING YOU?
For a good part of my early life I was obese. I ate for all the wrong reasons -- to celebrate, to get revenge, to placate my fears. Food was my confident, friend, and lover. I did not know how to express my feelings -- and most of the time was unaware of them.
I never learned that I didn't have to "pick-up" excess food. There was no such thing as pausing and processing what I was feeling. I didn't know how to do that, instead I put on an extra 3 pounds, that led to 10 pounds, that led to 20 pounds, and in the worst of times, 60 pounds. Yes I was 60 pounds over the normal weight for my petite body frame.
For me, it wasn't enough to find out what was "eating" me -- I actually needed more help than that. I needed to reach out for support, get "tough love" and honest feedback from others who were dealing with their food addiction. At first, I didn't believe it was possible for me. I had tried every diet, and failed time and time again. But I learned a few new things and had the willingness to give it a shot.
I learned to think in intervals of a day, sometimes an hour, sometimes a minute. I could stick to my food plan (daily food choices) for a day -- like Scarlett O'Hara -- I'd think about other things tomorrow!
At first, I had to reach out to my supportive new friends several times a day. I wasn't used to living life in a sober way. But when I reached out for support, I felt better. I started to handle those "tough situations" with their help: Saying NO, instead of being a "people-pleaser." Standing up to a friend or family member when I felt I wasn't treated right. I started to feel a sense of power and happiness.
I don't want to say that staying with this new behavior was easy, because it wasn't, but my self-esteem was growing -- and it felt worse to think that I would "eat over" something I was unhappy with, rather than try to assert myself in a healthy way.
For several decades now I have not resorted to food to quell my feelings. The support that I experienced from others has been the basis for all the work I do with women (my television programs, radio show, website WomenWorking.com, and our robust social media presence).
I am a successful businesswoman who has a deep desire to give back, because I have received so much.
If your life feels unmanageable because you are gaining weight and don't know how to stop, there is hope. But you need a little bit of willingness to do things differently and do some inner work. In return for giving up the "treats" that were killing me, I gained self-respect. If I can do it, anyone can and the New Year is a great time to start. You may take a step forward and one step backwards. Forgive yourself and get back on the horse.