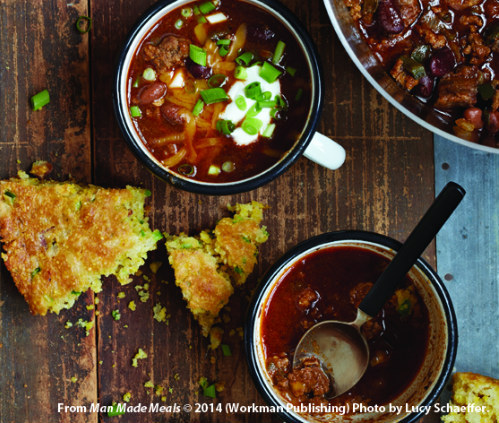 Yeah, it's cold. Even here in Miami. So what better way to warm up than with a steaming bowl of chili? How about with a smoking bowl of chili?
Fierce controversies surround what constitutes the perfect bowl o' red. Texans prefer all-beef chili--ideally, with meat cubed rather than ground--and points are deducted for adding beans and other fillers. In New Mexico it's the chile peppers that matter and some versions don't even contain meat. The world's strangest chili may be Cincinnati "five-way": layers of spaghetti, cinnamon-scented ground beef chili, onions, kidney beans, and grated orange cheese. Of course, if you're one of the legions of Cincinnatians who jam to the popular chili parlor chain, Skyline, there's nothing the least bit odd about this singular combination.
Then there's the question of the proper accompaniments: sour cream, grated cheddar or Jack cheese, and chopped scallions, at a minimum. Diced tomatoes cool things off, and avocados and sliced black olives add a Tex-Mex border touch. Crackers (for example, saltines) belong on the side in most of the country, but for me, chili isn't complete without cornbread.
Do you want to make the most awesome chili on the planet? Forget all the chest-thumping debates. Beef versus pork? Chopped versus ground? Tomatoes versus beans (or neither)?
The secret to the world's best chili lies in your backyard. Start with barbecued brisket and pork, not raw meat. Add plenty of beer and a little chocolate. And above all, cook it in a smoker. I don't quite dare to ask you to smoke a brisket or pork shoulder solely and specifically to make chili. But the next time you cook one or the other, make extra and chill or freeze it until you're ready to fire up the chili pot.
SIGN UP for Steven Raichlen's UP IN SMOKE newsletter to learn more about barbecue!
Steven Raichlen is the author of the Barbecue! Bible cookbook series and the host of Project Smoke on public television. His web site is BarbecueBible.com.