Known as one of the NBA's streakiest and most confounding players, J.R. Smith has one thing in this world that can truly bring out his absolute best. It's not the leadership of Cleveland Cavaliers teammate LeBron James or the friendship of former New York Knicks teammate Carmelo Anthony. No, no.
It's the music of his good friend Lil Wayne. Thanks to new data collected by Kenny Ducey of Hashtag Important, we now know that the classic Beatles line, "I get by with a little help from my friends," applies to J.R. and Weezy in a previously unforeseen light. 
J.R., whose career scoring average through 11 seasons is 13.2 PPG on 42 percent shooting, sees those numbers increase to 19.5 PPG on 49 percent shooting on the day following a Lil Wayne album or mixtape release, the bulletproof analysis discovered.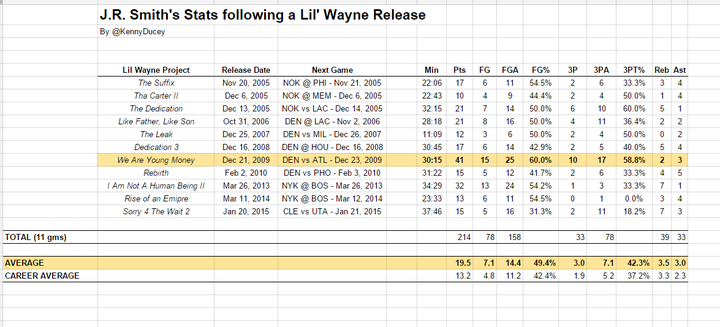 J.R. Smith's stats are much better following a Lil Wayne album release.
The trend goes back to 2005, when J.R. was a second-year player for the New Orleans Hornets. Lil Wayne is, of course, a New Orleans native and the pair have been friends since J.R. was drafted by the Hornets out of high school in 2004. 
Lil Wayne has gone on to win four Grammy's and J.R. won Sixth Man of the Year in 2013. Their careers have grown since their early New Orleans days, but their friendship has remained tight, statistically speaking.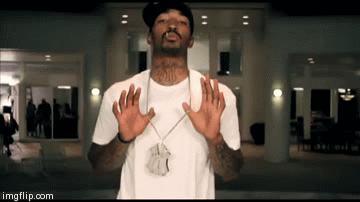 J.R. Smith flashes his Young Money chain in the "Bed Rock" video.  
The day after "We Are Young Money" dropped, J.R. went off for 41 points and 10 three-pointers against the Atlanta Hawks. Through thick and thin, they've remained close, working off each other in the pursuit of greatness in all things basketball and hip-hop. More importantly: They've got each other's backs.  
PHOTO GALLERY
Some Cool 2015 NBA Finals Photos
Calling all HuffPost superfans!
Sign up for membership to become a founding member and help shape HuffPost's next chapter