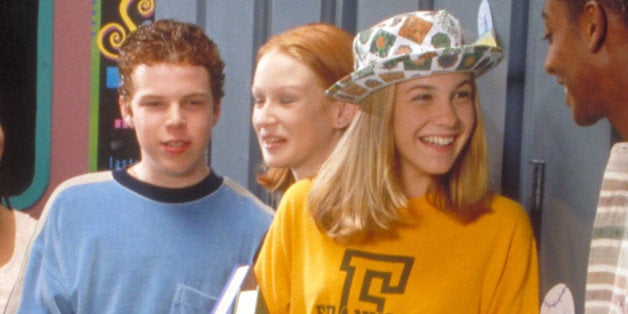 Laura Slakey, the costume designer on "Alex Mack," revealed why she thought the hats were appropriate for the character.
"I had the feeling when I read the script for the pilot that Alex felt there was nothing special about her," Slakey told HuffPost TV in an email. "She was definitely not one of the 'popular' girls. I really understood and related to the character."
Slakey felt like Alex would dress differently to express her individuality and was inspired by the way her father dressed in the 1960s. "I sort of felt that Alex dressing in some of these thrift store shorts and striped shirts and hats from my childhood was a way to be different and special," Slakey said. "People sometimes wear hats to hide and/or stand out -- in Alex's case I felt it expressed a bit of both."
Much of Alex Mack's wardrobe came from thrift stores, Slakey said, but as the show became more popular and the Seattle indie music scene swept the country, many of the hats and shorts became available in skate shops.
But that wasn't always the case. Slakey said some of the people behind the scenes weren't on board with the hats and thrift store clothing. "Tommy had to fight to keep her in the hats especially," she said. "Then the fans went nuts for her clothes, especially the hats, so the network realized it was part of what people loved about the show."
"Of course I remember the condom hat," Slakey said. "I hope she still has it!"
Calling all HuffPost superfans!
Sign up for membership to become a founding member and help shape HuffPost's next chapter
BEFORE YOU GO
PHOTO GALLERY
TV Reunions We Want To See