Over the past few years, I have traveled nearly 300,000 miles across 35 countries and 60 cities as part of my role leading the State Department's Bureau of Economic and Business Affairs. I have met finance ministers in Latin America seeking export opportunities for their domestic goods, business leaders in West Africa developing new technologies to serve their clients, and young entrepreneurs in South Asia working to turn their innovations into thriving businesses. Conversations like these are at the heart of economic engagement around the world, and demonstrate that, as Secretary of State John Kerry has said, "economic policy is foreign policy." Through my job, I also get to meet some of our country's greatest ambassadors: U.S. companies, who represent American values in the communities in which they operate.
Today the State Department hosted the 17th annual Secretary of State's Award for Corporate Excellence Ceremony--or ACE awards--to honor U.S. companies who are representing American values by operating sustainably and responsibly around the world. These firms are creating new methods to advance environmental sustainability, leading by example in respecting the rights of their employees and local communities, and growing small businesses with missions to both turn a profit and do good simultaneously. I encourage you to read the stories of all ten of this year's ACE finalists and see for yourself.
At the ACE Ceremony I had the honor of presenting this year's award winners: Cargill Vietnam Ltd., East Bali Cashews, and Weyerhaeuser Productos S.A. These three companies demonstrate that corporate excellence is not just about doing right by shareholders, but doing right by stakeholders.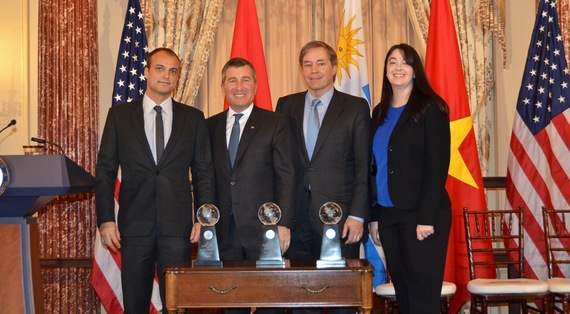 Cargill Vietnam Ltd. has operated in Vietnam for over 20 years, and during that time the company has transformed its relationship with its farmer-partners so the farmers can thrive today and maintain the health and productivity of their agricultural communities for the future. Cargill Vietnam Ltd. has trained over 1.5 million farmers in best practices on animal health and nutrition, and trained over 12,000 cocoa farmers in practices that allow them make more money by increasing their crop yields. The company is also utilizing new technologies to increase the transparency of their supply chains in-country.
Beyond building responsible conduct into their core operations, Cargill Vietnam Ltd. supports local communities through the Cargill Cares schools program, with 58 schools across 41 provinces serving 13,000 children. For these reasons and more, we are proud that Cargill Vietnam Ltd. is this year's winner of the Award for Corporate Excellence in Human Rights and Labor Rights, a brand new ACE category.
In November 2015, I was in Bali, Indonesia and had the opportunity to see first-hand the great work of this year's ACE winner in the small or medium enterprise category: East Bali Cashews. Beyond producing delicious nuts, East Bali Cashews has helped transform an entire community.
Several years ago, Balinese villagers sent their harvested cashews abroad for processing, and then imported them back into Indonesia but with a steep markup. Recognizing a business opportunity, company founder Aaron Fishman created East Bali Cashews so that these nuts could be processed locally and create economic opportunities for the community.
To grow faster, Fishman linked up with U.S. investment company KKR, whose employees worked pro-bono to help East Bali Cashews develop a cutting-edge marketing plan and attract global investors. The company now employs over 350 people in Bali, including previously unemployed women, has built a preschool for employees' children, and has increased incomes of local farmers by 20 percent. East Bali Cashews' impressive growth has been fueled by its human investments in its local community, which is why it received this year's Award for Corporate Excellence for a Small or Medium Enterprise.
In December of last year, the United States, along with governments around the world, came together for a historic climate agreement. Governments cannot achieve these goals alone, which is why this year for the first time we presented an Award for Corporate Excellence in Environmental Sustainability. We want to highlight private sector leaders who respect the environment, as that work helps to complement and reinforce the climate goals that governments have pledged to achieve.
This year's ACE winner for environmental sustainability is Weyerhaeuser Productos in Uruguay. Weyerhaeuser, a renewable forest-product company, has worked directly with the government of Uruguay to set high standards for its industry, and their operations have been named a "project of national interest" by the government. Heat and power for Weyerhaeuser's Uruguay facilities are generated by renewable fuels and are carbon neutral, and their forest management removes 56,000 tons of carbon dioxide a year. These are remarkable initiatives, so I was proud to present Weyerhaeuser Productos in Uruguay with this year's Award for Corporate Excellence in Environmental Sustainability.
This year's three winners for the Award for Corporate Excellence represent some of the best of the American brand, and the values that come with that brand. I am proud to represent the U.S. government in conducting our economic diplomacy efforts, and I am proud to have these companies representing our country.
Calling all HuffPost superfans!
Sign up for membership to become a founding member and help shape HuffPost's next chapter