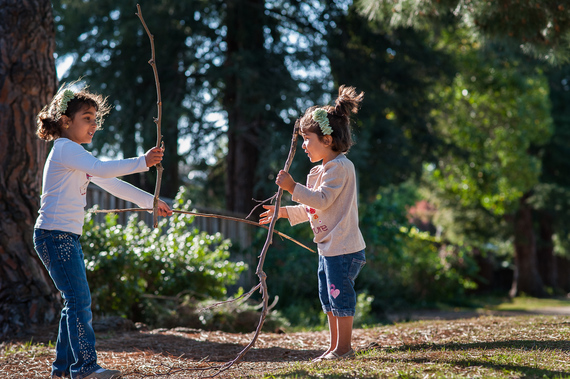 It's that time of year again when summer camps are having their final closing ceremonies, families are returning home from travels and adventures that their kids will remember for a lifetime, and shopping for first day outfits and school supplies is well underway.
Many parents love when school starts again, when family life flows with a sense of rhythm, ritual and structure (not to mention when they can enjoy more child-free alone time to exercise, work, run errands and connect with themselves).
In affluent, high performing communities, the return to school can signal a return to overwhelm for many students and parents wishing they could find a way to stay off the rat wheel race to nowhere that has come to define schooling and afterschool activities.
This year, let's try out new strategies for staying off the rat wheel to nowhere.
Here are the Top 7 Secrets to Happy School Years for Families!
1) Homework Is Done By Kids, Not Adults
This year, parents, let's refrain from doing homework with or for your child. Just stop doing this. Your child is smart and capable enough to figure out their own homework. Your child's hard work and efforts deserve to be noticed and seen by you. Your child needs opportunities to feel frustrated in order to grow and needs to communicate him/herself to his/her teachers on his/her own behalf in order to learn to advocate for him/herself. Let all of this go and trust your child's abilities. This will decrease your worry, anxiety and involvement levels and free up those energies for you to put into yourself, your life, your interests and needs. And your child will grow stronger and more capable!
2) Playdates are for Kids, Not Adults
Your child is getting to know people at school each day and is figuring out who can and won't be a friend. Let your child come home and tell you about a new friend and ask you to create a play date when he/she really feels a pull and interest towards a new friend. Stop orchestrating and planning your children's play dates based on who you want to be friends with and who you think your child needs to connect with. Let your child lead here, be patient, listen, and let your child ask for help and support in this domain of his/her life when he/she is ready. Use that freed up energy for yourself and your life! If your child has few or no play dates each week, that is ok. This leaves them more time for unstructured creativity and time in nature, playing, discovering and restoring themselves after long days at school.
3) Wellbeing Comes Before Grades
Each day when you see your child after they've been in school all day, ask first about how they are, how they are feeling. Prioritize this as a check in. Ask your child some fun questions about what made them laugh, who was nice to them, something that made them happy, what they're grateful for. Don't ask about grades and tests and act as if these are the reason a child goes to school. Remember that as a parent your role is to emotionally support your child and guide him/her when needed. The idea that grades indicate a child's acceptance or amount of love in a family needs to stop once and for all. When children are emotionally supported by family, they do better in school. Let's focus on what kids really need and hone in one these needs as our primary job. No child should be allowed to stay awake later than 11pm in high school to do homework and children of all ages need a full night's sleep in order to feel well, and to do their best in all areas of their lives.
4) Nature Instead of Structured Activities
Look at your child's week and your weekly schedule and find at least 3 one hour blocks of time when you both can spend time in nature instead of attending a structured activity. Time in nature will support your child's healthy development, calm his/her nervous system and bring a sense of peace and perspective in an otherwise hectic and overwhelming day. This practice will benefit both of you and become a cornerstone of your family life.
5) Creativity Is Time Well Spent
Has your child always loved to dance? Paint? Write poetry? Short stories? Sing? Create cartoons? Play an Instrument? Take photos? Act? Whatever the creative modality, create space and time in your schedule for your child to pursue and engage in their creative activity of choice. Not necessarily in a class or with a teacher, or with you hovering or tiger mom-ing over them, but simply allotted space and time for he/she to explore their artistic medium by practicing, doing their art, writing some drafts, dancing and honing his/her craft. You don't have to be responsible for the outcomes of their work, just a facilitator who offers time and space and materials for your child to explore, create and express him/herself fully through an art form. Having an established practice in the arts supports all humans to manage stress, feel fulfilled and generate content that is of value to the world, and whose expression supports a person to feel fully engaged and fulfilled in their life, regardless of what is or isn't happening for them. IT's a tool that we all can use to make sense of ourselves, our lives and our emotions, while being of service as we express our insight and truth.
6) Find Purpose Through Service
With Your kids, pick some local organizations, projects and communities you all would be interested in supporting together. It could be the local homeless soup kitchen, the animal shelter, a tutoring center for low-income students. Decide as a family team which causes you most want to be involved in. Arrange some times for you to do service work as a family and time in your family meetings (see #7) to discuss and process your learning and experiences.
7) Connect and Collaborate Through Weekly Family Meetings
Find a time for 20-60 minutes each week when your family can sit down to have a family meetings. Do problem solving, brainstorming, appreciations and room for improvement sharing for the week. Set goals for the following meeting and check in on accountability since the last meeting. Be sure to start each meeting with appreciations where each person in the family has time to go around and appreciate each other person for something specific. This practice brings families closer together, and provides a space where kids and parents feel heard, more proactive in addressing challenges, and more connected through appreciations and proactive collaboration.
Kiran Gaind is a mom to two young girls and owns The Connected Family, a life, leadership and parenting coaching practice for modern parents based in Palo Alto. She offers private coaching packages, gives talks at schools and companies, provides webinars, self-paced video classes and writes a blog and email newsletter. She is available for a free consultation (call 650-308-9425 or email kiran@theconnectedfamily.net) to help you create new habits and practices to support your most connected, balanced family life.