I just saw something that seems to worry Romance writers, especially indie authors: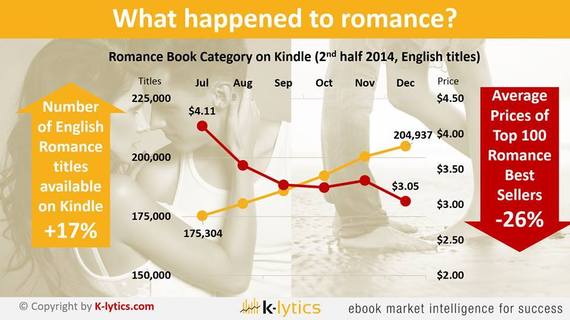 Any kind of price drop in ebooks is troubling, and I've written a book that's close to Historical Romance, Rosedale in Love. It revisits Edith Wharton's classic novel The House of Mirth and gives it a surprise happy ending. But romance per se isn't one of the genres I publish in. Not that I'd ever rule it out. I started as a short story writer, became a mystery author, added memoir, psychology, horror and more genres than I ever imagined to my list. I've always read across genres since I had my first library card and I could never stay with just one form as an author. I admire people who happily produce one book a year in the same mystery series. That would feel like solitary confinement to me.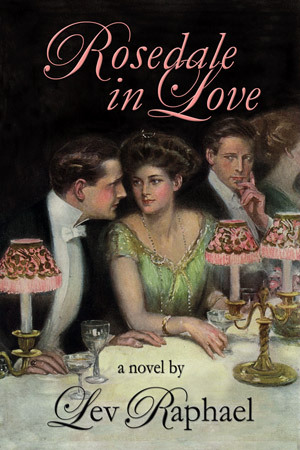 When I started out, an author friend warned me that publishing was a crazy business, and he was right. Ever since my first book was published in 1990, I've been seeing news items about one scary trend or another. In the old days I'd call my editor or huddle with other authors or call friends who wrote. Then as the Internet took over, I would watch chat get panicky in discussion groups and I'd fall into the trap of emailing doom-saying studies to people in my network. Now Twitter and FB make bad news instantly go viral.
Here are the facts: there's always bad news in publishing about something. If you're an author, you have to do more than just get used to it, you have to be scrupulously selective. You have to quickly scan it to see if there's anything you can glean that might help you.
But the most important thing to remember is this: you can't ever let any news item or chart or reported trend deflect you from your path. You have to keep writing and growing as a writer (which also means reading widely). And yes, you need to keep learning everything you need to about the business--but not to the point where you feel overwhelmed and your writing suffers.
You have to keep your eyes on the prize. That's how I've published twenty-five books no matter what the hell was going on around me. And at times it felt like a cyclone of bad news. Doesn't matter. Whenever I'm worried about publishing or my career, I remember the great lines from the Henry James' story "The Middle Years" about writers: "our doubt is our passion and our passion is our art." They keep me going.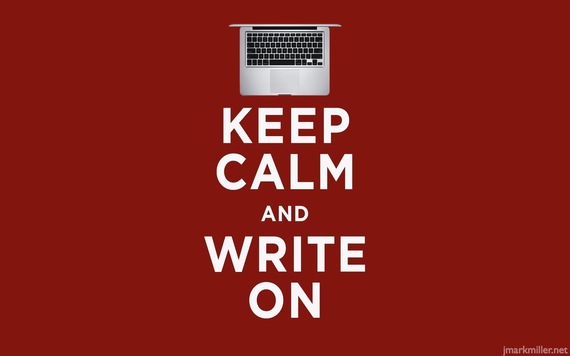 Lev Raphael's latest book is Assault With a Deadly Lie, a novel of suspense about gun violence, stalking, and militarized police.
REAL LIFE. REAL NEWS. REAL VOICES.
Help us tell more of the stories that matter from voices that too often remain unheard.