In my business, I see a lot of stuff. I'm always on the hunt for vintage finds for my clients and friends. Because of this, I know of a lot of 'secret' places where the selection is great and the prices are low. That said, I'm not one to keep quiet about these things. I believe in sharing the wealth. After all, there are more than enough antiques to go around and I want the markets I love best to thrive.
I've been to flea markets all over the world, and among the very best is one called "The Golden Nugget" in Lambertville, New Jersey. As the name connotes, it is a treasure trove, and unlike a visit to the famous casino with the same name, you won't risk losing your shirt. In fact, you might come back with a vintage one.
This market has long been a favorite of mine, and I've found wonderful things there over the years. It's also located in an idyllic setting that's a stone's throw from where Washington crossed The Delaware.
Like so many New Yorkers, I need to leave the city frequently to prevent me from turning into a character in a Woody Allen movie. Flea markets are always a great excuse to skip town, get some fresh air and find bargains. Like so many great markets, The Golden Nugget is close enough to New York and Philadelphia for convenience and far away enough to make you feel like you've left town.
In the flea market world, I got a late start. I've never been one of those people to head to a market at 5a.m. with a flashlight. My hat is off to those who do, but I find that the real bargains happen towards the end of the day, when dealers don't want to pack up their items and take them home again.
I arrived at 11:30a.m., and the market was in full swing. It opens at 5a.m. and has steady traffic all day. Some were starting to close up shop, but that was my cue to dive in for deals.
Come With A List, But Be Open To Surprises
I came with a list of things I was hoping to find, including gifts for a friend and her daughters, ephemera for a project I'm working on, and some vintage storage solutions. Of course in addition to my list, I was open to surprises, as I always am when I'm at a flea market.
I found my gifts quite easily. I bought three pink rings -- all adjustable, so they will be sure to fit. I don't know my friend's ring size and her girls are still growing, so these rings are the perfect find for them.
As for the ephemera, there was no shortage of it. For those that don't know it by its formal name, ephemera is anything made of paper that was not meant to last, and for some reason is still around. It includes vintage magazines, sheet music, posters, etc., all of which give a historic snapshot, have a nostalgic vibe and often look great framed. I found a 1940s pin-up print. She's saucy for the 1940s but very tame for 2014, so she's perfect for me.
Finally for storage, I found some vintage suitcases, which look great displayed, and are also wonderful for storing off-season clothing, holiday décor, and just about anything you don't want to see everyday.
My surprise finds included a pair of vintage binoculars in their original case and some great books. All of the items are wonderful for display, and I'll actually use the binoculars (neighbors beware!), and read the books.
A Beautiful Area Beyond The Market
The Golden Nugget is less than two hours from Manhattan, and has been going strong since 1967. In all my years of going there, I've never left empty-handed or empty-hearted. There are great finds and some of the nicest people you'll ever want to meet. Whenever I'm there, I breathe a little easier and sink back into my small town roots.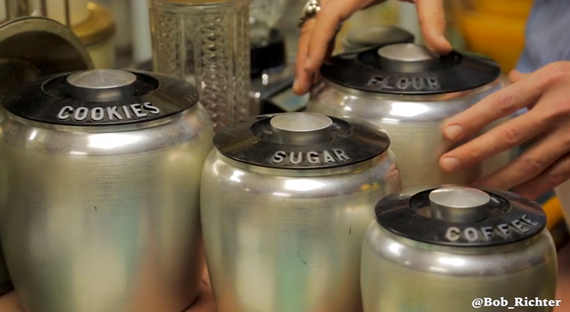 Vintage Canister Set

If you're anything like me, after a day of flea marketing, you'll want to keep up the momentum and go to an antiques store or two. Less than five minutes from the market, you'll find the main drag in Lambertville: Union Street. That's where an outstanding antiques mecca called "The People's Store" is located.
With four floors of finds, The People's Store has wonderful, ever-changing merchandise from hundreds of dealers. I like it so much that my Mom knows to get me a gift certificate to the place for Christmas. I've found some of my best pieces of artwork, pottery and vintage clothing there.
There are several other great antiques stores in town, along with restaurants, coffee shops and lots of other places of interest. Beyond that, it's an easy and scenic walk across the bridge to New Hope, PA. You'll find anything and everything there from ice cream parlors to art galleries.
So head to The Golden Nugget Flea Market in Lambertville, NJ, and stick around long enough to spend some time in one of the most charming areas on the East Coast.
WATCH THE VIDEO: Tag along as I shop for vintage treasures at The Golden Nugget:
WHERE: The Golden Nugget Flea Market is located at 1850 River Road / Route 29, Lambertville, NJ 08530. There's free admission and free parking. The market is open Wednesday, Saturday and Sunday
FOR MORE INFORMATION: visit their web site: here.