"I'm a compulsive entrepreneur," said Joe Bastianich, "it's all I want to do all the time, so Restaurant Startup is the perfect show for me." In its third season and wrapping tonight with the season finale, Bastianich took some time to chat with me about his career on television and as both a highly successful restaurateur and investor.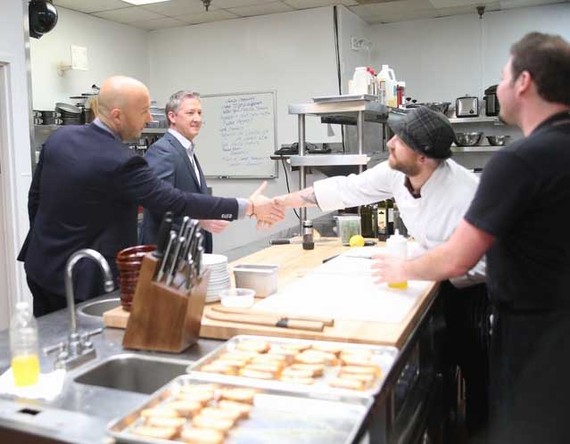 Joe Bastianich on the set of Restaurant Startup with co-star Tim Love and contestants Ryan Spragg and Javier Canteras of Bocadillo, who secured a $150,000 investment from Joe himself (Courtesy CNBC)
As co-star of Restaurant Startup, in each episode two potential restaurants compete for his investment, or that of his counterpart Tim Love. "We wanted a show that focused on the background and intelligence and skills sets that are behind the scenes of successful restaurants. We wanted to bring to bear on television everything else besides just the cooking." Bastianich is also an executive producer and co-creator with CNBC.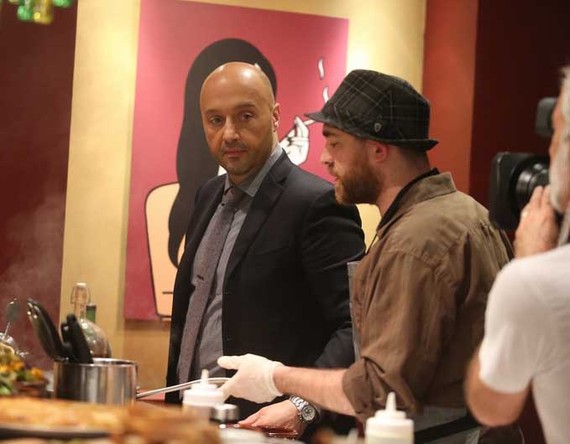 Joe Bastianich raises the temperature in the kitchen as he watches over chef Ryan Spragg of Bocadillo (Courtesy CNBC)
Of course, the cooking remains a part of this high-stakes competition show in which competitors must create a functioning business and serve a full house of guests, including Love and Bastianich, who don't always agree about these live-action business proposals. No matter the outcome though, Joe beams over the show, "There have been so many successes! Banza Pasta is a great example, they just had a huge market valuation. They turned out to be a big deal!"
Bastianich spoke with me from a town near Parma, Italy, actually very close to my own hometown of Reggio Emilia, on the set of another show he's currently filming. Bastianich has several shows in Italy. The son of famed and beloved chef, restaurateur and author Lidia Bastianich, whose PBS cooking shows so many of us cherish, Joe admitted, "I'm sure growing up with my mom on television had an effect on me."
Besides his TV shows in US and Italy, Bastianich himself is also an author and restaurateur, and is involved in the wine business through Bastianich Winery in Italy which belongs to his children. "Wine was always where my passion came from, and I came to the restaurant business through wine."
Prior to all that, Bastianich studied finance and acquired a hard-nosed business background on Wall Street. "Wall Street gave me the advantage I needed, and that advantage has helped me over the years." Yet a one year stint proved enough, "On Wall Street I missed the real entrepreneurial side of things. Restaurateurs are, at the heart, entrepreneurs."
Bastianich's background as the son of hard-working immigrant restaurateurs, who really are small business people, trumped the lure of a lucrative life on Wall Street, so he chose to be a hard-working restaurateur himself. "There's a sense of completion when you feed people all day and customers are all happy. It gives you a great sense of accomplishment too. As opposed to trading bonds, pushing paper, or suing someone, it's much more satisfying." So he made for himself a lucrative life in the culinary industry.
In 1993, after coming back to New York from a couple of years working and living in Italy, Bastianich took an $80,000 loan from his grandmother and opened his first restaurant, Becco in New York City, with mom Lidia as his partner. Since then, he has created a roster of thirty successful restaurants worldwide. When I asked how he feels about Becco today, he replied, "Restaurants are like children, you don't love one more than the other, you love them all equally." He paused, then continued, "But, the first is always the first."
Beyond all the restaurants, Joe Bastianich has proven an uber-entrepreneur, and his name - along with his mother's and Mario Batali's -- graces the short list of founders and backers of NYC's ludicrously successful Eataly, a giant all-things-Italian indoor marketplace housing several restaurants and eateries, now also open in Chicago.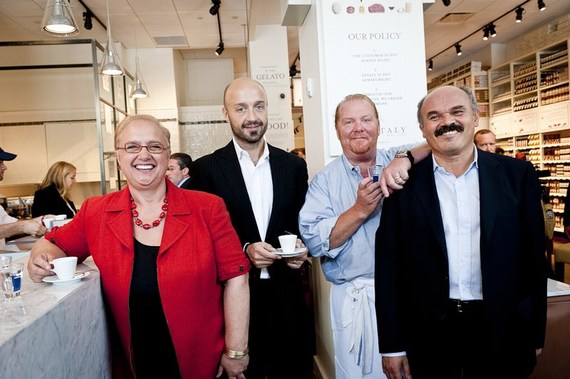 The faces of Eataly: Lidia Bastianich, Joe Bastianich, Mario Batali, Oscar Farinetti (Photo by Evan Sung, Courtesy Joe Bastianich and Eataly)

When I asked Bastianich about Eataly, he chuckled, "Eataly found me!" Turns out Oscar Farinetti, the founder of the original Eataly in Torino, Italy, "had several false starts attempting to open an Eataly NYC. Then," explained Bastianich, "someone told Oscar... Find Joe Bastianich. So he came to New York and we talked and I knew I had to be a part of it."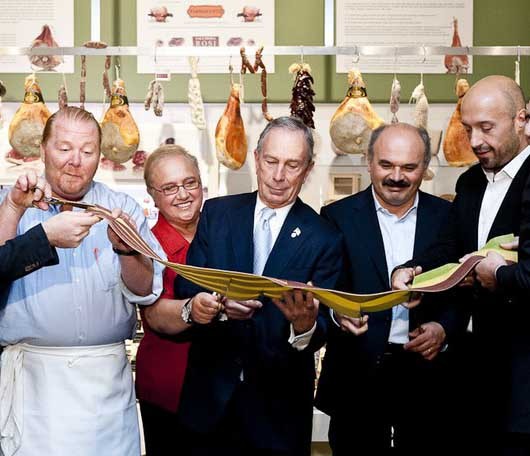 Pasta dough ribbon-cutting with Mayor Bloomberg (center) at the opening of Eataly NYC (Photo by Evan Sung, Courtesy Joe Bastianich and Eataly)
It's that keen sense of a killer opportunity that marks Bastianich, and makes him so perfect for Restaurant Startup, where he can share his formidable sense of what creates success. "If the audience comes away educated and entertained -- in that order -- then I've done my job."
Besides what he clearly sees as the very serious nature of the show, "Don't open a restaurant unless you know what you're doing."... What excites Bastianich about Restaurant Startup is "The opportunity on a national level to identify and get to meet really talented people with great ideas that I can invest in, that's very exciting to me!"