The Congressional Budget Office (CBO), a non-partisan government agency whose analyses of the effects of federal legislation are generally accepted to be the most accurate, has issued its assessment of the Senate Health Care Bill. The CBO analysis confirms the general perception that the bill is tax reform masquerading as health care reform.
· The Senate Health Care Bill is a bill to cut taxes for wealthy Americans. It will lead to a $700 billion tax cut, with 45% of that tax cut going to those making more than $875,000 a year. Those in the top 0.1% who have $5 million or more in income will get a tax cut of nearly $250,000 a year. The top 20% of American income earners will get 67% of the tax cut.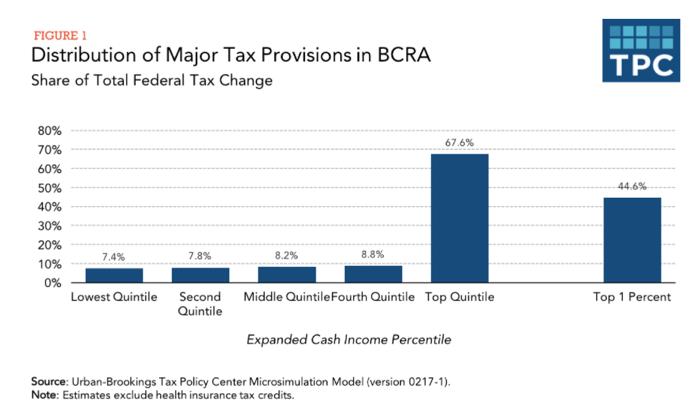 · The burden of tax cut for the wealthy will be borne by poor and middle class Americans through the elimination or reduction in their health care coverage, with 22 million people losing their health insurance by 2026, raising the number of Americans without health insurance to 49 million, or about one in 7 Americans.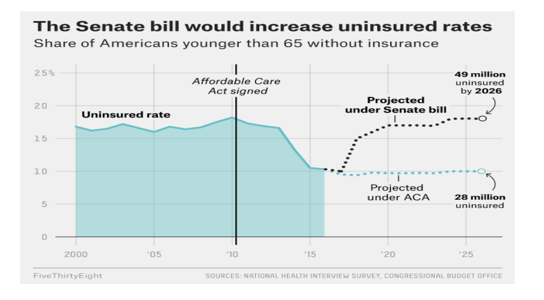 · Health insurance premiums will go up substantially for those making less than $26,500 a year—$400 more for a 21-year-old person, $900 for a 40-year-old person, and $2000 for a 64-year-old person. For the 64-year-old person, the cost for health insurance premiums at $16,000 a year will be more than half of that person's annual income. Even those making a typical middle-class income, other than very young middle-class Americans, can expect to pay more for health insurance. Essentially, this makes health insurance unaffordable for poor and middle-class Americans who do not have employer-based health insurance.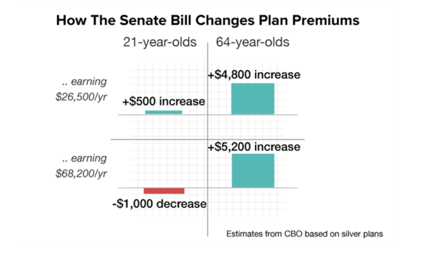 · Health insurers would not be required to offer 10 essential benefits required by the Affordable Care Act (ACA). Thus, Americans will pay more to get less health care.
· Approximately 15 million people will lose Medicaid coverage by 2026. Medicaid provides access to health care for nearly half of pregnant American women and 60% of disabled children. It also pays for two-thirds of Americans living in nursing home.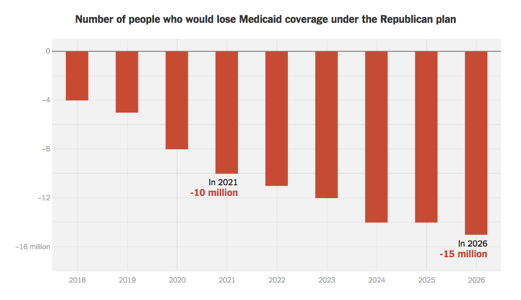 · As Atul Gawande puts it succinctly, the Senate Health Care Bill will take away Medicaid for approximately 750,000 people to "give the 400 highest earners in the country a $33 billion tax cut".
· A new review published in the Annals of Internal Medicine found that people without health insurance have a much higher risk of dying. Based on the CBO analyses, this means approximately 29,000 Americans will die as a direct result of this bill. That is 10 times the number of people killed in the 9/11 terrorist attacks in 2001.
As a result of, the Senate Health Care Bill is opposed by all major medical organizations:
· Physicians: American Medical Association, American Academy of Family Physicians, American Academy of Pediatrics, American College of Physicians, American Congress of Obstetricians and Gynecologists, American Osteopathic Association, American Psychiatric Association, American College of Emergency Physicians, Association of American Medical Colleges
· Hospitals: American Hospital Association, Federation of American Hospitals.
· Other organizations including patient advocates: American Public Health Association, American Association of Retired Persons, American Heart Association, American Lung Association, and others.
Although there are currently enough Republican Senators who oppose the Senate Health Care Bill to prevent its passage, Senate Majority Leader Mitch McConnell is a highly effective deal maker who is capable of convincing those Senators to reverse their position, particularly those who have expressed strong misgivings about the ACA such as Senators Ted Cruz and Rand Paul. Thus, those who support the right of all Americans to have life and good health should continue to advocate for the defeat of this bill through the following acts:
· If you live in Alaska, Arizona, Louisiana, Maine, Nevada, West Virginia, call your Senator and use the following information that can also be tweeted or posted to Facebook:
o If @lisamurkowski votes yes, 62,500 Alaskans will lose their coverage. Live in Alaska? Ask her to #ProtectOurCare: 202-224-6665
o .@JeffFlake, explain to 465,200 Arizonans why you will vote to take away their coverage just give wealthy a big tax break. #ProtectOurCare
o Do 343,000 Louisianans losing health care pass the Kimmel Test @BillCassidy? Let him know, the answer is no. Call: 202-224-5824
o .@SenatorCollins could be the deciding vote on whether 23 million Americans lose their health care and 116,800 Mainers. CALL NOW: 202-224-2523
o Shouldn't 138,100 Nevadans losing health care be too many? Call @SenDeanHeller now: 202-224-6624 #ProtectOurCare
o In West Virginia, 122,800 will lose coverage if @sencapito votes yes to repeal health care. Live in WV? Call: 202-224-6472 #ProtectOurCare
· If you do not live in those states, please pass on the information in this blog, particularly the above action items, to your friends and family members living in those states or who have friends and family members living in those states.
· All of us can do the following:
o Speak out and share your story about why the Senate should vote no on repealing health care. #LivesOnTheLine
o Moved by the stories shared in the #LivesOnTheLine hashtag. Health care saves lives, and everyone deserves care.
o This is it. If we don't act to #ProtectOurCare, the Senate might take it away. CALL NOW: 866-426-2631.
Ten times more Americans will die from the passage of the Senate Health Care Bill than from terrorist attacks on American soil in the last 17 years! Millions of Americans will suffer from untreated illnesses and the stress of not having health insurance and the real fear of going bankrupt when they or their loved ones get sick. All just so the richest Americans can get richer. Please do what you can.
Related
Popular in the Community