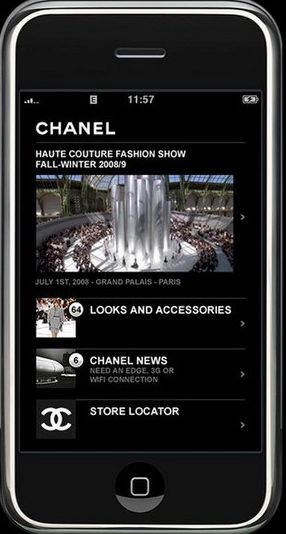 Chanel: This legacy fashion house is expert at staying relevant. Chanel was one of the first fashion houses to podcast shows -- and the shows are amazing! The Chanel App features runway video, looks & accessories and Chanel News: always interesting, varied and rooted in history. The App also features behind the scenes looks at fashion shoots and exclusives like ongoing episodes that give an insider's glimpse into Coco Chanel's apartment.
Gucci: This App has all the standard stuff like product news, and behind the scene's looks at what goes into making a collection. What I really love is Gucci Beats with loops, beats, drums, and vocals compiled by iconic music producer Mark Ronson. You can create a beat and then scratch it on a virtual turntable and share it on Facebook. The App features a selection of music from the Gucci Music Channel: a continuous three-hour stream of music. There is also a continuously updated Little Black Book feature where you learn about the best restaurants, clubs, bars and hotels in 33 cities worldwide.
Style.com: Style.com has the most complete coverage of the shows and they are all here. The slideshows are the very best on the web and mobile.
New York Times: I get most of my New York Times fashion fix on Sunday. But Thursday Styles is also not to be missed. I get a daily fashion news fix from the Fashion & Style section of the New York Times App.
StyleCaster: The best thing about the website is the news feature and it is even better on the App. The organization is very clean - and it has excellent fashion, industry and pop culture coverage.
Sartorialist: This App takes photos from the original and most elegantly presented street style blog and allows you to view them in slide show form. It is not affiliated with Scott Schuman of The Sartorialist.
chicfeed: chicfeed pulls together photo's from many of the web's best street style blogs and allows you to view them in slideshow form. You can set your preferences to include feeds from all or just a few of blogs The Sartorialist, Face Hunter, Jak and Jill Blog, Cherry Blossom Girl, LookBook and altamira. Each photo has a link that takes you directly to the site for more photos.