What is the "serious criticism" of architecture?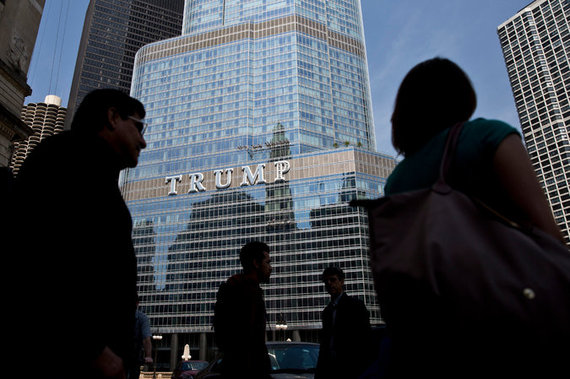 Blair Kamin's criticism of the "TRUMP" sign in Chicago sparked a nationwide debate about private influence on public space. (Photo by Nathan Weber, The New York Times.)
The Gray Lady's supposed desertion raises a big question: What is "serious criticism" in architecture? This is a vital topic, since architecture critics often shape public opinion as much as architects themselves do, if not more so. I asked a range of respected writers what they think the defining traits of good criticism are. Blair Kamin, the Pulitzer-winning critic of the Chicago Tribune, gave me a list he called "The Seven Lamps of Architecture Criticism," in homage to John Ruskin's 1849 treatise. Shamelessly, I'm stealing and adapting his outline around comments from others.
"We need enlightened critics, not armchair snipers," insists Susan Szenasy, Editor-in-Chief of Metropolis. "The ideal critic is fair, ethical, empathetic," says Cathy Lang Ho, the original Editor-in-Chief of The Architect's Newspaper. "Have a larger point," says Alexandra Lange, author of Writing About Architecture: "Emphasize why [your opinion] matters--in the city, to the public, to the users." Cathleen McGuigan, Editor-in-Chief of Architectural Record, agrees: "Judge a project on its own merits. You can't judge a cabin as you would a castle." Fairness, she points out, means "not hiding your own strong biases," a quality the San Francisco Chronicle's John King refers to as "honesty." Michael Sorkin, the former critic for Village Voice, says that good criticism "defends equity, beauty, and sustainability" and "advances kindness, generosity, and excellence."
"Emotion doesn't trump reason," says Robert Ivy, formerly of Architectural Record and currently the CEO of the American Institute of Architects. "Passion will drive a lot, but it's not all there is." McGuigan uses the term authority, which requires that "critics become deeply well-informed on every aspect of their subjects' construction, program, context, and limits." As Kamin puts it, "Good critics really know their territory. Many media sites now just assemble images and news items without lending a point of view. That's not criticism--it's pimpery."
"Buildings are not merely aesthetic objects," says Karrie Jacobs, the original Editor-in-Chief of Dwell magazine. "Good criticism is not about riffing on a rendering. It considers architecture in the context of the many competing (and often conflicting) forces that shape a building." Lange agrees: "Context is one of the ways criticism adds value." As King puts it, "Good criticism must be rooted." Szenasy spells it out: "Good architecture criticism understands context, be it social, economic, environmental, or cultural. Design without these connections is a hollow exercise in styling."
"The critic has to build a persuasive case--brick by brick," declares McGuigan. As Sorkin puts it, the best criticism "fights for its own relevance and remit." It isn't clouded by "on the one hand, on the other hand," explains Kamin: "You know what the critic thinks." Lange adds that "the most persuasive technique is to get the reader to see things through the critic's eyes. Be visual. Describe the experience so that people can imagine themselves there."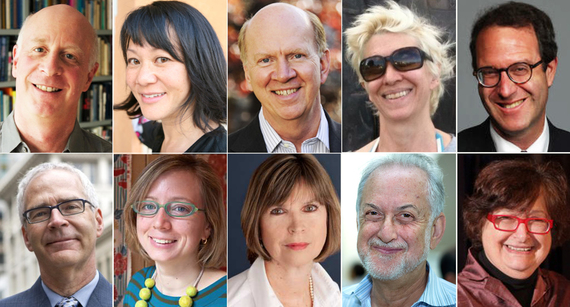 Top, left to right: Paul Goldberger, Cathy Lang Ho, Robert Ivy, Karrie Jacobs, Blair Kamin. Bottom, left to right: John King, Alexandra Lange, Cathleen McGuigan, Michael Sorkin, Susan Szenasy.

5. PASSIONATE
"Criticism depends on love," proclaims Pulitzer-winner Paul Goldberger, who adds "knowledge, judgment, and an ability to balance these things" as essential qualities. The word "love" might surprise you, since, as Lange puts it, many people mistakenly believe that "criticism equals hating on things." But Goldberger explains himself in Building Up and Tearing Down: "A critic who does not love his field cannot last long in it.... To love the thing ... and also to love what it means in other people's lives" is a prerequisite. Ivy concurs, saying that good criticism reflects "deep commitment" and "love of the subject." According to King, you "must have a passion and ambition that extends beyond simply taking stock of the latest tower."
"The critic must be a fighter," historian and critic Joseph Rykwert wrote last year. A decade ago, the late "architecture watchdog" Allan Temko noted that few contemporary writers appreciate "activist criticism--the need to get out there and fight with fang and claw." Critics can use their position to "make strong propaganda for a real position," says Sorkin. They should be "daring," Ho maintains, "rallying for practices that contribute to a more equitable and sustainable world." Kamin contends that "a critic doesn't just conclude the conversation--he/she can start it."
7. PUBLIC

"The primary purpose of architectural criticism," Kamin declares, "is to build a bridge between the public and the public realm. Architecture is not a purely private transaction between architects and clients. It affects everyone, so it ought to be understandable to everyone." Sorkin has called criticism "a service profession" whose "role to assess and promote the positive effects architecture can bring to society and the wider world." Ho backs this up: "Ultimately, buildings embody a set of values, and the best critics are those who advocate for values that lift society while helping to advance the art."
Using these lenses to look again at the offending articles from the New York Times, I struggle to see what Betsky finds so objectionable. In fact, many of Michael Kimmelman's recent writings--his attack on the lackluster One World Trade Center, his plea to save Paul Rudolph's Brutalist landmark in Goshen, NY, his exposition of Berlin after the fall of the Wall, etc.--capably illustrate the "seven lamps" in their tone, timeliness, and relevance.

It is true that Kimmelman differs noticeably from his two immediate predecessors--Nicolai Ouroussoff (2004-2011) and Herbert Muschamp (1992-2004)--but often those two failed to meet many of the criteria above. In 2010, Lange wrote that Ouroussoff "has an opinion about design, but his reviews offer not much more than that opinion. His approach--little history, less politics, occasional urbanism--shrinks the critic's role to commenting only on the appearance of the architecture." And Muschamp was infamous for his "lack of objectivity" and "unapologetic dilettantism" (New York Observer, 2004). A champion of stylists, he contributed significantly to advancing the careers of many so-called "starchitects." His 2007 obituary in the Los Angeles Times highlighted his description of Frank Gehry's Guggenheim in Bilbao as "the reincarnation of Marilyn Monroe"--it "likes to let its dress fly up."
"Buildings don't exist in a vacuum," notes Kimmelman, who won last year's Brendan Gill Prize from the Municipal Art Society of New York. "They may be remarkable looking and innovative, but they're not sculptures." All the writers I interviewed emphasize that architecture and its criticism should demonstrate great empathy for the public. In his critique of the Times, however, Betsky insisted that "architecture is not made by or for 'a wide spectrum of the population.' It is made for those who have the means to commission it, and reflects their values and priorities." In February, he reiterated this point: "it is not 'the people' who commission architecture."
"We've allowed the conversation to drift from social agency," Kimmelman told a reporter, not long after taking his post. "The public conversation about architecture has been dominated by people who shared particular interests in formal and material innovation. These are central issues and fundamental to my job. But there have always been vast numbers of people interested in ... the interaction of formal and social inventions ... who have felt left out of the conversation. So in part, taking over as the Times's critic, I felt that my job should be to broaden the conversation."
Sounds pretty "serious" to me.
Popular in the Community