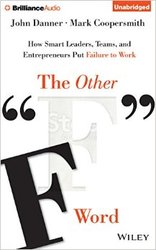 Thomas Edison once said, "I don't fail. I have just figured out 1000 ways it didn't work."
There's so much truth to that statement, but most of us become blindsided by that word we fear most: Failure.
The 'F' word. Really it's just a bunch of 's' words. Scary. Shameful. Sh**ty.
When failure happens, it can get under our skin like an old boyfriend or girlfriend. And we can't seem to shake them off. Too often we let it become a constant reminder that we aren't good enough or perhaps we never were?
Yet if we open up the failure and examine it, there is a profound lesson to learn. And it's often not the one we thought. I've found this comes as a huge gift. We need to look for it.
A couple of professors at the University of California Berkeley (and yes, one of them moonlights at Princeton), John Danner and Mark Coopersmith, interviewed an impressive group of highly successful people about failure and incorporated their insights into a new book, "The Other 'F' Word: How Smart Leaders, Teams and Entrepreneurs Put Failure to Work." They spoke with executives we have all heard of, entrepreneurs who invented products we covet and other cool folks.
Each person reflected on a time they failed, how they dealt with it and most importantly, what in the world they learned from it. And interestingly enough, a lot of important and soulful stuff emerges. They remind us that failure is a necessary part of discovery and can lead to success, not its opposite. But it is how we understand and respond to failure that dictates whether it becomes a career stopper or a pathway to huge opportunity.
Mostly as parents we focus on improving our kids' self-esteem by asking "what did you excel at today?" But this was not the case for Spanx billionaire, Sara Blakely. She was raised assessing her failure early on because her father made it a point to ask: "What did you fail at today?" Sara's father makes us think about whether we should hone our kids' and employees' grit and determination by focusing on the lessons learned from the small daily failures.
There is much I liked about this book, a big takeaway was how well it deconstructed failure in a systematic way. It reminds us to 'respect the gravity of failure' so we take it seriously. Danner and Coopersmith identify the seven stages of failure and provide excellent advice.
Respect - the gravity of failure in an inevitably fallible organization
Rehearse - protocols you will use for handling a range of failures
Recognize - signals of failure to buy time to minimize long term impacts
React - effectively to failure
Reflect - thoughtfully, quickly, thoroughly to reasons for the failure
Rebound - to after effects and incorporate the lessons learned
Remember - to embed your experience and make sure it is in the cultural memory of the organization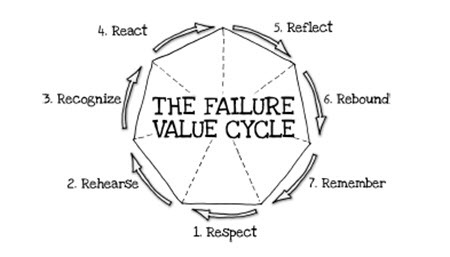 This book is a great practical guide for personal and professional innovation and growth. It can help us all gain more skills and the confidence to just go for it.
As they say, why waste a good failure.
Dust ourselves off and learn to fail forward. That is what Danner and Coopersmith help us do in their new book.
Related