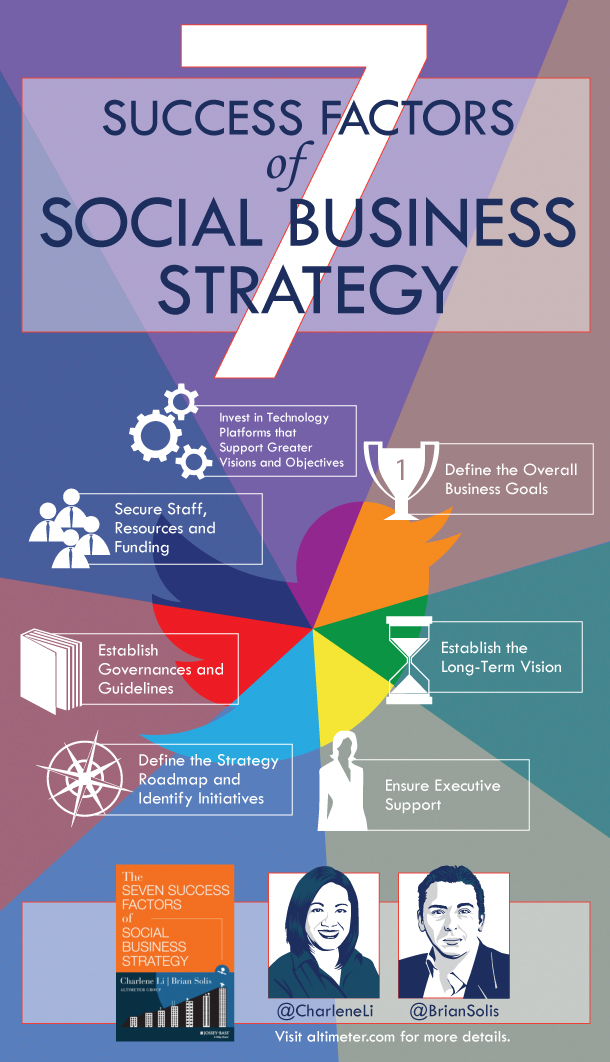 Houston, we have a problem - a social business strategy problem.
The era of social networking started in the early 2000s with the launch of Friendster. In fact we can argue that there were renditions of social networking even before that --from Bulletin Board Systems (BBS) to CompuServe, Prodigy, and AOL. Yet even though we have had some form of social networking since the advent of the networked ecosystem, most companies today are still challenged with successful social business transformational initiatives.
Only 34% of businesses feel that their social strategy is connected to business outcomes.
Just 28% of companies feel that they have a holistic approach to social media, where lines of business and business functions work together under a common vision.
A mere 12% are confident they have a plan that looks beyond the next year.
Only half said that top executives were "informed, engaged and aligned with their companies' social strategy."
As a CMO and an active user of social media, I am stumped at how the industry still treats social as an experiment. Majority of businesses using social media today have few clear connections between their social activities and business goals. Social media metrics, if they exist, focus instead on engagement activity metrics like 'likes' and 'follows' and not the actual business value creation like revenue, brand reputation or cost reduction.
Another trait commonly observed in the industry is that most social media strategists focus solely on the external social media. What is missing is a holistic strategy that incorporates both external and internal facets and focuses on translating business objectives into socially adept interactions.
The e-book is an easy and insightful read that provides practical advice. You will learn how to define your social strategy, gain alignment across the business, and use said strategy to support business goals. Li and Solis also focus their findings and recommendations on how to convince and rally decision makers at the executive level, with both considered practices and mistakes to avoid.
Without further ado, here are the 7 key factors that impact the success of your social business strategy.
Figure out your business objectives. It is imperative that your strategy be built around your business goals. Starting off on the right foot means defining goals up front and ensuring that stakeholders at different levels and across departments are aligned towards those goals.
The second step is to define key performance indicators (KPIs) and metrics that go beyond engagement data sets. For example, take likes, comments, re-tweets, reach, views and the alike, and map these to tangible business outcomes such as revenue generation, brand reputation and cost savings.
Bonus points for teams that can start correlating sentiment and share of voice in social media against business impact on revenue, support and retention.
2) Establish a long-term vision
There is tremendous advantage in knowing where we are going. It's not just enough to have goals in place; you also need to have a long term vision that communicates to everyone within the organization on why this journey is taking place and the value it brings.
It is imperative to define this vision for future employees, customers, and partner relationships and social experiences that will come about as a result of this holistic strategy. It provides a direction and a purpose to every stakeholder. In order to establish a vision, social executives must understand their role in a social business.
3) Ensure executive alignment and support
Executive support is imperative to the establishment and on-going execution of a social business strategy. Social often exists in its own marketing silo. But at some point, business collaboration must extend beyond marketing or social customer care and pervasively reach throughout the entire ecosystem. When every voice is heard in the seams of the organizational fabric, you have achieved a holistic adoption of social. Executive sponsorship is necessary to do this, and to also align collaboration with tangible business objectives.
Additionally, speaking the language that matters to executives is the only way to ensuring program support, therefore allowing sustainable budget and resources to scale social within the organization. I recently wrote about the importance of social executive support.
4) Define the strategy roadmap and associated initiatives
Once you have your vision and you are in alignment on your business goals, you need a detailed plan that outlines each step required to build your social business. Ideally, it should outline the next 3 years with focus on initiatives that one can execute in a proficient manner immediately, along with prioritization based on business value.
5) Establish governance and guidelines
Develop one coherent social governance model that outlines and defines stakeholders that are responsible for the strategy, management and development of an infrastructure to support your social business strategy.
Ideally, a corporate hub is established by the social media strategist with representation from each business unit to initiate enterprise priorities, guidelines and processes along with specific roles and responsibilities. One should also invest in formation of a Social Media Center of Excellence (CoE) which ensures a systematic strategy and allows sustainable scalability across the organization.
6) Secure staff, resources and funding
The most important aspect of a successful social business strategy is talent. It is important to get the right people with the right mindset onto the core team to make this work. Determine where resources are best applied in the present and the future. Ideally, your corporate strategist and their teams should have proficient background in dealing with emergent technologies and approaches.
Think deep about your strategic relationships across your agency, vendor and partner networks. It is recommended and perfectly fine to rely on capable external partners in the initial phases when marketing efforts are being amplified and internal skills are limited.
As a CMO, I am more interested in my talent's ability to adapt and forecast the future working models than their ability to sell me their traditional past successes. Invest in the ability to train your staff on vision, purpose and business value creation along with an appropriate metrics/reporting structure to ensure a uniform approach across the business.
7) Invest in technology platforms that evolve
Avoid the shiny object syndrome that is often seen in marketing departments all across the industry. Avoid new technologies and investment in the latest tactics prior to having a coherent and a holistic social business strategy, roadmap and alignment in place. Often times, technology choices of yesteryear don't scale well into the future state of a social business. Smart executives and strategists always pick technology last.
One way of tackling this issue is to align with technology vendors who share their product roadmaps with you so that one can easily evaluate if they will meet your organization's future state.
Enterprise social is often misunderstood by the masses as an easy, simple, in the moment kind of an activity. Fortunately for us, Solis and Li have done a great job in explaining the intricacies of enterprise social business and provide a heartfelt read on tackling the issues that we are all facing in this industry.
In the noisy world of social media publications, this is a refreshing and an informative read. I highly recommend that all business executives, especially CEOs, CMOs, CHROs, CCOs, and CIOs to consider reading "The Seven Success Factors of Social Business Strategy".
Related
Popular in the Community