I said it several times, I am an artist with a sensitive social conscience.
Now I am making a series of serious portraits of the Orlando victims, this series would be my modest contribution to the fight against homophobia and violence, against misogyny and sexism.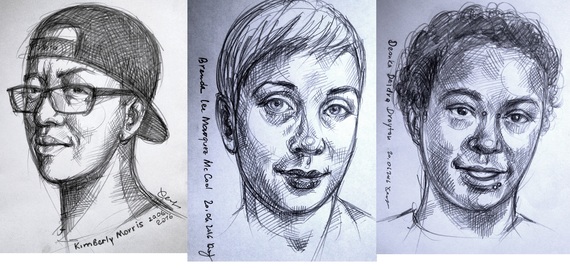 Kimberly Morris, Brenda Lee Marquez McCool, Deonka Deidra Drayton by Lena Hades.

First of all, I want to remind the names of all men and women killed in Orlando nightclub. This is the list of them.
Stanley Almodovar III, 23
Amanda Alvear, 25
Oscar A. Aracena-Montero, 26
Rodolfo Ayala-Ayala, 33
Antonio Davon Brown, 29
Darryl Roman Burt II, 29
Angel L. Candelario-Padro, 28
Juan Chevez-Martinez, 25
Luis Daniel Conde, 39
Cory James Connell, 21
Tevin Eugene Crosby, 25
Deonka Deidra Drayton, 32
Simon Adrian Carrillo Fernandez, 31
Leroy Valentin Fernandez, 25
Mercedez Marisol Flores, 26
Peter O. Gonzalez-Cruz, 22
Juan Ramon Guerrero, 22
Paul Terrell Henry, 41
Frank Hernandez, 27
Miguel Angel Honorato, 30
Javier Jorge-Reyes, 40
Jason Benjamin Josaphat, 19
Eddie Jamoldroy Justice, 30
Anthony Luis Laureanodisla, 25
Christopher Andrew Leinonen, 32
Alejandro Barrios Martinez, 21
Brenda Lee Marquez McCool, 49
Gilberto Ramon Silva Menendez, 25
Kimberly Morris, 37
Akyra Monet Murray, 18
Luis Omar Ocasio-Capo, 20
Geraldo A. Ortiz-Jimenez, 25
Eric Ivan Ortiz-Rivera, 36
Joel Rayon Paniagua, 32
Jean Carlos Mendez Perez, 35
Enrique L. Rios, Jr., 25
Jean C. Nives Rodriguez, 27
Christopher Joseph Sanfeliz, 24
Xavier Emmanuel Serrano Rosado, 35
Edward Sotomayor Jr., 34
Yilmary Rodriguez Sulivan, 24
Shane Evan Tomlinson, 33
Martin Benitez Torres, 33
Jonathan Antonio Camuy Vega, 24
Franky Jimmy Dejesus Velazquez, 50
Juan P. Rivera Velazquez, 37
Luis S. Vielma, 22
Luis Daniel Wilson-Leon, 37
Jerald Arthur Wright, 31
You can notice the seven women in this list, they also were killed by Omar Mateen on June 12, 2016, in Florida.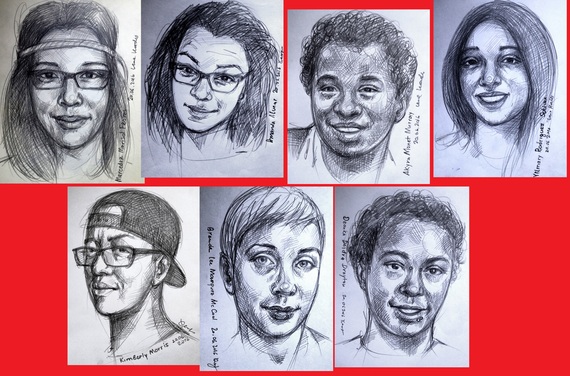 Mercedez Marisol Flores, Amanda Alvear, Akyra Monet Murray, Yilmary Rodriguez Sulivan, Kimberly Morris, Brenda Lee Marquez McCool, Deonka Deidra Drayton by Lena Hades.
SEVEN
I watched, and rewatched this film directed by David Fincher many times. This movie is about the seven deadly sins and the moral relativism. It has a frightening ending. Idealism is corrupted and proved almost as irrational as psychosis...
According to the definition of Blessed Augustine, sin is "a word, deed, or desire in opposition to the eternal law of God." Sin is a major theme of the Bible and in the religious texts of other faiths. Some Christian theologians considered that Satan uses the woman as a pawn in his destructive plot to overthrow God's plan. The Bible says 'Likewise, husbands, live with your wives in an understanding way, showing honor to the woman as the weaker vessel...' (1 Peter 3:7). It's a pity, but misogyny and sexism are common in the Bible.
The seven murdered women in Pulse nightclub, their names are Mercedez Marisol Flores, Amanda Alvear, Deonka Deidra Drayton, Yilmary Rodriguez Sulivan, Kimberly Morris, Akyra Monet Murray, Brenda Lee Marquez McCool. Who were they?
According to the Orlando Sentinel, Amanda Alvear was the 25-year-old pharmacy technician, she was going to school for nursing.
Mercedez Marisol Flores studied literature at Valencia Community College and had an interest in party planning. She was also an avid music fan. Amanda and Mercedez were close friends.
Yilmary Rodriguez Sulivan, 24, originally from Ponce, Puerto Rico was living in Orlando with her husband and two young sons. She was out for the night with her brother-in-law who was shot but survived the attack.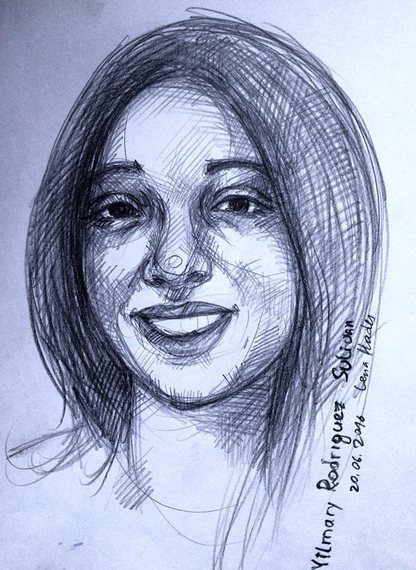 Yilmary Rodriguez Sulivan

Kimberly "KJ" Morris, 37, moved to Orlando just months ago and had taken a job at Pulse nightclub as a bouncer. Morris lived in Hawaii for about a year and then left a couple of months ago to help her mother and grandmother in Florida...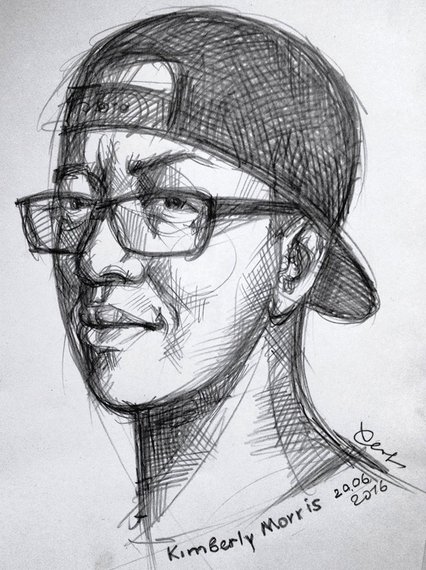 Kimberly "KJ" Morris

Akyra Monet Murray was an American basketball player for West Catholic Preparatory High School and the youngest victim of the Orlando nightclub massacre, she was only 18 years old!
Murray was planning on studying criminology, as she had plans to join the Federal Bureau of Investigation. All her plans collapsed at one moment...
Brenda Lee Marquez McCool was a strong and beautiful woman. She was a mother of 11 children, a grandmother of six, a two-time cancer survivor. She had been hit by two gunshots, protecting her son Isaiah in her last moments with her body, being the best mother in the world!
The last words of the final scene in the film SEVEN are Detective Lieutenant William Somerset paraphrasing an Ernest Hemingway quote, and declaring, "'The world is a fine place, and worth fighting for', I agree with the second part." As for me, I agree with Morgan Freeman and Ernest Hemingway, the world is worth fighting for.
Popular in the Community