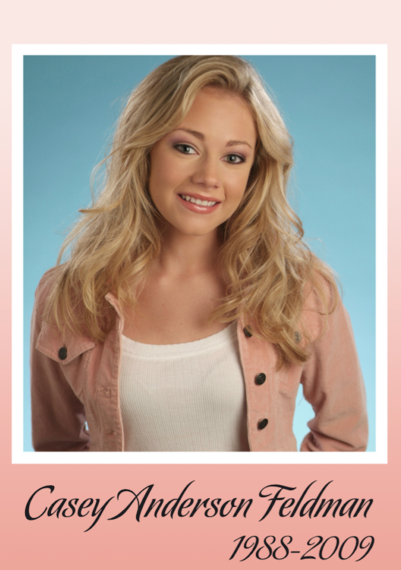 On July 17th, 2009, my 21-year old daughter Casey was killed by a distracted driver. On every anniversary of her death I inevitably think back to that day - the kiss I blew Casey as I left for work early in the morning, softly saying "love you sweetie" so not to wake her, where I was when I heard Casey had been taken to the hospital, the drive to the hospital, speaking with medical staff and being told Casey was in surgery, waiting with Di and her sisters for word from the surgeons, the moment when we learned Casey had died, waiting for our son Brett to arrive at the hospital and then telling Brett that his big sister was dead. I remember saying goodbye to Casey and how I felt on the drive home that I was somehow abandoning my child by leaving her at the hospital. Later that night, my wife, Brett and I were in Brett's room hugging and crying and I remember wondering how we would be able to survive, how we would be able to go on without Casey. How could we, especially our 19-year old son, ever have happy, normal lives? And how would Casey's short life have made a difference in this world? Would Casey be forgotten?
But we have survived. Life does go on and we laugh and enjoy life. We think of Casey today more often with smiles than with tears. And I know that Casey is remembered and that even after her death she is making a difference in the world.
Through our organization EndDD.org (End Distracted Driving) I tell Casey's story - how she lived and how she was killed by a distracted driver and do so to help students and adults make better, safer driving decisions. Following the release of a PSA we produced for the U.S. Department of Transportation, Casey was described as a national symbol of the toll of distracted driving.
I am grateful for the opportunity to tell Casey's story to save others. My law firm, Anapol Weiss, has encouraged me to devote as much time as I need to distracted driving programs. Because of the emotional and financial support of Anapol Weiss, I have been able to give nearly 500 distracted driving presentations over the past 5 years at schools, community events, medical, legal and traffic safety conferences and a variety of businesses across the country. Frequently those in attendance are kind enough to let me know that telling Casey's story has impacted their driving behaviors. A recent high school graduate commented on a presentation I had given at her high school more than a year ago:
I wanted to say thank you for that distracted driving presentation that I attended in January 2015. It really stuck with me, and I plan to get my license very soon- my little brother will be getting his permit soon, and your message will carry on to me and him when we are behind the wheel. Because of Casey, I promise to not drive distracted and to keep my eyes on the road, but I will keep my phone in a purse in the back seat.
A parent whose work-place sponsored a presentation said:
I can't imagine the pain you are in from the death of your daughter. Please know that because of hearing Casey's story I am committed to driving safer and, especially, to being a better role model for my children and not use my cell phone while driving.
I am joined by more than 700 volunteers across the country in telling Casey's story through EndDD.org presentations and collectively we have spoken with more than 300,000 students and parents. Many of our volunteer speakers are trial lawyers. The national association for trial lawyers, the American Association for Justice (AAJ), is partnering with us to bring distracted driving presentations to schools across the country during the 2016-17 school year at no cost to the schools. We will likely present to more than 100,000 students nation-wide and in Canada. I am more optimistic than ever that our children will change the way society thinks about driving and make distracted driving as socially unacceptable as drunk driving and that senseless tragedies will be prevented. You can schedule a presentation in your community here.
I will never come to terms with the fact that I am alive and my child is dead. I know that the death of a child is a life sentence of suffering. But I also know that from tragedy can come good and I am blessed to be able to be joined by so many in telling Casey's story so that other young people can live full and productive lives.
Joel Feldman is an attorney in Philadelphia with the law firm of Anapol Weiss. After his daughter Casey was killed by a distracted driver he obtained a masters in counseling and co-founded EndDD.org (End Distracted Driving) with his wife Dianne. EndDD.org has a network of speakers across the country and provides presentations without cost to schools. For more information about scheduling presentations or learning what you can do to end distracted driving e-mail Joel at info@EndDD.org.
Calling all HuffPost superfans!
Sign up for membership to become a founding member and help shape HuffPost's next chapter