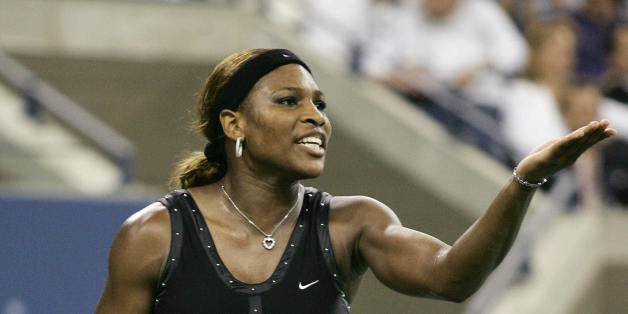 Earlier this month, two high-profile men in the tennis world tried to set back women players a few decades. First up was former champion Raymond Moore, who said last Sunday at the Indian Wells tournament that female tennis stars "ride on the coattails of the men" and that they should "go down every night" on their "knees and thank god that Roger Federer and Rafa Nadal were born, because they have carried this sport."
Then Novak Djokovic, the number one ranked male player added after his Indian Wells win that male tennis players should earn more prize money than women because their matches attract more viewers. But don't worry, he has respect for female athletes who face added challenges such as "the hormones and different stuff." He has since apologized on his Facebook page to "anyone who has taken this the wrong way" -- the classic non-apology apology -- and said in a news conference that he is "for equality in the sport."
In any context, these misogynist comments are offensive. But they are particularly troublesome because tennis is a sport which has been uniquely progressive on gender equality.
In tennis' four major tournaments, women now earn the same amount of prize money as men. The fight dates back to 1973, when the former number one tennis player Billie Jean King fought for equal pay at the U.S. Open. In 2007, Venus Williams helped secure parity at Wimbledon, the last Grand Slam with an income gap.
The pay situation in tennis is not perfect -- prizes at women's tournaments are still less than at men's tournaments and the number one male player (Djokovic) still makes double the number one female player (Serena Williams). But compared to other sports, such as professional golf, where the prize money for men is more than five times higher than for women, tennis is a feminist paradise.
Many men will say that since sports are entertainment, players should be paid based on the number of spectators they attract. If women received equal opportunities to train or to attract sponsorship and media coverage, that argument would be more convincing. But since female athletes simply don't receive the same investment, it's impossible to know how popular women's sports could be if given the "male" treatment.
Those disadvantages aside, women's tennis has a more-than respectable following. In 2015, the U.S. Open women's tournament sold out more quickly than the men's event and in 2013 and 2014, the women's finals had higher ratings than the dudes.
But perhaps, as many male sports fans point out, female players deserve less money because they are lesser athletes. Most men are physically stronger than women, but luckily most sports don't consist of picking up a heavy boulder and grunting loudly. Being a good athlete also involves skill, agility, leadership and mental strength. Women's tennis has become so popular precisely because instead of the smashes and aces that characterize male matches, the ladies hold long, nerve-wracking rallies that make for more compelling TV.
The true root of any justification for a return to unequal pay is sexism. For proof, just look at how men speak publicly about female athletes. Because Serena Williams is strong and black, her body is seen as a threat, not an asset. One journalist wrote that she is "built like one of the monster trucks that crushes Volkswagens at sports arenas." Because Canadian tennis star Eugenie Bouchard is svelte and blonde, she was asked by a male interviewer to twirl her skirt after winning a January match at the Australian Open.
Forty-three years after Billie Jean King helped secure equal pay at the U.S. Open, women still don't receive equal treatment. It's a shame that male athletes would rather use twisted logic to roll back women's rights than celebrate their sport's progressive stance on gender.
Popular in the Community