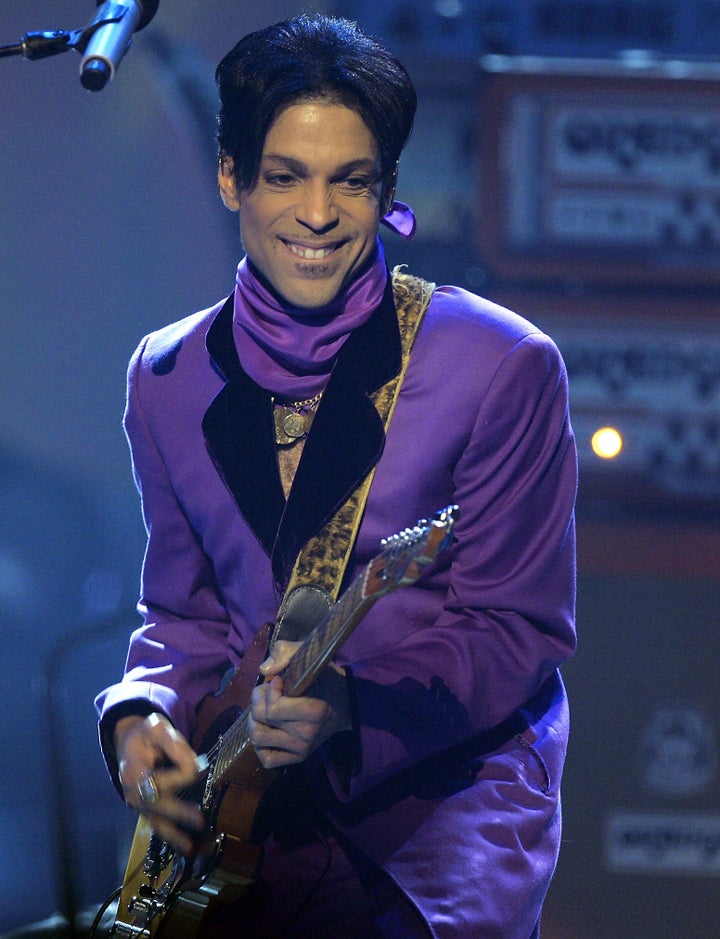 A few days ago, Celebrate Brooklyn!, the series of concerts and events held in the Prospect Park Bandshell, held a Purple Rain sing-a-long in celebration of the film's 25th anniversary. The 2,000 seats and additional lawn space were full, with many fans clad in purple regalia, paying tribute to the man and his movie. The park joined media entities like SPIN Magazine and NPR's New York station, WNYC, which have hosted their own Rain discussions and commemorations. (SPIN has even produced a tribute album by a variety of artists, including a remake of "When Doves Cry" by The Twilight Singers, featuring Apollonia, one of the film's stars.)
The plot: Prince, starring as The Kid, is the head of a Minneapolis-based band whose sound falls outside of popular sensibilities. The group is barely hanging on to its headlining role at a popular venue. Enter gorgeous Apollonia, arriving with hopes of becoming a star while being romantically pursued by both The Kid and his archenemy, Morris Day, aka Purple Rain's main comic foil and scene stealer.
A mass of moviegoers singing and hooping and hollering to Purple Rain is perfect, for the plot is driven by the still-innovative music (I'm particularly fond of "Take Me With U"'s easygoing effervescence and whimsy), the concert antics, the comedy, and the sex. And what erotic treats there are: Apollonia's toplessness, and her lingerie and leather, and her love scene with Prince. And Prince's toplessness, and his blouses and leather, and his grinding and sweat, and almost perpetual aura of androgyny.
It was the androgyny in particular that incited some of the women in the audience. High-pitched screams were elicited at key scenes -- the demure way the Kid tells Apollonia "stop" as they begin to groove at his place, the way he swivels his svelte hips and backside in his home, the way he parts his lips as he lay on stage, swathed in pink light at the end of his performance of "The Beautiful Ones."
It's an interesting lesson from a mid-80's film, that a man who exults in the feminine in his gestures and style -- lace, eye liner, curls, lashes, finger waves, head scarves, midriff tops, boots -- turns on legions and legions of women. And mind you, he's soaring with aspects of this style in a film set in a working class 'hood.
I spoke to some female Prince fans about their adoration of the man: two commented on their love of his uniqueness and willingness to do his own thing, with one woman exclaiming, "It's the heels!"
My suspicion: many women are thrilled by Prince because they readily see themselves in him, and vice versa, and the mutual love is visceral and real. And perhaps this lesson is lost on our current crop of soulful male performing artists who cling to a more rigid mode of masculinity. Andre 3000 and Maxwell come to mind as two artists with a huge female fan base who embrace "softness" in their creative instincts, yet note how anomalous they are in the current musical landscape.
(Special Note: Another shining star of brown androgynous manhood in film can be found in Chris Tucker's comedic character Ruby Rhod, a muscled, lipstick-wearing, squeaky-voiced radio personality who loves to pleasure women in the futuristic sci-fi flick The Fifth Element.)
The Kid is by no means a paragon of feminine virtue; he physically abuses and manipulates Apollonia, and is sometimes harsh and domineering with his bandmates, particularly Wendy and Lisa. Nonetheless, his fluidity onscreen is captivating, and makes me wonder how Purple Rain Prince would make out in these times of hardcore swaggering and conformity, where brothers take to the streets with an urban uniform and The Jungle Stroll -- shoulders hunched forward, fists clenched, arms swinging side to side.
Prince took his androgyny to the stratospheres of success, and we clapped, and continue to applaud. Yet in a cultural landscape where brown men who want to be seen as manly qualify acts of softness with the disclaimer "no homo," where r&b statesman Ne-Yo feels the need to issue a website statement defending his masculinity after crying onstage, how would new-to-the-scene petite royalty in golden gilded wraps and purple ruffled ascots fare?
Related
Popular in the Community