End AIDS as a public health threat by 2030.

This ambitious goal, set by UNAIDS and endorsed by 193 countries earlier this year as part of the Sustainable Development Goals, would have been unimaginable a decade ago. In 2004 alone, 1.5 million people in sub-Saharan Africa died of AIDS and HIV-related causes (World Health Organization). Since then, the number of HIV-related deaths has been nearly halved: in 2014 HIV-related deaths had dropped to an estimated 790,000.

The incredible progress of the past decade is largely attributable to massive prevention campaigns and much improved access to anti-retroviral therapy (ART), which today can extend the life expectancy of someone living with HIV to nearly that of a non-infected person. Becoming HIV-positive is no longer a death sentence; with adherence to treatment and good nutrition, HIV is a manageable, chronic condition.
Yet, there is a shadow following this achievement.
As a member of the millennial generation who works with the oldest generations, I fear the disease burden that we will be facing in 2030, which we should be mitigating now:
Simultaneous predictions from the World Health Organization and UNAIDS calculate that in sub-Saharan Africa, NCDs will become the number one cause of mortality by 2030, and the number of persons living with HIV over age 50 will nearly triple in the coming years.
There is growing evidence that "we are now in an era when [people living with HIV] may experience a reduction in quality of life or die, not from HIV itself, but from a preventable NCD that may be a consequence of HIV-related immunosuppression, antiretroviral drug toxicities, or HIV-related inflammation."
Thus in addition to communicable and emerging diseases, the increase in lifestyle risks across sub-Saharan Africa will continue to magnify a rise in non-communicable diseases. This rise will be exacerbated by the physiological consequences of long-term adherence to ART, a rapidly aging population, health systems that are prepared to treat acute issues but which are less prepared for chronic care, and troublingly low health financing. The rise will be further burdened by the fact that viral suppression and ART adherence is particularly challenging for older persons in much of Africa, who do not receive any form of pension to support their income and nutrition.
The human, labor, social and economic costs of this anticipated disease burden in the coming decades are unprecedented.
And yet, the integration of treatment for co-morbidities is weak across much of the continent. Very few health facilities are prepared to care for HIV amongst older populations, manage co-morbidities, or respond to NCDs at all. For example, it took strong grassroots advocacy supported by HelpAge International and its partner, Uganda Reach the Aged Association, to ensure that drugs used to manage diabetes, hypertension and other common afflictions affecting older persons were included on Uganda's List of Essential Drugs. Additionally, while HelpAge has proven that offering mobile clinics where HIV testing and counseling services are combined with NCD testing helps overcome age-based HIV discrimination and encourages older persons to access to services, ministries of health across the region have been slow to replicate such programs, or ensure older persons most at risk of co-morbidities are included in the HIV and AIDS response.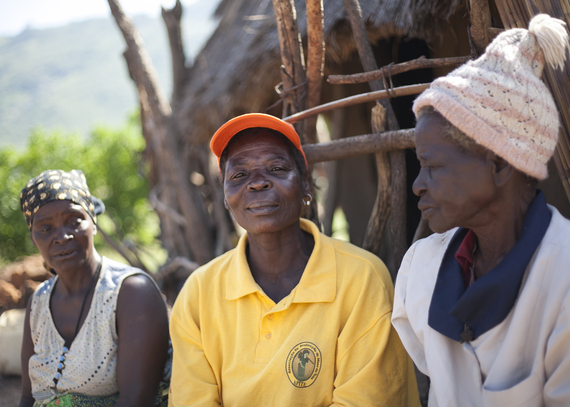 A peer educator (middle) trained by HelpAge International talks to two older women about measures they can take to prevent and treat HIV in Mozambique. Photo: Ellie Coleman/HelpAge International
As the number of people living with HIV into older age grows, the cost of care will also grow; the health of tomorrow's individuals, nations and economies relies on the urgency of action now.
The solution lies in political will to not only adopt progressive policy but implement it as well: UN member states and development partners must uphold their commitment to the Sustainable Development Goals to leave no one behind - including older women and men. It lies in ending ageist discrimination, including unfair practices that exclude older persons from accessing HIV prevention, treatment and counseling under the misguided assumption that persons over age 60 are not at risk. And it lies in integrating services to ensure co-morbidities are not addressed as an afterthought for persons living with HIV.
Therefore when global leaders meet in Montreal this month for the Fifth Replenishment Conference of the Global Fund to End AIDS, Tuberculosis and Malaria, I urge them to push for greater inclusion, and greater integration. Access to health care is a right that should not be thwarted by age or HIV status, and ensuring Africa's health systems respond to the needs of older persons is a matter that cannot wait.
Related
Popular in the Community