Much has been written about the care and nurturing of the gifted child. Far less advice (other than standard books on parenting) is available on the care and nurturing of those children who perpetually stand in the shadow of a gifted child.
Gypsy Rose Lee's story is the classic case of a shy young girl whose younger, more talented sister was the apple of her mother's eye. All of Rose Hovick's energy was focused on making "Baby June" (who went on to become actress June Havoc) into a vaudeville star. until that shocking moment when "the Baby" rebelled. In December 1928, "the Baby" (who was then 15 or 16 years old) eloped with Bobby Reed.
Left high and dry without her star performer, Rose quickly pivoted, turning her fearsome attention toward June's older sister, Louise. Up until that point Louise had failed to attract much attention (she was considered talentless and sometimes appeared in Baby June's act disguised as a chorus boy). Here's Patti LuPone singing "Everything's Coming Up Roses" at the 2008 Tony Awards."
Gypsy Rose Lee's fame (and her autobiography) inspired the creative team of the musical Gypsy:A Musical Fable (which opened on Broadway on May 21, 1959. In the following clip, Gypsy Rose Lee pays a visit to the popular television quiz show, What's My Line?
Can you imagine what it must have been like to have a kid brother destined to become one of the world's greatest musical geniuses? Written, directed and produced by René Féret, Mozart's Sister examines the identity crisis forced on Maria Anna "Nannerl" Mozart (Marie Féret) as her family traveled around Europe trying to gain favor with members of the royal courts prior to the French Revolution.
Unfortunately, Nannerl lived in a society where women were often denied the rights taken for granted by modern feminists. Although she showed a reasonable amount of musical talent, Nannerl was forbidden by her father, Leopold (Marc Barbe) to take lessons in music composition. Prior to her brother gaining attention for his prodigious talents, Nannerl had accompanied young Wolfgang (David Moreau) as he played the family's violin. Sometimes she even played the violin herself.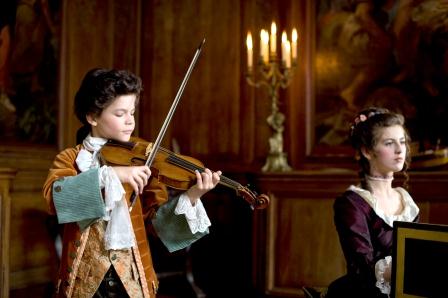 Wolfgang (David Moreau) and Nannerl (Marie Féret)
perform a duet in Mozart's Sister
In his director's statement, René Féret writes:
"An amazing historical record exists in the correspondence of the Mozart family, including narrative accounts by Mozart's father of a three-year journey that introduced his children, musical prodigies, to the courts of Europe. Captivated by those letters and the recounting of their great adventure, I began to imagine the many hardships they faced during their journey: the freezing cold of winter inside their horse-drawn carriage, the gloomy inns they were forced to stay in, the exhausting, intense performance schedule they endured. I could also picture their joy as they stood in the magnificent Court of Versailles and their presentation to the King, Louis XV."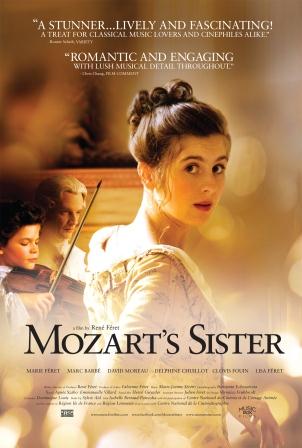 Poster art for Mozart's Sister
"In those letters I discovered and fell in love with Nannerl, Mozart's sister, almost five years older than her brother, a prodigy in her own right, a marvelous singer and remarkable harpsichordist. Her father, recognizing her talent early on, trained her in music beginning at age three. But once her younger brother Wolfgang was born, that soon changed. The elder Mozart (confronted with the fact that Nannerl was a girl and recognizing early on that Wolfgang's musical talent would outshine that of his sister) shifted his tutelage and focused solely on his son. Denied a musical career, she ultimately devoted her life to her father and to the memory of her brother, whom she survived by almost forty years."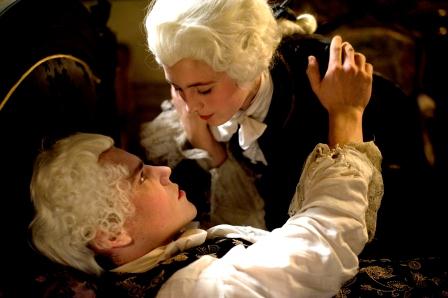 The Dauphin (Clovis Fouin) meets with Nannerl (Marie Féret),
who has been disguised as a young man in Mozart's Sister
While there may not be a great deal of emotional fire in this historical drama (at that time many people were expected to keep their feelings repressed), Mozart's Sister allows audiences to think about what might have been had Nannerl and her mother, Anna-Maria Mozart (Delphine Chuillot), the Dauphin (Clovis Fouin) and his sister, Louise de France (Lisa Féret), and even young Wolfgang lived in more liberated times.
Féret's film benefits immensely from Benjamin Echazaretta's cinematography and Marie-Jeanne Serrero's original music. Mozart's Sister may disappoint those who expect to learn more about Wolfgang, but any movie that contains lots of harpsichord music gets my undivided attention. Here's the trailer:
Growing up in the village of Brewster, New York, comedian PJ Walsh was a very convincing wise-ass. Inspired by a movie he had recently seen, one of the excuses he offered a teacher for not doing his homework was that he had been visiting his father after dear old Dad (a plumber by trade) had fallen into a septic tank and was being treated in a "bubble" at the hospital.
One day, while helping to carry some of his sisters' stuff into Radio City Music Hall, Walsh commented that he thought the famous 6,000-seat auditorium would be a cool place for him to work some day. "But PJ, you don't do anything," his father replied.
After graduating from high school, Walsh enlisted in the United States Navy where, among other things, he earned the nickname of "Tooth Fairy." However, the first generation Irish-American got the last laugh. While working at the Bethesda Naval Medical Hospital in Maryland, he became the primary dental technician for the White House. As part of his duties, he ended up flossing the teeth of President Bill Clinton, Vice President Al Gore, and their respective family members.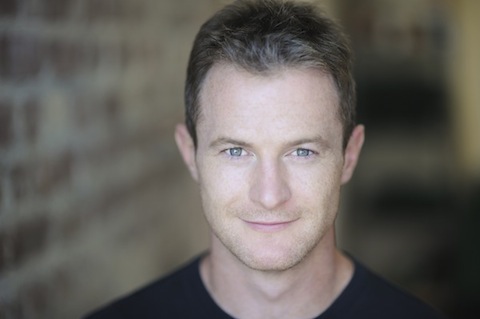 Comedian PJ Walsh (Photo courtesy of PJ Walsh)
When it came time to leave the Navy and say good-bye to his patients at the White House, Walsh confessed to President Clinton that his goal was to become a comedian. Since then, his dream has resoundingly come true.
A comedian who is completely at ease in front of an audience (not many Fringe participants have performed in front of 15,000 people), Walsh has spent the past two years crafting a one-man show which focuses on his youth and military experiences. He recently performed Over There: Comedy Is His Best Weapon at the San Francisco Fringe Festival to hearty applause.
This article was cross-posted on My Cultural Landscape. To continue reading, click here.
Calling all HuffPost superfans!
Sign up for membership to become a founding member and help shape HuffPost's next chapter