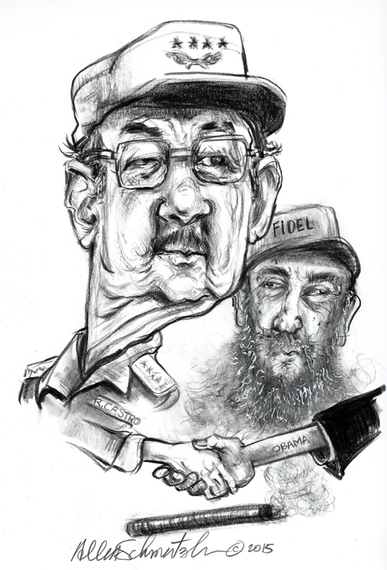 I could not believe the beautiful sound of that handshake orchestrated in Panama last week. I bet it was the shake heard around the world. Unfortunately, the melodic and sweet blue note of Obama's tone is now being drowned out by the out-of-tune amateur orchestra section on the far right that managed to muscle in at center stage during the latest rendition of Cuba Revisited.
Playing sour Cuban salsa on tuba is Ted Cruz, who is competing with Marco Rubio's clumsy-too-fast-paced flamenco on broken guitar strings. These potentially refreshing younger wannabe first-stringer-Cuban-Americans must have studied under the wrong conductor. I hear out-of-touch-from-another-century wailing from their section. Please, can we get the orchestration correct, and move these two, along with their entire "Republicanos"-not-ready-for-prime-time that bang the war drums way out of balance off the stage so they can study and practice for a few more years, or at least until they can hit the peaceful notes correctly.
Seeing Raul Castro and the fading shadow of his brother, Fidel Castro, go flesh-to-flesh with President Obama was exactly the "Change I Can Believe In" that I twice voted for. This was precisely what candidate Obama promised to do before the country voted to accept his position. When an elected official fulfills their promises we need to thank them. The Summit of The Americas in Panama was a great performance in concert that only confident gentlemen acting like grownups on the world stage skillfully using "new instruments" could pull off. They deserve a two thumbs-up with a standing ovation of multiple curtain calls, not ridiculous seedy foot stomping and tired and stale Cold War shrills and boos.
Last week a handshake, and now, removing Cuba from our Terrorist State list, brings hope for harmony to our natural neighborhood. Obama's composition is Nobel Peace Prize and the tune is a Shake Heard Around the World. Bravo! Encore!
Calling all HuffPost superfans!
Sign up for membership to become a founding member and help shape HuffPost's next chapter