As I listened to 14 month old Analeigha Rivera's tiny heart in the Reliant Center in Houston, I could hear the murmur interrupting her regular rhythm as blood swished through a hole between the main chambers of the heart. An echocardiogram confirmed the diagnosis, so I could show her mother Victoria exactly where the problem was and explained to her that if little Analeigha didn't get supervised care by a pediatric cardiologist, we might miss our window to prevent life-threatening damage. I looked in her mother's tear-stained eyes and heard the same story that hundreds of others have recounted to me -- Victoria had a job but had lost her insurance. So Analeigha had nowhere to go. After I explained to her that we had resources on-site to help plan the next steps, one of my staff took me aside and told me we had just broken the record for the most people seen in a free clinic in one day. That's when my spirit sank a little.
I have always had a competitive personality. I have always tried to inspire those around me to win. But when I found myself on CNN on Saturday afternoon announcing that we had made history, I didn't feel an ounce of pride. Instead, I felt the underlying frustration that has slowly boiled every time I look into the face of a person on whom I am about to perform surgery who has no means of affording the care they need because they lack health insurance. I wanted to channel this outrage and use my new show as a way to put a face to these people.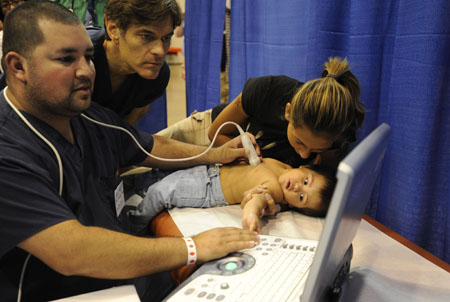 The "uninsured" -- that word we keep hearing as our elected officials grapple with a reform initiative that dominates headlines, talk shows, and political rhetoric. But the "uninsured" is a word that refers to people in the abstract. I wanted to show America who these people were, their struggles, their fears, their true challenges. I had spent time at free clinics before, and wanted to shine a spotlight on this remarkable movement for all Americans, so we partnered with the National Association of Free Clinics to hold the free clinic in Houston's three football field size Reliant Center. This was an essential teaching opportunity as our nation finds itself in a time that tries our very soul.
We picked Houston because it has the highest rate of people living without insurance in the nation - 30% or about 1.3 million residents. Texas leads all 50 states with 25% of its residents living without insurance; the national average is a whopping 15%. We announced the clinic last week and after an article appeared in the Houston Chronicle on Wednesday, pre-registration surged and we had to close appointments by early Friday afternoon with 2000 people scheduled to receive free health care. Saturday turned out to be the largest health relief mobilization in Houston since Hurricane Katrina. More than 700 doctors, nurses and volunteers turned out to help. The part that you have to understand about Saturday is that it wasn't in response to a disaster - it was just another day in Houston.
And show up they did. They came as entire families. Many drove hours to get there; others hitchhiked. I walked out at 5am and greeted the first woman on line, Karen, a working school teacher who could not keep up with her insurance payments. Think about it for moment - sitting on the pavement at 5am in the dark waiting for a massive convention center to open just to see a doctor? This is what it's come to, and it should frustrate you as it does me. So many patients had tragic stories that still burn in my heart. Most were embarrassed to seek help and many felt invisible in society, like they didn't matter anymore.
Bobby Parker, a 63 year old woman from the Houston suburb of Channelworth had severe hypertension, putting her at grave risk for stroke and cardiovascular disease. She needed immediate care and I escorted her over to the mobile medical unit for more extensive screening. With us walked her 19-year-old granddaughter Amanda who suffers with acid reflux disease. She recently lost her Medicaid and cannot afford medical care to evaluate the problem or her prescription to keep it under control, giving her severe discomfort from the heartburn and putting her at risk for esophageal cancer. Her grandmother has an advanced degree in social work and worked her entire life in social services helping those in need. Should either woman be in this situation?
Anthony DeLane saw the free clinic on television that morning and decided to show up for problems he was having with his foot. Anthony actually had a diabetic foot ulcer with exposed bone that incurred a serious infection that was making its way up his leg. People often lose toes or feet at this advanced stage. Anthony works long hours as a commercial driver but doesn't have health insurance. He was rushed to the hospital and will get the care he needs to hopefully save his foot. Can you imagine the irony of a truck driver losing his foot so he can longer work, all because he could not afford health coverage?
These stories put a face on 47 million Americans without coverage. Many are hard-working people who took a wrong turn in their lives; 83% of the 4 million people seen last year in free clinics were employed. Analeigha's mother worked. Anthony Delane worked. Bobby Parker had worked her whole life. Should working people not have an option to see a doctor when there is bone protruding from their foot? If most of the people we saw Saturday were employed, it should be apparent to all of us that many people are one paycheck away from losing their existing insurance. These people work hard. They went to school. They deserve better from us.
I am asked constantly what my personal views are on the health care reform debate happening in Washington. People ask me which senator's plan I like. I really have no interest in discussing the dollars and cents of health care or specific insurance plan options. I purposefully extricate myself from that conversation because I don't think 14-monthold Analeigha's heart is a political discussion.
Smart people are working on the legal and financial nuances of fixing health care in America. Others are creating a distraction for reasons I can't imagine. My best contribution is to bear witness to the true nature of the life-threatening struggle facing one in seven Americans and make them real to my television audience and the American people so our policy makers have the empathy of the electorate while making decisions. My hope is that we get to a day when I never have to watch an echocardiogram on a floor normally reserved for rodeo trade shows. My hope is that no one else ever has to break our record. While I am proud that the patients who came understood someone loved and cared about them and got them desperately needed care, I feel a sense of shame that Saturday had to happen at all. Do you?
Related