A movie about a mute janitor romancing a godly fish-man won the Oscar for Best Picture.
Let's maybe take a minute to consider how weird that is.
The same institution that has handed its top prize to movies about Gandhi, Shakespeare, William Wallace and Forrest Gump opted to honor an outré sci-fi ballad in which an amphibian's erection is pantomimed in graphic detail. It's certainly not the dullest outcome that could have occurred at Sunday's awards.
"The Shape of Water" found itself in a heady position throughout the season. Based on the nebulous mix of horserace bellwethers ― precursor accolades, campaign machinations, box-office figures, media buzz ― it seemed Guillermo del Toro's film lagged behind "Three Billboards Outside Ebbing, Missouri," the Martin McDonagh dramedy whose muddy racial politics didn't prevent it from netting the Screen Actors Guild Award, Golden Globe and BAFTA. Meanwhile, "Get Out," "Dunkirk" and "Lady Bird" were considered potential spoilers, each representing a distinct idea about where Hollywood stands right now and where it is headed.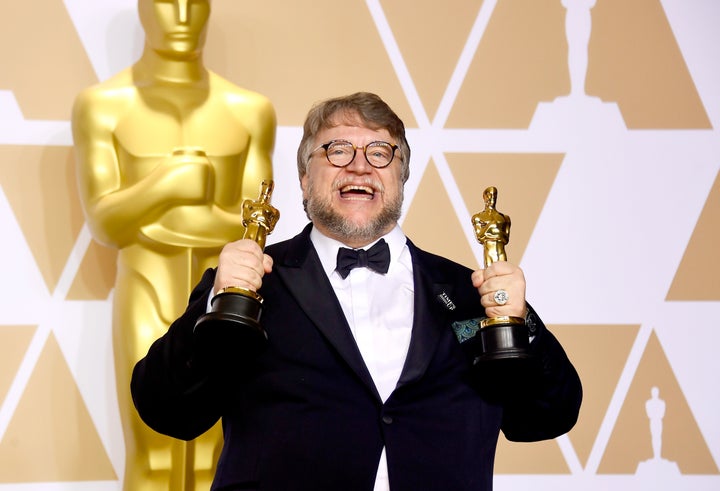 Such is the agony and ecstasy of Oscar season: As self-indulgent and frivolous as the whole affair can be, there is, for better and worse, a political substance behind the grand foxtrot toward Best Picture. It's perhaps American popular culture's most transparent statement about itself. "This is the movie we're the most proud to have made ― its values reflect our values," some 7,000 Hollywood constituents collectively say.
By comparison, "Get Out" was the academy's most transgressive option, both in terms of its genre (a horror-comedy hybrid) and its themes (racist white suburbanites touting liberal ideals turn out to be the villains); no film like it has won in the Oscars' 90-year history. "Lady Bird" offered a feminist vote, proving that pleasant coming-of-age movies about girls are just as important as World War II epics ("Dunkirk," "Darkest Hour") and polished Steven Spielberg productions ("The Post"). "Call Me By Your Name" would have signaled that, yes, a so-called gay movie can in fact win this award two years in a row.
"The Shape of Water" had none of those distinguishing medals to trumpet. Instead, it's the year's happy medium. It's the nominee that fits safely inside Hollywood's current narrative: Deeply rooted power structures are being excavated and abusers cast aside, but tangible progress will occur only in increments. We aren't ready to let a sociopolitically conscious crowd-pleaser like "Get Out" take the big kahuna, but we will valorize an old-fashioned adventure sprinkled with queer undertones otherwise summarized via the rallying cry "love is love."
Because, again, a mute woman (Sally Hawkins) fucks a godly fish-man (Doug Jones), and we swoon with the same emotional heft once devoted to "Titanic," "West Side Story" and "Casablanca" ― all (deserving) Best Picture winners of yore. What a seemingly repulsive concept, brought to life in the dreamiest of fairytales and packaged for uncynical audiences willing to embrace such lore. Not bad for a fable about otherness.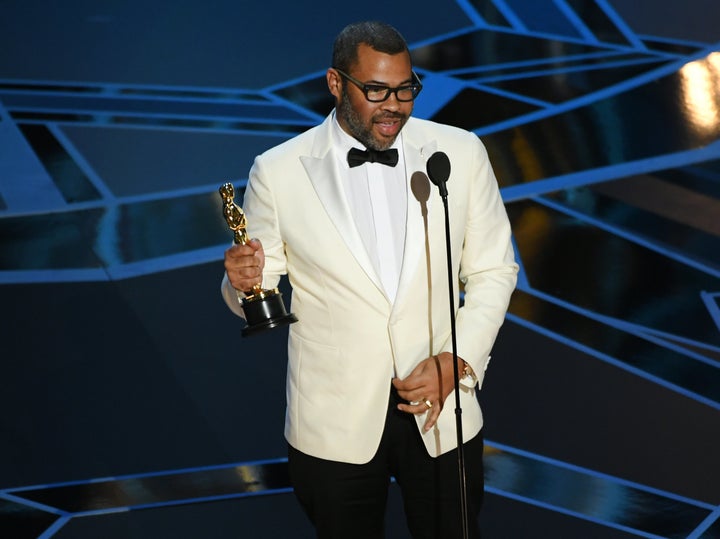 It makes all too much sense, really, that "The Shape of Water" edged out more polarizing fare like "Three Billboards" and "Get Out." If "Moonlight" was tasked last year with the somewhat unfair burden of representing Trumpian resistance, "Water" is the movie that sends us gliding into the future without making too pointed a statement along the way. The media spent a lot of energy picking apart the meaning of "Three Billboards," so much so that a supposed backlash lit up the internet. And when Vox, Vulture, CNN, USA Today and Vanity Fair are all narrativizing a polarization that mostly exists among film critics and Twitter pundits, it sure can seem real. But I don't believe that's why "Billboards" lost on Sunday, nor could I believe that certain criticisms of Hawkins' disabled protagonist would have cost "The Shape of Water" had it not won. The academy doesn't care whether anyone online is angry because Sam Rockwell's racist cop got a redemption arc. They do, however, care whether a movie has something concrete to say, because its ability to say something succinctly and entertainingly reflects the quality of its filmmaking.
With recent diversity initiatives that have broadened the group's membership to include more women and young voters of color, we're looking at a savvier academy than the one that thought "Crash" tackled America's social ills. "Three Billboards" substituted mayhem for nuance, and its wishy-washy messaging made it inferior to the charm of "The Shape of Water," in which, yep, a mute woman who feels unseen fucks a fish-man unfamiliar with the concept of love. Voters didn't need any mass-media backlash to point them away from "Three Billboards"; all they needed was the compassion embedded in del Toro's story.
As we barrel toward the 2020s with "Spotlight," "Moonlight" and "The Shape of Water" claiming the most recent Best Picture victories, it seems the days of regressive Oscar darlings are behind us. This is, after all, the first winner since "Million Dollar Baby" 13 years ago to feature a female lead. Maybe the academy didn't make an earth-shattering decision on Sunday, but it certainly gave us something to admire.
Popular in the Community