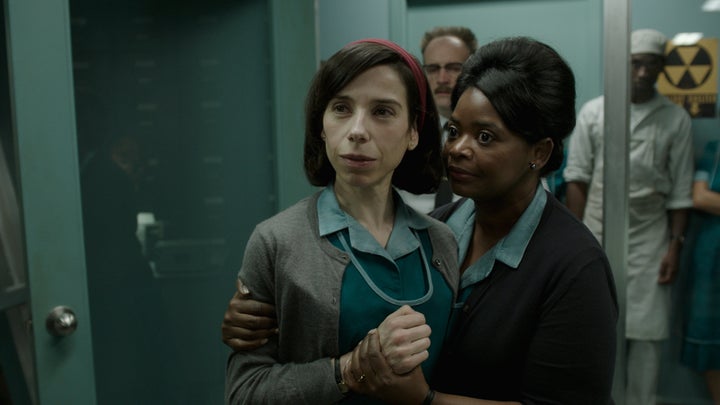 "The Shape of Water" begins with an invitation. "If I spoke about it — if I did — what would I tell you?" asks a character we'll soon meet, an artist named Giles (Richard Jenkins), in a dulcet voice-over. Settle in, this story's going to get bumpy. It is, he says, "a tale of love and loss — and the monster who tried to destroy it all."
I could cry thinking about those lyrical words and the tale that follows them. Many films are described as poetic — "Moonlight," "Arrival" and "Carol" spring to mind as recent examples — but few swirl this many genre hallmarks into something so imaginative. Leave it to Guillermo del Toro, a director's director and a movie lover's movie lover. In "The Shape of Water," which screened at the ongoing Toronto International Film Festival, he has crafted a sonnet for the weary. It's resplendent.
That narrator I mentioned, Giles, is modulating the story of his neighbor and best friend, Eliza (Sally Hawkins), a mute orphan in early-1960s Baltimore who clocks into a monotonous job mopping a government research facility's floors. Eliza's life is identical from day to day, down to the egg timer that dictates how long she masturbates and the evenings spent watching old movies at Giles' apartment. Her speechlessness is enough to distance her from the world, though she does have Zelda (Octavia Spencer, forever a scene-stealer), a loyal pal from work who's facing her own domestic tedium. All three characters long for love — Giles is gay but can hardly advertise it for fear of societal retribution — yet they find comfort in one another's dignified company.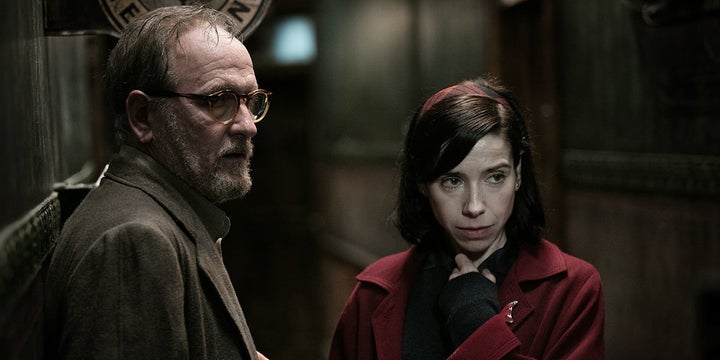 And then, on what should have been another ordinary day, everything changes. A stony overlord (Michael Shannon) brings a mysterious aquatic creature to the laboratory, christening him "the most sensitive asset ever to be housed in this facility." Cue Eliza's curiosity. As she and Zelda are cleaning one evening, they catch sight of this bipedal beast with roving, human-like eyes and scales like a fish. Behold! (The merman is brought to life by Doug Jones, who appears in many del Toro movies.) The "asset" seems communicative, perhaps even capable of affection. How could a cabal of government suits remove him from his Amazonian homeland for their own gain? (The reason concerns the Cold War.)
As "The Shape of Water" unfurls across a well-paced 123 minutes, a splendid phenomenon occurs: Eliza falls in love with the creature. It's mutual. She won't let these bureaucratic blowhards exploit him. From there, del Toro's film becomes a tender romance, punctuated by the queer undertones of two disenfranchised souls connecting in the shadows of their own isolation. Of course, these cruel federal agents won't stand for a custodian lurking around their new prize.
Del Toro hasn't made character portraits this nuanced. He is first a showman and a world-builder, as seen in "Cronos," "Pan's Labyrinth," "Hellboy," "Pacific Rim" and "Crimson Peak" — movies that seem to grow in scale, sometimes at the expense of their dramatic arcs. "The Shape of Water" is, in some sense, a work of nostalgia. It's an old-fashioned melodrama with obvious villains and an outré sci-fi escapade. Moreover, it's an ode to the sense of discovery, for both its characters and its audience. Once Eliza falls for the fish-wight, the aesthetics in "Water" become gauzier and more melodious. The movie waltzes through its love story, and we frolic along with it, charmed by things that could have been repellant.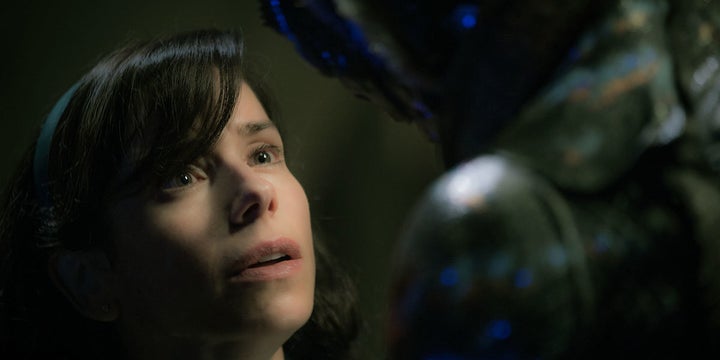 "Water" also reads as del Toro's homage to cinema's ability to awaken the senses. In a Hollywood landscape saturated with recycled stories, he has gifted us with a testament to the fantastical magic of the big screen and the rarefied sensation of encountering a story that lifts us to new heights. A brief, exuberant scene is set at the Elgin Theatre, the beautiful Toronto venue where the festival's premiere was held. The audience erupted at the sight, emphasizing the joy that lies in such an epiphany.
Even when the script (co-written with Vanessa Taylor) veers toward the saccharine, it does so with expert gradation and superb performances. Without uttering a word, Hawkins is a transcendent presence, portraying one of the year's most lovable characters. Her colleagues don't hit a false note, either. Jenkins imbues Giles with a wistful sadness, while Shannon turns his tyrant into the product of a splintered ego.
Altogether, "The Shape of Water" is indeed a tale of love and loss. It can only be discovered once. But, like the most thrilling adventures, returning to the memories left behind is a beautiful prospect. If you speak about it — if you do — what would you tell me? That for two fleeting hours you were transported to something dazzling. There is nothing greater.
"The Shape of Water" opens in theaters Dec. 8.
Support HuffPost
The Stakes Have Never Been Higher
Popular in the Community