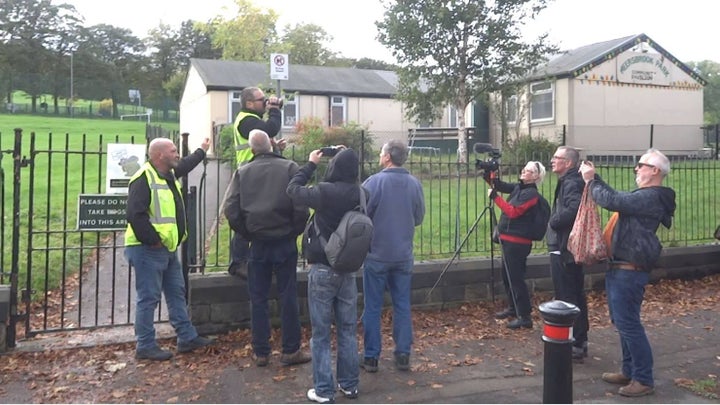 by Jennifer Saul and Ray Drainville
Sheffield City Council continues to amaze with its behaviour. It is now attempting lock up innocent people, including an opposition party councillor, and filming and following innocent citizens, including photographing children without consent. All this in a desperate attempt to fell a staggering number of healthy mature trees, including two nationally recognised valued trees (one of them due to be felled next week) in the country and an arboreal war memorial. The zeal to fell is leading to increasingly unsafe working practices, which have been recognised as unacceptable by the Health and Safety Executive.
Why is the council doing this? Because of its contract with multinational company Amey, virtually all redacted, to maintain trees and repave roads and pavements. The Council have repeatedly claimed the trees scheduled for felling are diseased or causing damage to kerbs and roads. The majority of the trees are not diseased, however, and independent experts have proposed a raft of solutions for the supposed kerb damage. The claims of damage grow increasingly implausible as the Council is pressed on them. One local cyclist was startled to hear the felling of Montgomery Road's lime trees as justified because of a danger to cyclists from roots protruding very slightly beyond the kerb. He wrote to inquire about the sorts of injuries involved and was told "As part of our on-site assessments, any roots or parts of the highway damaged by roots can cause a danger to highway users. We have never claimed that these contribute to deaths or injuries to cyclists. However, as a responsible Highway Authority, we have a duty of care to remove this risk once identified." So he was asked to believe that something which had never been shown to contribute to any injury to cyclists was nonetheless a risk to cyclists so severe that it justified the felling of mature healthy trees.
Local residents have been ignored in their wishes to retain the mature canopy and the effect the canopy has upon the life of the city. Just last week they came for the trees on our street, where every respondent to the tree survey rejected felling and the council's Independent Tree Panel also recommended against it. Surrounded by "save our trees" signs in the windows, Amey gave up after 2 pleasant hours of tea and baked goods with local residents who stood legally on private property and prevented felling. Usually this is how the peaceful protests go.
But things are not always so friendly with Amey. In August, they arrived at Myrtle Road and felled a tree directly into a resident's garden, without their permission and without even giving notification: the resident could have stepped outside at exactly the wrong moment and been crushed. When Sheffield residents complained to the council's Streets Ahead programme, they were told—falsely—that the felling was perfectly safe and the resident had given permission. The Health and Safety Executive has ruled differently, issuing two "notices of contravention" and, effectively, placing them into special measures. The council continues to deny the existence of safety concerns. Their desperation to fell healthy trees is outstripping basic safety measures and leading to blatant lies.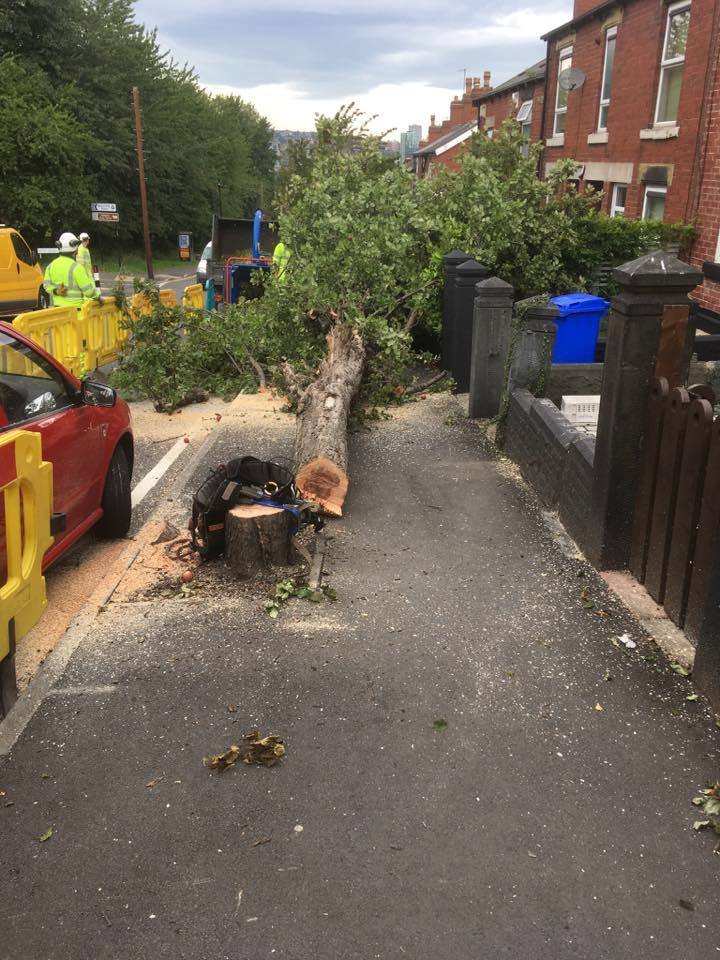 There are not many issues that George Monbiot and Michael Gove agree on, but they agree on Sheffield's trees: Gove calls the felling campaign "bonkers", while Monbiot prefers the terms "crazy" and "mind-boggling".
The Council have issued injunctions to stop peaceful campaigns against the felling by forbidding campaigners from standing within the protective barriers on "public highways". Darkly, the injunction also forbids "persons unknown" from encouraging others to breach the injunction. As I write this, I consider what it means for me. I would like very much to discuss the issue of civil disobedience, and the cases (not discussed here) where protestors have violated the injunction in peaceful protest. I worry that such a discussion, if judged to be insufficiently negative in its conclusions, could itself be construed as encouragement and thereby as violating the injunction. I find myself scrutinising the exact terms of the injunction (e.g. 'persons unknown') and trying to discern whether or not it is legal for me to speak my mind. If that is not a chilling of legitimate political speech, I do not know what is.
The vast majority of campaigners have kept their protests lawful by simply obtaining permission to stand on private property located close by threatened trees. In these cases (as on our street), they have been successful in legally stopping the felling of healthy, mature trees.
The Council have met this lawful defiance with disturbing new tactics, however, blithely ignoring the actual content of the injunction. Green Councillor Alison Teal, shortlisted for a national award for her council work, is facing a court date and possible jail time for allegedly breaking the injunction, although she has been absolutely scrupulous to observe its terms. This week, the council has come after several peaceful protestors who were standing in a park near a felling. They, too, are facing possible jail time, despite the fact that a park is very clearly not a highway. The council has hired individuals to record campaigners, even outside barriers, to see if they, too, can be cited for violating the injunction. The Council's agents photographed campaigners protesting lawfully outside barriers as well as passersby, and even followed them afterwards to see if they could record any evidence of wrongdoing. The chilling rationale seemed to be that even if they had not yet broken the injunction, they might do so. This directly contravenes comments by Councillor Brian Lodge, who explicitly stated that people outside barriers would not be filmed.
So this is where we are. In defiance of all reason, and all expert opinion, in a grotesque error recognisable by everyone from George Monbiot to Michael Gove, the council is pursuing the felling of beautiful, mature healthy trees by any means necessary. They are felling trees recklessly and unsafely, as the HSE has recognised. They are threatening innocent opposition councillors with jail, attempting to criminalise wholly lawful protest in a public park, filming protestors and passersby, including children, who are not breaking the law-- and even following them home. This is not the behaviour of a democratic government. And it is all in the service of carrying out the wishes of a multinational corporation. Anyone who cares about either the environment or democracy should be outraged.
To donate to the legal defence fund, go here.
To sign a petition calling on Jeremy Corbyn to mediate between campaigners and Sheffield's Labour Council, go here.
To learn about the vigil being planned for the Vernon Oak, scheduled to be felled Monday, go here.
Popular in the Community