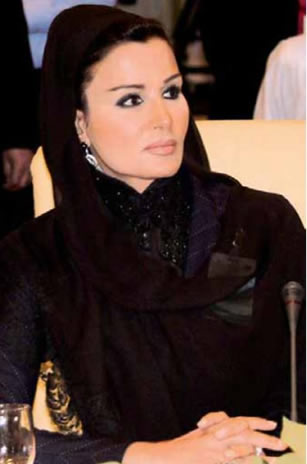 Her Highness Sheikha Mozah is the second wife of Qatar's Amir, Hamad bin Khalifa Al-Thani. She is a gorgeous, impeccably dressed, educated mother of seven who is wealthy beyond imagination. She has every reason to live an existence comprised nothing more of globe trotting, couture shopping and feasting on mussels and duck confit of the highest order. So why would a woman who doesn't have to work another day in her life choose to work every day of her life? Why would a first lady who could avoid controversy instead take the oryx by the horns make her nation state the most bitchin' place it can be?
As discussed in my previous post, Her Highness is one of the driving forces behind the Qatar Foundation, which has been stirring the pot in Doha since 1995. For a country so steeped in Islamic tradition, the Qatar Foundation is no stranger to danger. For fifteen years, it has managed a delicate balance between conservation of culture and becoming a major player in research, development, education, philanthropy and world affairs.
Though Qatar's strict censorship of newspapers dates back as little as 15 years ago, the current government slowly relaxing these regulations. This paved the way for the formidable news network Al Jazeera, which was initially funded by the current Amir and is still owned by distant relatives of the ruling family. Al Jazeera, in turn, paved the way for the Qatar Foundations newest addition, Northwestern's esteemed Medill School of Journalism, full of pesky American rabble-rousers.
Additionally, Her Highness is using the Qatar Foundation to give countless opportunities to young women in the region. While boys are often allowed to attend university in the US or UK, young women are kept closer to home. By establishing Education City, with institutions like Northwestern, Cornell and Texas A&M, women can receive the same education as their brothers. One particularly amazing story comes out of Cornell's medical school. With the help of a scholarship from Her Highness, a 16-year-old Palestinian girl, Iqbal El-Assaad, became the youngest medical student ever accepted to Cornell since its inception in 1898. You can read about El-Assaad on page 17 of The Foundation, a periodical that makes Oprah's magazine look like a watered down issue of Cosmo.
Sheikha Mozah's intrepid nature perfectly embodies the headstrong manner in which Qatar forges ahead today. A quote from a 2008 article in the UK's The Times states:
A sign of just how determined the government is to dominate such a fast-growing region can be found in the office of the emir's wife, Sheikha Mozah. Her favourite sculpture, that has pride of place, is of a foot kicking through a wall. It may be small but Qatar is determined to kick -- and punch -- above its weight.
It's been well understood that Her Highness enjoys ample freedom with the Qatar Foundation because she is married to the Amir, but what will happen when she steps down? Will academic freedom in Education City be compromised? Will the Qatar Foundation cease to exist when His and Her Highness are no longer the powers that be? Her Highness son, Sheikh Tamim Bin Hamad Al-Thani, is the heir apparent. One would imagine that being raised by parents of such esteem would cause him to be a leader with measurable foresight, but for better or worse, he could take the country in another direction altogether.
Furthermore, the means by which Sheikh Tamim's father, His Highness Al-Thani, took the throne leads me to believe power dynamics can turn on a dime. The most recent transfer of power is a rather unique anecdote. His Highness was merely a Crown Prince and the Minister of Defense until 1995, when he decided he could rule the country better than his father. One day when the Amir was away on vacation in Geneva, the young Crown Prince kindly told his father not bother coming back from vacation, the country now belonged to him. After the "bloodless coup d'état," the deposed Amir lived in exile until 2004. (I personally like to imagine he enjoyed every minute of his early retirement while skipping through the French countryside, eating chocolate croissants and drinking doppio's.) The Crown Prince became His Highness and his been making waves ever since.
I'd like to believe the Qatar Foundation will be a lasting force in the country, but as the previous story illustrates, a stiff wind or erratic whim could change the course of the entire organization, if not annihilate it completely.
But at the present moment, I am enthralled with the Qatar Foundation. And though we come from different worlds, I find Sheikha Mozah to be more of a role model than anyone back in the US. I imagine having tea with her at the Ritz. Just the two of us. She is laughing at all my witty jokes and listening intently to my opinions on global relations. We'll talk about how The Wire is our favorite series of all time. She loves Stringer Bell, whereas I am more of an Omar kind of girl.
Daydreams aside, I feel quit indebted to her, after all, the fact I'm not scraping together lousy tips is courtesy of Her Highnesses' bold new enterprise. Can this love affair between the Arabic aristocrat and the doe-eyed ex-pat last? Only time will tell, but for now, when I grow up, I want to be just like Sheikha Mozah.