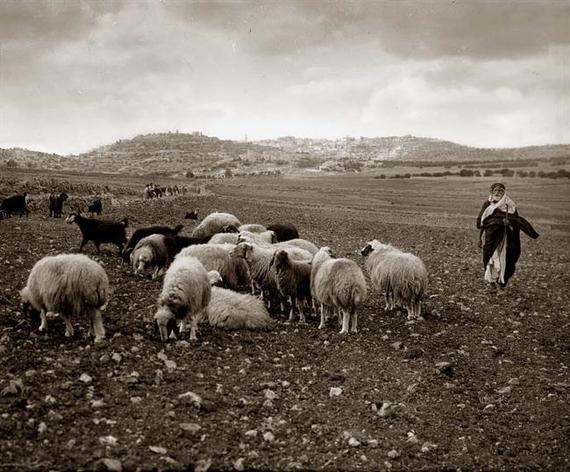 Have you ever wondered what it is like to be a shepherd? Most of the time you are bored out of your mind. I sit there and watch sheep day after day. I never wanted to be a shepherd. I didn't have a choice. We have always been poor. We don't know any other way. I followed what generations before me had done. I did what I had to do to support my family. Do you know what it feels like to sit on a hill night after night to make sure that your kids have something to eat? Every morning at dawn, I go into town with shit all over the bottom of my robe. How would you like it? I guess we are all willing to walk through some shit to care for those we love.
My cousin brought some wine out to the hillside. We all got drunk watching over our flock by night. When the angel appeared and the glory of God came over us, we sobered up real quick. I just knew that we were about to be punished for being drunk. What would you do if an angel and the glory of God came upon you? Terrified and drunk, I peed in my robe. Instead of judgment, the angel spoke beautiful words. I still have no idea why God chose a drunken shepherd piece of shit like me to be among the first to see the Messiah. I didn't know if I was worthy. I guess the first step to realizing that you are somebody is to pull your self out of the shit and believe that God don't create shit.
Millions of angels filled the heavens. I couldn't believe the sight. I chanted with them, "Glory to God in the highest and peace on earth!!!" When they got to that peace part, I remembered my other addiction to violence. If I was going to go meet God, I realized that I would have to give up the vengeance I carried toward my enemies. I knew I was going to have to be about love. Would you be willing to give some things up to meet God? I decided I wanted to be different and I turned toward that bright light in the sky over Bethlehem.
When I arrived to the beautiful baby in the manger, the stable smelled like urine and shit. Since it was masking the urine and shit on my robe, I didn't care. I just kept looking at that baby. In the face of the child, I saw hope for the entire world. In those moments, I was made whole. It might sound crazy, but I got the impression that the baby could pull us all out of the shit we are in. I guess we just have to choose to love. You up for it?
Calling all HuffPost superfans!
Sign up for membership to become a founding member and help shape HuffPost's next chapter