Have you ever found yourself elbow deep in a bag of Trader Joe's olive oil popcorn watching Gilmore Girls reruns in the middle of the day?
Oh, just me? Well anyway...
On these less than inspiring days I look to my wall to remind myself Get Up, Get Out, Do Something. I found the phrase painted in the Philadelphia airport last spring, snapped a photo and hung it on my wall as a reminder.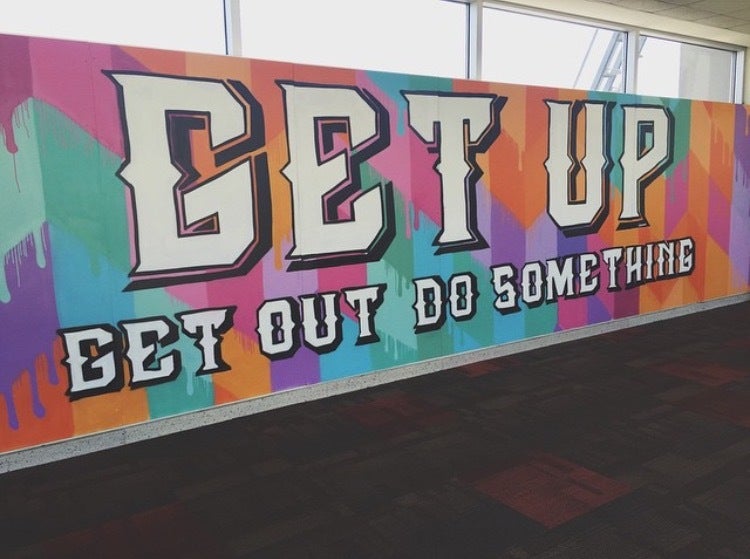 It reminds me 1. To get the heck out of bed in the morning, but also 2. To say yes to things that will better my soul.  
Recently I've committed to this mini-goal and found myself at an event called, The Shine. This event created by Light Watkins is, 
"a mindfully-curated variety show that features music, film, philanthropy, meditation, inspirational talks, food and community."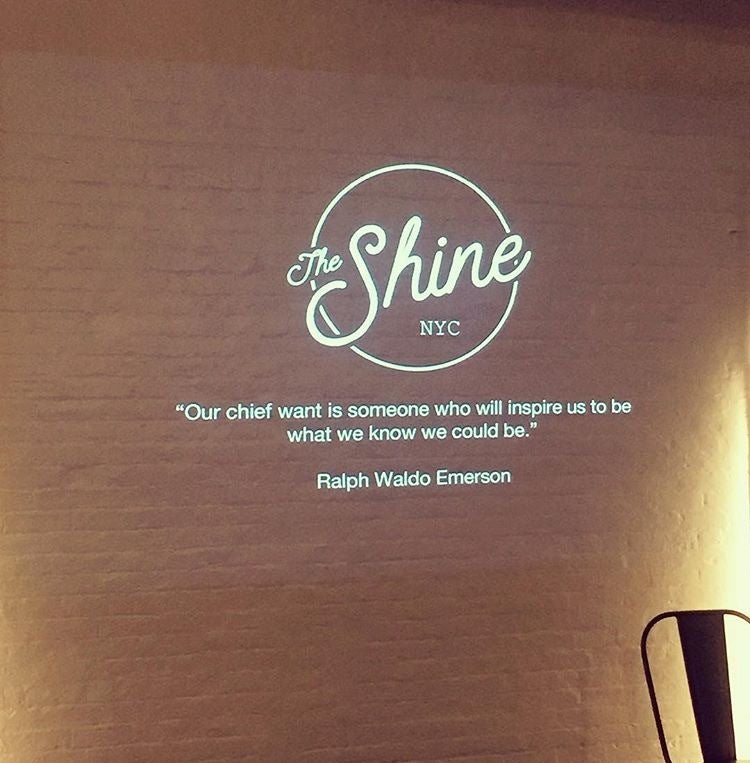 My friend gave me his ticket when he realized he wouldn't be able to make it. I didn't know what to expect, but just showed up. As I sat outside the space waiting for it to begin, I noticed several people that appeared to have attended before. Was I going to have to know a special handshake to get in? I was a little nervous. But then the doors opened and I was greeted by some kind souls who instructed us to answer a type of ice breaker. What advice would you give to your 18 year-old self? We were all to write our answer on the "Hello my name is.." stickers and paste it on our shirts.
I saw people start coming out of the room in the back with plates of food. I like this event. I got in line and saw quinoa with mint, roasted summer vegetables and spicy grilled tofu all catered by Dig Inn. I really like this event. I settled into a seat and waited for what was next. Light came in, introduced himself and the layout of the night.

First up would be some guided meditation with Lodro Rinzler of MNDFL, the drop in meditation studio in Manhattan. There's a palpable energy when you're surrounded by others meditating. I don't often do group meditations so I could really feel it, it was lovely and I left craving more experiences like it.  
Woven through the event were the soul soothing sounds of Julie Byrne. The NYC acoustic singer/songwriter writes about her own experiences in love and life. Her relatable lyrics set a truthful and heartfelt tone throughout the evening.
At every Shine event there is a featured speaker who is fluent on a topic in the wellness world. That night it was Max Lugavere, the documentarian on a mission to educate us on all things brain health. He is passionate about the fact that what we eat can truly make a difference in living a vibrant life versus a clouded one. He shared that his inspiration for his documentary, Bread Head, is his mother who was diagnosed with Alzheimer's at a fairly young age.
After my brain cancer diagnosis I became adamant about only feeding my body for energy and vibrant life. I needed to feed my brain and to me that translated to real food, not processed. It meant quality fats through avocados, nuts & seeds, organic eggs and wild caught salmon. At first I cut out processed sugar as much as possible after learning that it simply feeds tumors. No thank you! It was absolutely a journey and not automatic that all my dietary changes happened which I look forward to sharing soon in a separate post.
As the evening came to a close there was one more surprise. One lucky attendee would win the raffle for the Shine On Challenge where if chosen their mission would be to do good in their community. They could do anything from making a sandwich for a homeless stranger to crafting a community garden, the possibilities were endless and the choice was theirs. Just do good.
I felt grounded and inspired leaving The Shine. I will be at the next event without a doubt and maybe one day can share my own journey there. 
How will you get up, get out & do something today?
peace, love & high vibes,
Check back soon for my latest adventure where I head over to California to try out sound healing in Oakland with Guy Douglas of Sound Meditation SF.
Oh, and if you haven't had the Trader Joe's olive oil popcorn, get on it.
REAL LIFE. REAL NEWS. REAL VOICES.
Help us tell more of the stories that matter from voices that too often remain unheard.
This post was published on the now-closed HuffPost Contributor platform. Contributors control their own work and posted freely to our site. If you need to flag this entry as abusive,
send us an email
.