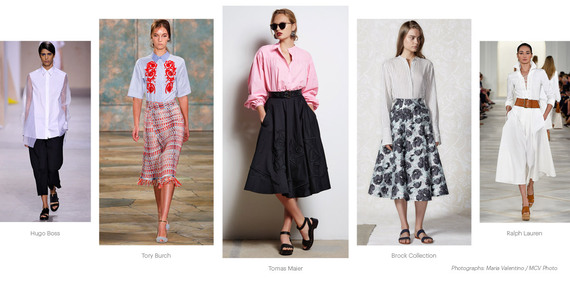 The classic Oxford men's shirt inspires designers to create a delightful array of shirts and dresses, from playful to polished. They're a welcome alternative to clingy tops in the hot months.
In stripes or solids, these pieces come in cooling fabrics and loose or A-line silhouettes. What a chic essential for work and play!
Boss by Hugo Boss Designer Jason Wu has a thing for tuxedo dressing. Here's a chic variation on the look. Love the sheer sleeve!
Tory Burch Classic blue-and-white shirting stripes get an unexpected upgrade with colorful embroidery at Tory Burch.
Tomas Maier A smock-like shirt in pink cotton Oxford cloth pairs beautifully with an easy A-line skirt at Tomas Maier.
Brock Collection A collarless shirt in mannish stripes provides the perfect complement to feminine florals at Brock Collection.
Ralph Lauren A collared shirtdress in a crisp white cotton/silk blend looks Riviera-ready. The lace-up neckline adds a natty nautical touch.
Have fun with the trend! Designers love to play with menswear elements and you should too. We're drawn to the pleated bib (tuxedo inspired) on this Ralph Lauren cotton shirt; the boys' prep school vibe of the British Public School cotton poplin top; and the tradition meets bold embroidery of the Tory Burch striped Oxford.
Mix with flair You can combine a boxy shirt with a slim pant or pencil skirt; or, with a tie or belt, create a classic silhouette with a skirt that flares.
Delight in the dresses We love collecting these designs from Dunn, Charlier, Equipment, Kors, Mischka and Halston. Tell us these dresses aren't flattering!