DUNKIRK, France -- Crowds of men jumped and pushed each other, as they scrambled for one precious pair of new rain boots from a tiny truckload that a Belgian man was handing to refugees in the rain-soaked Dunkirk suburb of Grande-Synthe.
Scenes like this occur regularly in France's newest refugee camp, near the banks of the English Channel, where thousands of people are living outdoors in ankle-deep mud and sludge in an area of the country known for its frigid and wet climate.
Grande-Synthe's population, which has exploded in part due to Islamic State activity in Iraqi Kurdistan, waits in a perpetual state of uncertainty for a chance to cross into the United Kingdom. Luckily, individual volunteers are working alongside international organizations like Doctors Without Borders to vastly improve basic living standards.
The living conditions in the camp "are some of the worst that I have seen in 20 years of humanitarian work," said Vickie Hawkins, the executive director of Doctors Without Borders in the U.K. "I asked a mother how she kept her baby warm at night," she added. "Her only option was to put her child to sleep on top of her so that she could act as insulation against the ground."
This sprawling refugee slum area is close to where hundreds of thousands of Allied troops were evacuated in the face of a German advance in 1940.
Today, Dunkirk is a sleepy industrial city that has watched refugee camps spring up on its outskirts in recent months because it is so close to the English Channel.
Since the U.K. is not part of the Schengen area -- the group of European Union countries where free movement across borders is permitted -- refugees are unable to board a plane or a train to London without proper documentation. They set up camp along the Channel and enlist the help of smugglers, who charge thousands of British pounds to throw them onto moving trains and trucks headed into the underwater tunnel that connects France and England.
That number ballooned to several hundred at the end of last summer. And come September, when authorities dismantled a larger camp in the area called Tétéghem, the numbers began creeping into the thousands.
Somewhere between 2,600 and 3,000 refugees fleeing persecution in their home countries -- including 200 children -- are now squatting in Grande-Synthe, according Samuel Hanryon, a spokesman for Doctors Without Borders in France, where the organization is known as Médecins Sans Frontières.
The camp sits on a swampy plot of land near some single-family homes and a soccer field. Although the camp is not enclosed, wooden fences separate the tents from the street.
Police stand guard at its entrance and check to make sure no one is bringing in any additional tents, but people can come and go as they please. Children often entertain themselves by attempting to play with policemen, touching their uniforms and guns.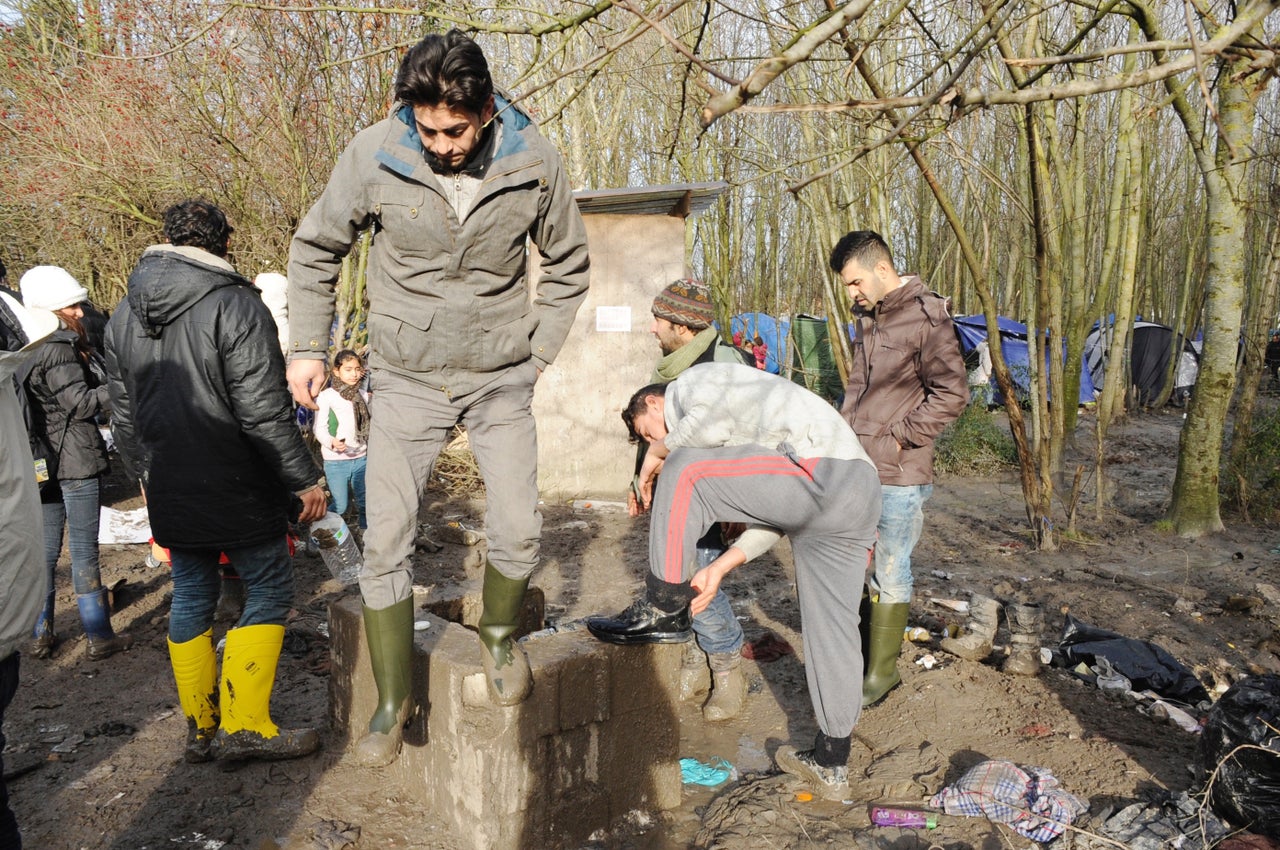 Who Are The Refugees Living In Grande-Synthe?
The residents of the Grande-Synthe refugee camp are people who fled tragedy and suffering only to find themselves yet again in limbo in a place they may not survive because the living conditions are so abhorrent, according to camp health workers -- who are concerned children may die of hypothermia unless the situation improves.
Most of the refugees in Grande-Synthe want to resettle in the U.K. Many already have family waiting for them in London, and for those who speak English, Britain is a natural choice.
Yet they're stuck in France. They can't enter the U.K. legally since border patrol would stop them either at an airport or a train station. Their only option is to attempt entry illegally, risking their lives at night by jumping onto moving trains or trucks headed into the Channel Tunnel.
The camp's population is primarily Iraqi Kurds -- people who were forced to leave their homes once the self-described Islamic State began attacking parts of Kurdistan -- and Iranian Sunni Muslim Arabs, who say they are discriminated against in a Shiite government-run country.
Small groups of Kuwaitis and Vietnamese also live in the camp, but volunteers said they avoid leaving their tents because they experience discrimination.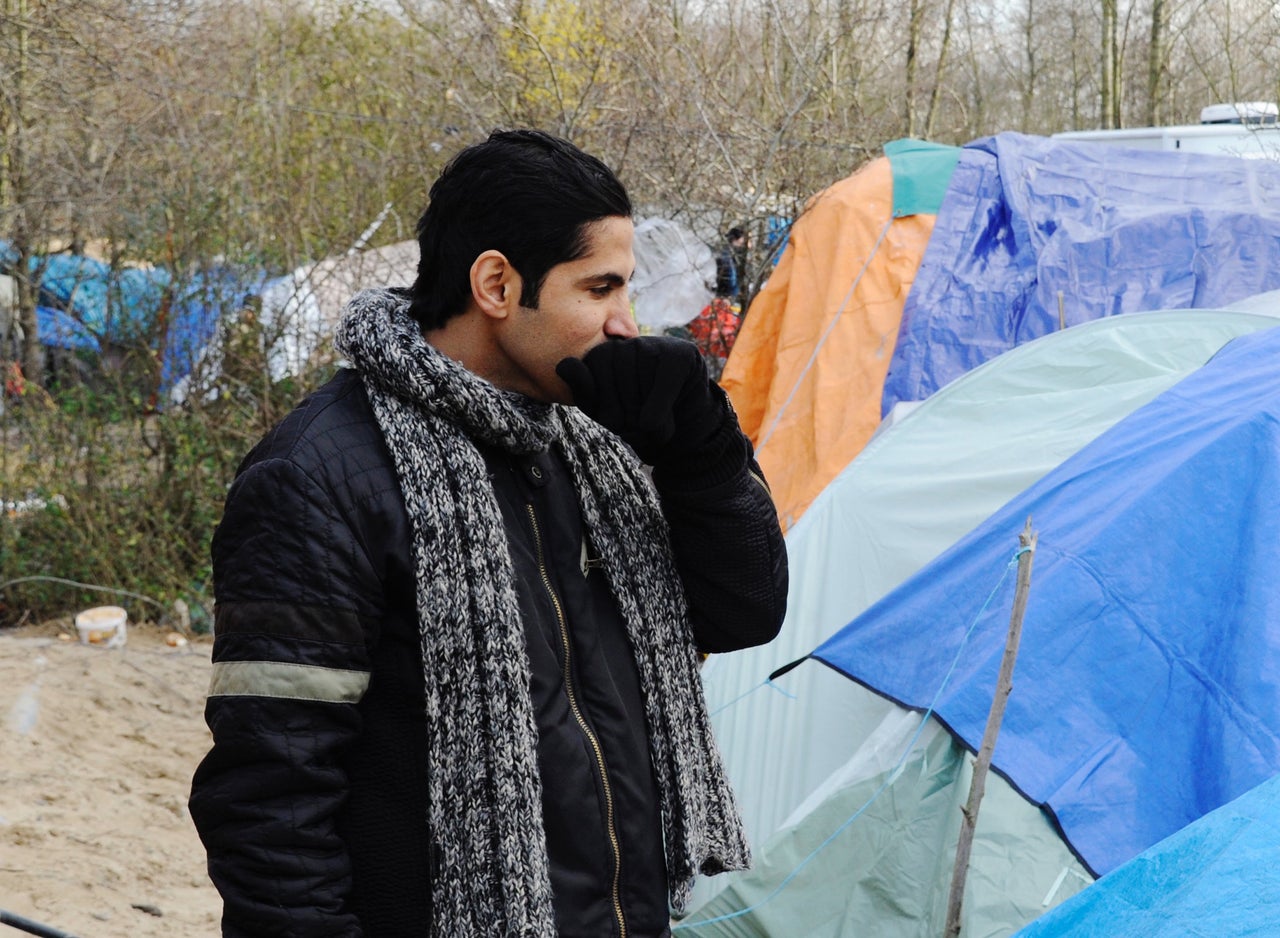 Basem Saedi, 28, is an Iranian Arab who arrived in France about three weeks ago. He said he was imprisoned three times in Iran and now dreams of reaching the U.K., where he has relatives who told him he could study at university.
Yet Europeans think refugees "are criminals, or maybe we are [ISIS]," Saedi said.
Argine, 28, an Iranian Kurd who declined to give his last name out of fear that it would compromise his chances of reaching the U.K., said he's made many friends in the camp over the two months he's spent there so far. On particularly difficult days, he consoles himself with whiskey that he buys in town, he said.
He is part of a group of 10 refugees that smugglers pick up every night to attempt the crossing into England.
While some refugees like Argine remain determined to make it across, others said they have stopped trying as frequently. Instead, they choose to bide their time in the camp and pray that the borders miraculously open or that some other solution presents itself.
Those who came with their families are a little more realistic about the difficulty of crossing over illegally, according to Dutch volunteer Samantha Van Urk. For them, she said, it's unclear where they plan to go or what they plan to do.
No one said how long they were prepared to wait. Many fantasized about their desire to find peace and safety.
"I'm not looking for money or a good job," Saedi said. "I just want to live in peace."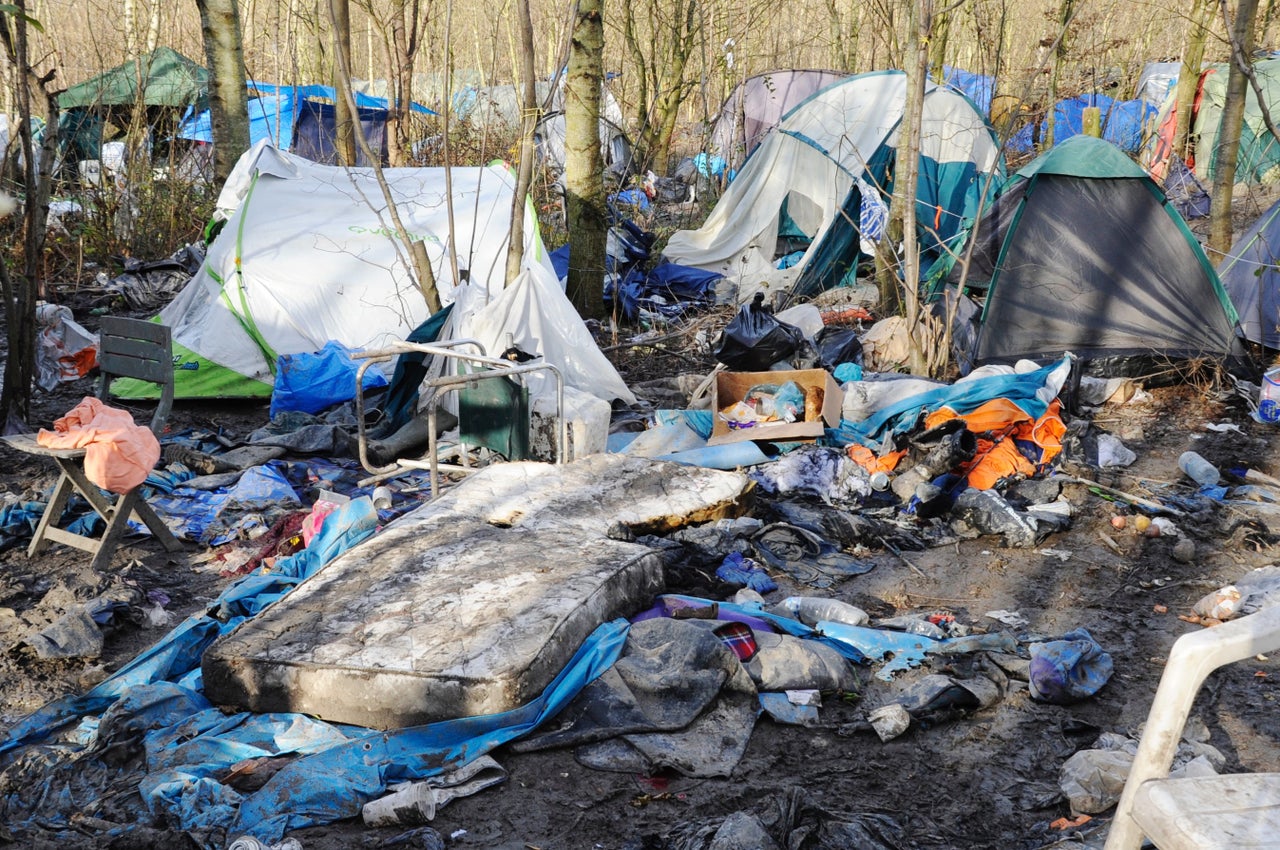 Life Inside The Camp
For most refugees living in Grande-Synthe, daily life consists of finding ways to survive the cold and the dampness -- stocking up on food, huddling around a small fire even at the risk of getting burnt, being at the front of the line for new clothing and sleeping bag deliveries, praying that they can go a few days without any rain.
Temperatures in the area have hovered around 40 degrees Fahrenheit so far this winter and it rains almost every day and every night. The region is expecting heavy snow in the next few weeks.
The tents people live in "are the tents normally used for camping in the summer months," said Hanryon, the Médecins Sans Frontières official. "They are absolutely not adaptable to winter conditions."
When the rain subsides, many refugees come out and traipse along the camp's main muddy road, talking with one another, converging around the cellphone charging stations, asking volunteers when the trucks with new deliveries of donations will arrive. Others huddle around small fires. Women carry pots and pans to the tiny spigot, hoping to scrape out the mud in order to cook rice.
""These conditions do not even meet basic refugee camp standards.""
Women and children live on the outskirts of the camp in circus-like tents. Inside, men visit with their young children as they boil water for tea and huddle to keep warm.
Putrid smells rise from the mounds of rice, beans, milk and bread left in the mud. The sound of coughing children resonates through the rows of tents.
"These conditions do not even meet basic refugee camp standards," Hanryon said.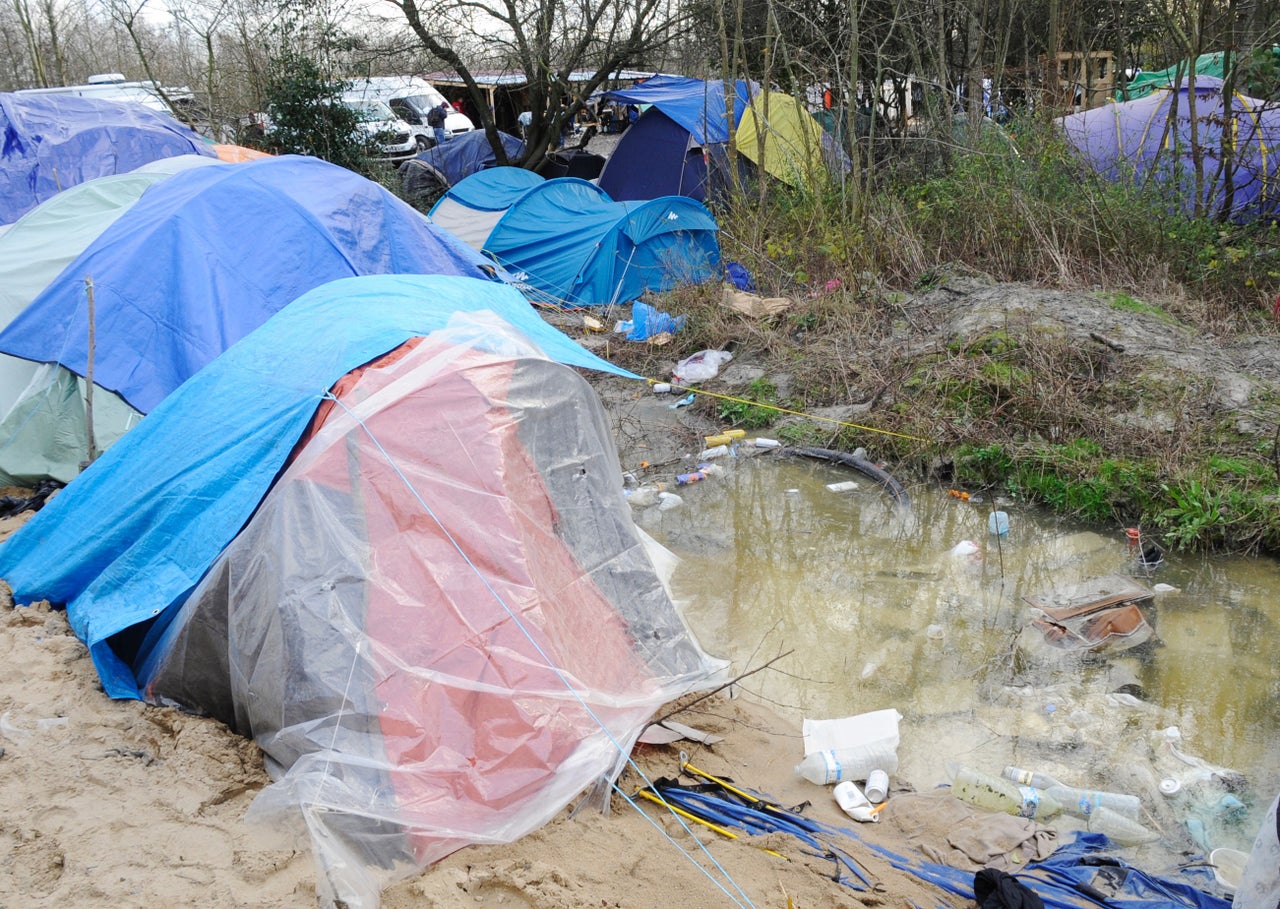 Saedi had to change tents twice because the first one he lived in was submerged in murky water.
"It is always raining and water got inside and always wet wet wet. When the weather is windy, too much cold," he said. "Here, there is no humanity."
There are only about 30 toilets in the camp -- around one per 100 people. Refugees have no access to water to wash their clothes. There are only a handful of showers and there is very little hot water, so most people often go days without bathing.
Volunteers man the shower stations and time people, yelling when someone's allotted five or six minutes is up.
"Always we are dirty, and when we go into the city people look badly at us," Saedi said. He had gone one week without showering.
Van Urk had not showered in two weeks, since her arrival as a volunteer to the camp. "I rub antiseptic under my arms so I don't get smelly," she said. Van Urk was considering a visit to a local swimming pool in order to wash off.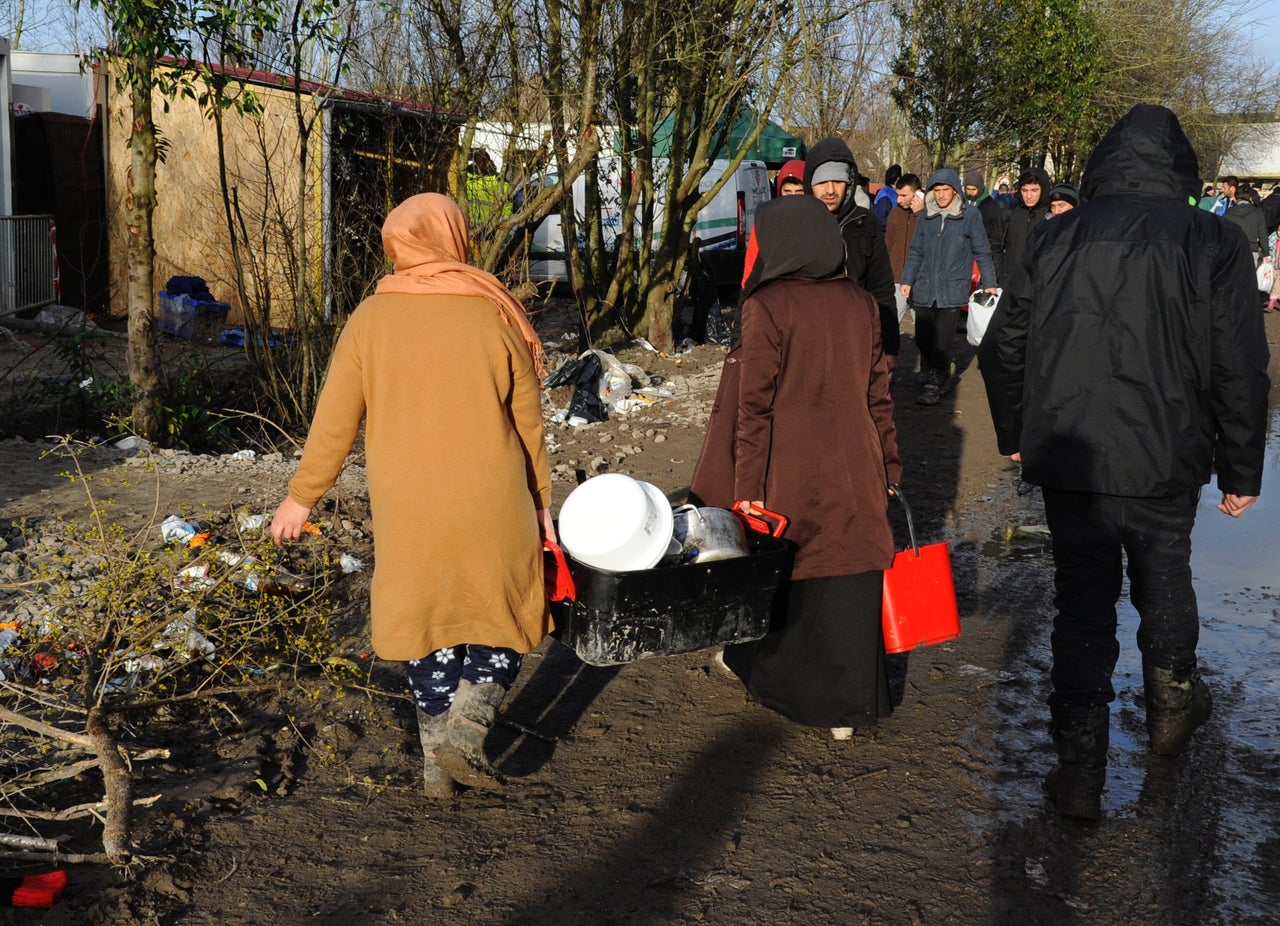 Even the more sophisticated women and children's tents do not have heating, which is why Doctors Without Borders U.K. spokeswoman Sophie-Jane Madden said medics are concerned the children could die of hypothermia. Van Urk added she sleeps inside five sleeping bags to keep warm at night.
Most people pass the time in solitude inside their tents, waiting for a day that may never come. They emerge once in a while to charge their phones and grab a cup of tea.
Argine said he sometimes plays games in the kitchen area with his friends, but he mostly sits around in limbo "just thinking about the future."
"You come here just thinking about yourself, because if you don't think about yourself you will die here," Saedi added.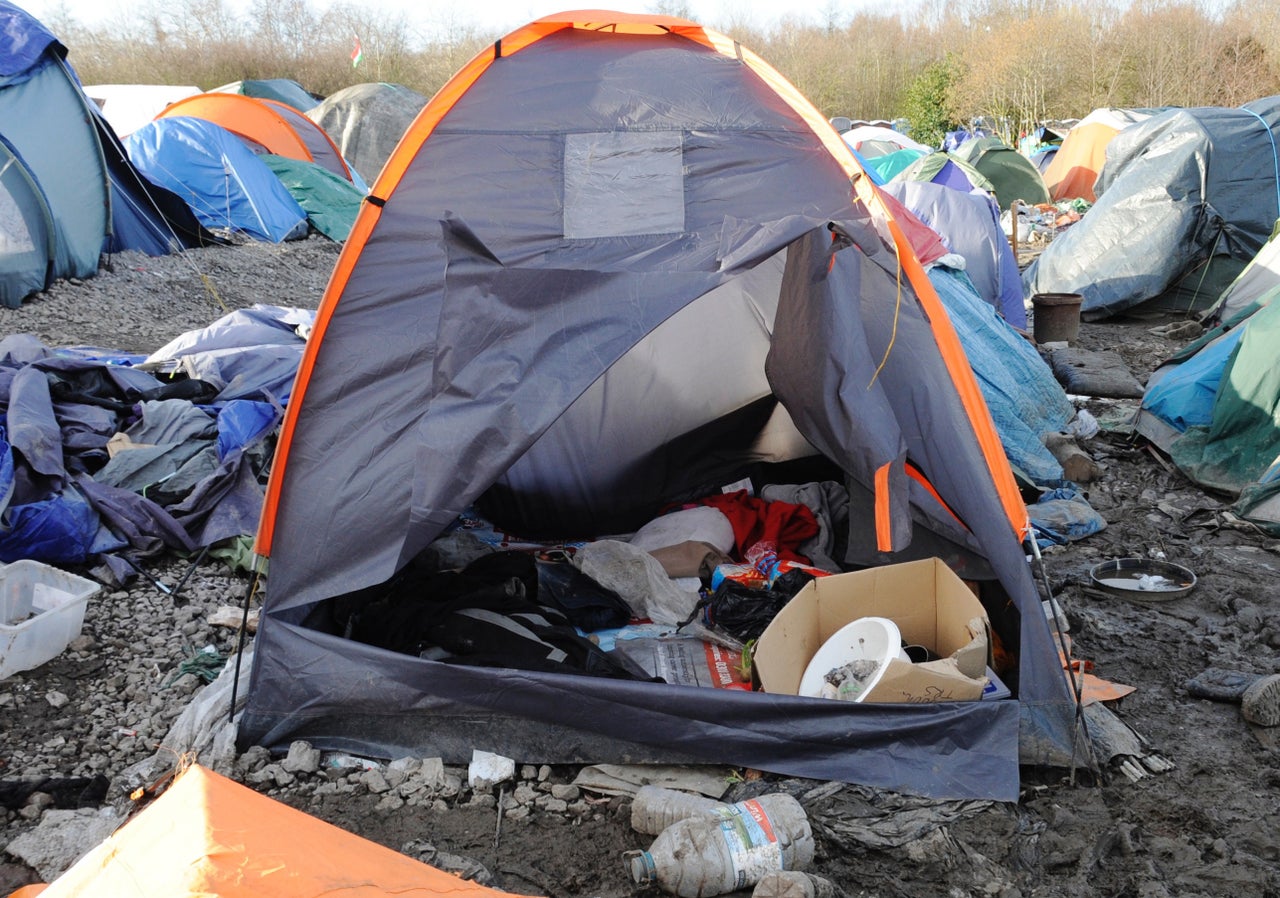 Efforts To Create More Humane Living Conditions
Two months ago, Grande-Synthe mayor Carême commissioned Médecins Sans Frontières to help the city set up more sanitary housing on another plot of land in order to shelter refugees and migrants from the cold and the rain.
MSF crafted a plan to install 500 tents, each of which can fit five people, as well as more showers and latrines.
Carême gathered MSF officials and local law enforcement last Monday to finalize plans for the new site. Construction began last week and will take almost a month to complete.
"It's like we're building a small city for 2,500 people in four or five weeks," Carême said. "That's extremely quick."
"We do think it's a lifesaving intervention," Madden said. "Appalling conditions only increases the suffering of these people, posing even more of a risk."
Many of the refugees have heard rumblings about the new camp, but Carême and MSF decided not to make an official announcement until the new site is completed.
Despite their current living conditions, volunteers and refugees worry that a new and improved camp will signal more sophisticated surveillance and, therefore, fewer opportunities to attempt the illegal crossing to England at night.
"We've been very clear from the start that we're not trying to build a camp with barbed-wire fences," Carême said. "We will explain all of this to the refugees so that the move can occur in the best of conditions."
Even once the move is completed, the Grande-Synthe refugees will suffer from terrifying uncertainty, weighing whether to risk their lives to leave France or continue risking their lives by living in squalor.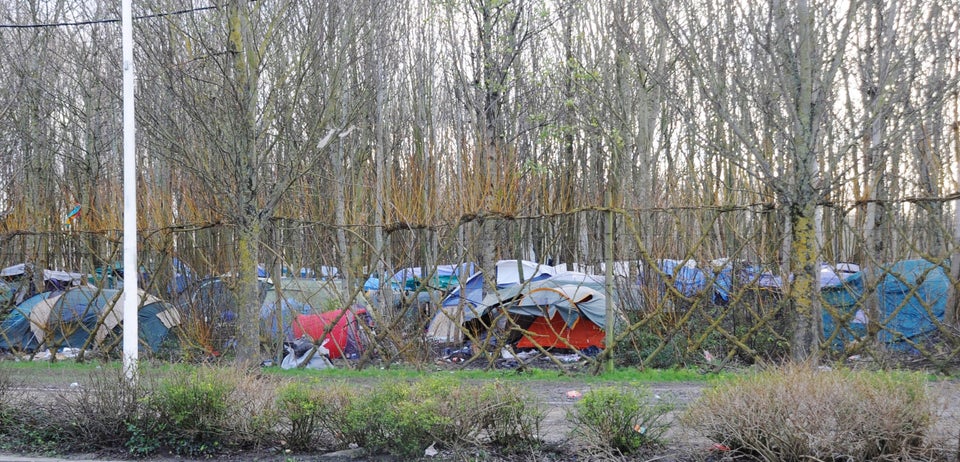 The Inhumane Conditions Inside Of A French Refugee Camp
Popular in the Community