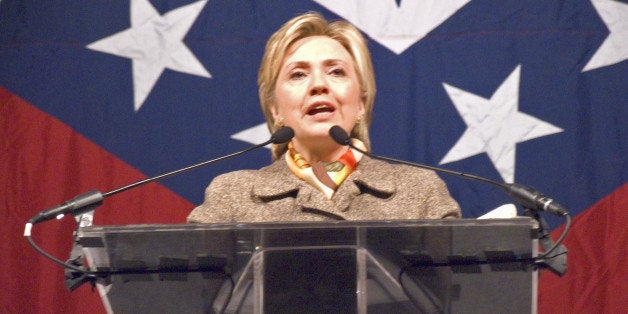 The shocking truth people are finding out about Hillary Clinton is she has always been a real progressive. A progressive who understands how government works and that our founding fathers (to their shame there were no founding mothers) set up a government requiring compromise to move ideas forward. Never-the-less she is as progressive as any person running for President and has what others don't; a long record of impressive accomplishments.
The most recent positions Clinton has taken apparently shocked some in government and the media. She questioned the final agreement reached on the Trans-Pacific Partnership (TPP) pact and spoke out against Wall Street saying she would regulate and consider breaking up banks considered too big to fail. Those who read her book weren't surprised and neither were those who understood why she opposed fast-track.
As to TTP she has always said we need to ensure there are enough guarantees for American workers and that consumers will not get the short end of the stick while major pharmaceutical companies and other big businesses get all the benefits. Some see this as major shift, or flip-flop, because she worked hard as Secretary of State to try to put this deal together; but we need to remember it has been nearly three years since she left her position as Secretary of State where she could influence negotiations. Martin O'Malley and Bernie Sanders say proudly they were always against it even when they had no idea what was in it. I don't want my President to respond to things in that way.

Hillary Clinton has been clear she is not running for a third Bill Clinton or third Barack Obama term. She is running for a first Hillary Clinton term. Her positions on policy are ones we can and should hold her to when she is President. Yes they are sometimes different, some nuanced, some major, from ones she may have supported as the wife of one President and Secretary of State in the Administration of another. In both instances we will never know all the positions she took in private conversations with them on a myriad of issues. What we do know is she has served our nation well.
In this campaign Clinton has taken a strong position supporting the Iranian agreement, negotiations which she helped begin, which postpones Iran's ability to get a nuclear weapon for at least fifteen years. She proposes strong new regulations to curtail the illegal activities of big banks and reform Wall Street. She is calling for educational reform and making college either free or affordable to everyone and restructuring student loan programs to cut or eliminate debt. She has proposed strong environmental policies, opposes the Keystone XL pipeline, and supports strong efforts to combat climate change.
Clinton has always taken strong stands on so-called women's issues, which she rightly calls economic and family issues; equal pay for equal work, maternity and paternity leave, affordable childcare and healthcare. She spoke our forcefully for the LGBT community in Geneva in 2011 on Human Rights Day which moved the needle on LGBT rights around the world; for transgender persons to be able to serve openly in the military; and in support of LGBT comprehensive human and civil rights legislation now in the Congress.
So now Clinton is being criticized as a populist. Since when is fighting the NRA and supporting realistic gun control measures, supported by a majority of the people, a bad thing? She is supporting union workers to ensure they get a fair shake and fighting for an equal playing field for all those wanting to work hard and get ahead.
Hillary was always a progressive. It was her fight for national healthcare in the 90s that set the wheels in motion for what was to become Obamacare. It was her courageous speech in Beijing on woman's rights letting women across the world know there were those in the United States willing to support them that moved women's rights forward. In the early 90s when Clinton campaigned for her husband she was called a radical feminist lawyer for her ideas about women and their choices in society. She has fought for children and those who couldn't speak up for themselves since she graduated law school and took her first job with the Children's Defense Fund.
So we shouldn't be shocked now as a brilliant, wiser and self-confident woman Hillary is totally unafraid to speak her mind and tell the nation what a Hillary Clinton administration will stand for.
The reality is Hillary was a progressive long before anyone ever heard much about either Bernie Sanders or Elizabeth Warren. While I applaud them both for speaking out forcefully on the issues many of us including myself care about, and helping to bring them back into the mainstream of American politics, it is Hillary Clinton who has the best chance of moving them forward as President.
Popular in the Community