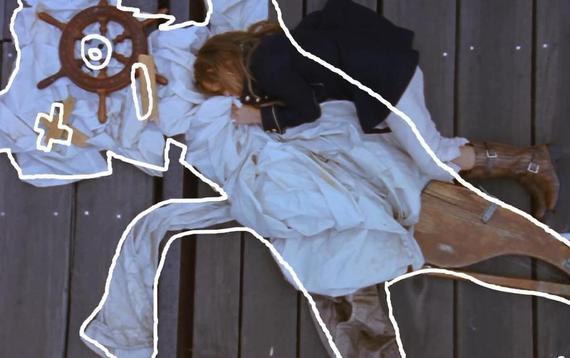 Editor's note: On August 27, 2015, Fandor announced the launch of a short film channel on Vessel. Fandor's channel will showcase dozens of films, including Josephine Decker's Me the Terrible, premiering today (and available on Fandor five days later).
"For many filmmakers creating a short, it isn't until the film is completed that they know exactly why it is they made it," says director Josephine Decker. She is responding to a question about the impetus behind her arresting, pre-teen pirate takeover of New York City, Me the Terrible. Decker had arguably the most auspicious year in independent filmmaking of any director in 2014, debuting two feature length films at the Berlinale and being hailed by Richard Brody in The New Yorker as one of the most vital generational voices in American cinema, alongside Terrence Malick and Wes Anderson. She made short work of two features in one year but with regard to this short, details a long road. "I fell in love with the song 'Land of Sea' by Chris and Thomas. It was about a child who conquers New York and I imagined an amazing music video for it. I pitched it to the band, and they liked it. Then I told them how much money I had to work with and they said, 'We can't afford to do that!'" But Decker kept coming back to the idea and tried to imagine the potential film's soundtrack if it weren't the band's song. Decker turned to her love of archival audio from radio shows of the 1920s and '30s and moved ahead, constructing the soundtrack from those materials. The result is a delightful clash of the anachronistic and the fantastic with current-day New York, as our youthful pirate takes on the difficult yet joyful task of confronting the city's mean streets and harsh systems. "It wasn't until after the film was completed that I realized that the film was really about my relationship to filmmaking in the city. When I started making movies, I had this fantasy that my art was going to conquer the culture--and then I found myself up against it. I can see now that I was processing that in the film."
Me the Terrible was made in the year preceding her breakout two-feature 2014. Since that time, Decker has been deeply investigating improvisatory forms. Her feature Thou Wast Mild and Lovely specifically explored the terrain of unconscious motives and desires and how they might emerge through unscripted creative structures. She recently met with neuroscientist Heather Berlin, who has been studying the effects of improvisation on the brain in real-time. Berlin's work has mostly been focused on rappers as they freestyle rhymes, and perhaps predictably Decker is looking at how improvisation affects performance. But, much more interestingly, she is experimenting with how to produce films from the ground up using methods of improvisation. "What I am doing is video-recording improv sessions. I then transcribe the sessions and following create a written piece out of it. The key to the writing though is that I have to keep myself open to improvising the transcription and re-writing when it seems right." So each step -- the initial creation, transcription and writing -- is based on improvisation, an approach that sounds like a modified form of Surrealist automatic writing.
Decker is part of a filmmaking group actually named collective : unconscious. Its five members are producing a five-episode series of shorts with one group member directing their version of a dream told to him/her by another group member. The project seems to be an update of the Surrealist party game the Exquisite Corpse (a method of creation developed to playfully reveal a group's unconscious desire) that takes advantage of the evolving position of short and episodic film/video content in today's media landscape.
Finding the Right Length: Shorts in the Digital Landscape
Many filmmakers are experiencing a change in their relationships to short-form filmmaking. "When I was in college," says filmmaker Caveh Zahedi, "short films were negated. The feeling was that you needed to make a feature if you wanted to have a future in the filmmaking business. It was part of the 'calling card' model of being discovered. So that's what I did. But, today, it seems that it's features that in some ways are negated. No one has the time or patience to sit through a feature length film, including me. At least not in one sitting. And I love short films, but to seek out to watch just one short film is rare also. I seem to only do it based on a recommendation or if it is part of a series or episodes."
Both Decker and Zahedi use short films to experiment with technique, trying out approaches in the low-risk format. But more importantly, they are excited about the potential of viewing platforms to provide space for convention-free serials and episodics. "I am not so sure if this is a viable economic model for makers, but the Internet has opened things up for short film content in other ways. I am working on this episodic project currently called The Show about the Show," says Zahedi, "that basically has no time constraints. The pieces have to be short, but they can be between six and twenty-eight minutes long. So I can end each film when it should be done, rather than filling them out to meet some broadcast standard." Additionally, Zahedi (who recently debuted the decidedly old-school box DVD set of sixteen hours of his film work, including numerous shorts) points out that curated platforms allow audiences to find the work of vital filmmakers who may only work in the short film format. "Take Jay Rosenblatt. His films are absolutely amazing. But, before there were online platforms there was hardly any way to see them. You had to go to a festival or buy them."
Filmmaker Sam Green agrees. "Before we had these online platforms, what did you do when you made a short movie? I guess you just made a VHS tape and sent it to Craig Baldwin [the impresario and champion of all nontraditional film content who runs the famed Other Cinema in San Francisco]. Now, you can find so much more stuff than you used to, which is wonderful. But, that's a double-edged sword. You can also find everything and it's almost impossible to know if you'll look at good work. With the millions of videos on YouTube, the value of the Internet as an aggregator of content suffers and bottoms out, which is why it is necessary to have these curated spaces for short film content."
"Of course," adds Green, "I've been approached by all kinds of companies -- 'Dongo dot com wants to carry your movie.' There is something fishy about the fly-by-night schemes. So I appreciate [a more careful approach]." Green who is a leading light in re-shaping theatrical film experiences with live documentaries such as The Love Song of R. Buckminster Fuller and The Measure of All Things admits, "It's true that the Internet [with regard to] short filmmaking hasn't lived up to that initial and always on-the-horizon promise of democratizing the film business. Rather than downloading directly from makers, it seems that everyone has chosen streaming. Still, online platforms have changed the ways we view and the reach of makers as well as the access the audiences have. The ways we view and distribute content are still changing."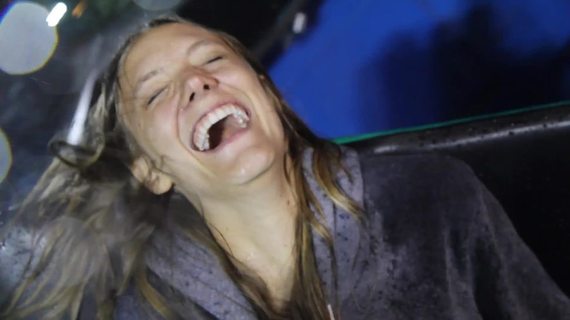 From Constricting Features to Expansive Serials
Tati Barrantes, whose films have won awards internationally, agrees with the perspective that shorts distribution possibilities have opened up. "In 2007, when I first started grad school, if you made a short, you were focused on Europe, where it seemed there was an appetite and apparatus for getting your work viewed. Festivals like Clermont-Ferrand were vital, but now we have online platforms like Vimeo and Kickstarter that have exponentially increased the avenues for our work to be seen." Still, Barrantes doesn't see short film work as an end in itself. She uses her short films to explore her creative interest and as calling cards to secure more work, like commercials and digital content. And, like many of her colleagues, she sees the current sweet spot of film/video production in online and television serial production. "A feature-length film is great, but having produced a couple, I can say that that takes years off your life. The return isn't as valuable as securing a serial, which can lead to a truly sustainable career."
For Decker's part, she would like to expand the work she is producing for collective : unconscious. "Serial content is very popular right now. What's great about shorts and online series is the creative freedom -- they don't have millions on the line and executives breathing down their necks so they can take bigger risks with style and narrative. I can definitely imagine a series based on the short I am making for our project. I've been interviewing men about their first days out of prison and translating that into a sort of magical realist collaborative doc. It's quite surreal what happens when you emerge from, say, twenty years inside. As one man said, 'It's like I walked into the future.' The stories are so gripping and so varied. I would love to translate this one short into a series on the topic because it goes deep: from the struggle to get a job to taking care of kids to finding steady housing to the crazy control parole has on all your decisions. There is a lot to dig into."
Sean Uyehara is a film programmer at the San Francisco Film Society.
Calling all HuffPost superfans!
Sign up for membership to become a founding member and help shape HuffPost's next chapter