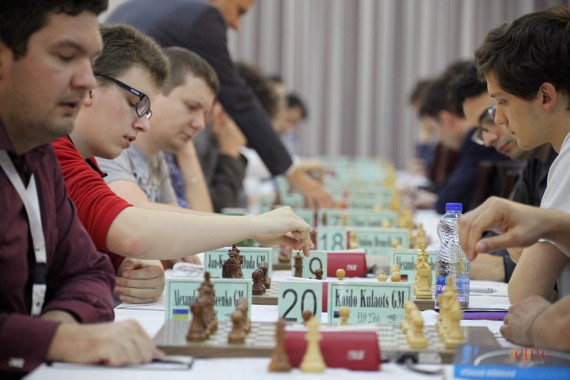 Players at the European Individual Chess Championship in Gjakov, Kosovo, during Round 2. Photo from the official Web site.
The European Individual Chess Championship now underway in Gjakov, Kosovo, has a prize fund of 120,000 euros, including 20,000 for first place. More importantly, the tournament is a qualifier for the 2017 World Cup, with 23 available spots. As the top two finishers in the World Cup qualify for the Candidates tournament to select the challenger for the World Championship, the European Championship can be a step for a player to qualify for the World Championship.
Given what is at stake in the European Championship, there is curiously one thing missing: a lot of strong players.
In this year's championship, there are only five players rated 2700 or above. (A rating of 2700 is the plateau of the elite players; there are currently 42 of them in the world.) Altogether, there are only 60 players rated over 2600, the level of a top grandmaster, in the championship.
In 2015, there were six players over 2700 and 63 over 2600. In 2014, the championship attracted 15 players at the 2700 level and 72 over 2600. The 2013 championship had 12 players 2700 or above and 80 who were 2600 or higher. And in the 2012 championship, there were 15 players 2700 or higher and 98! players 2600 or above.
One possible explanation for the dwindling fields is the location of the competitions. But last year's was in Jerusalem, and in 2014, it was in Yerevan, the capital of Armenia.
Without doing a survey of the top players, it is impossible to know why so many of them are passing up what appears to be such a golden opportunity.
Though the competition has thinned, there are still enough formidable players to make the tournament very tough. After four rounds of this year's event, only one of the top five, Radoslaw Wojtaszek of Poland, had a perfect score. He was joined by Ernesto Inarkiev of Russia (who was named after the South American revolutionary Ernesto "Ché" Guevara) and the erratic, unpredictable and sometimes brilliant Baadur Jobava of Georgia.
Each of the players took different routes to their victories in Round 4.
Wojtaszek's opponent, Alexander Ipatov, who plays for Turkey, chose a passive opening that ceded too much space to Wojtaszek, who had White. Wojtaszek nursed his advantage and gradually wore Ipatov down until he cracked and lost a long game.
Inarkiev faced Zaven Andriasian of Armenia. Andriasian, who had Black, played too aggressively, sacrificing a pawn for little compensation and then lost a piece as Inarkiev marched his extra pawn down the board.
Baadur, who also had White, like Wojtaszek and Inarkiev, did not play particularly well against his opponent, Mircea-Emilian Parligras of Rumania. But just as they reached the time control, Parligras blundered and lost a piece and promptly resigned.
With seven rounds to go, and 52 players with 3 or more points, the competition is still wide open and the 23 spots for the World Cup are still very much up for grabs. Those 52 players are probably feeling pretty thankful, however. After all the competition could be much tougher, and in years past it has been.
Mr. McClain is editor-in-chief of WorldChess.com, the official site of the World Chess Championship.
Calling all HuffPost superfans!
Sign up for membership to become a founding member and help shape HuffPost's next chapter