*At the time of posting, wildfires were burning in Glacier National Park, near Lake McDonald Lodge and along the Going-to-the-Sun road. Our thoughts are with all those affected by fires across the West, and our deepest appreciation goes out to the first responders managing the fire.
In 1850 there were an estimated 150 glaciers clustered in the northwestern part of Montana stretching into southern Canada. To say that Glacier National Park is majestic is not an overstatement; it's replete with jewel-toned wildflowers, azure lakes, plunging vistas of glaciers and mountains, and Montana's famous "Big Sky." Today, the park continues to grace visitors with breath-taking natural wonders and wildlife. However, only 26 shrinking glaciers remain, and these are expected to be completely gone by approximately 2030 –a mere 13 years from now.
Earlier this summer, news stories caught my attention about Glacier National Park, especially given that I would soon be heading there myself on vacation with my family. The park's Superintendent Jeff Mow and Dan Fagre, one of its resident climate specialists employed by the U.S. Geological Survey, were ordered by the Trump administration to abandon their plans to attend a park tour with Mark Zuckerberg, CEO of Facebook, who was visiting the park. Many in the media and the public speculated that the Trump administration was concerned by what these park leaders might share about climate science with the famous Silicon Valley titan who has a big megaphone. As a non-famous person (who probably would not catch the attention of the administration) eager to learn about the park as both a staffer of the Sierra Club and a tourist, I reached out to Mow and Fagre to see if they would meet with me during my planned visit. They agreed, and I learned a lot.
Fagre, whose team of researchers are evaluating how the park's ecology is changing over time, shared that the park contains incredibly varied landscapes, including temperate rainforest, prairie, and of course glaciers. He said that climate disruption is happening at about twice the rate at Glacier National Park than it is occurring on average worldwide. One of the reasons for this, he said, is the high elevations in the park where rock absorbs the sun's heat more intensively than in greener areas. Due to natural post-Ice Age warming, the glaciers would be melting anyway, but climate change pollution is speeding the process, he added. The impacts of climate change on the park, in addition to shrinking and disappearing glaciers, include threatened wildlife and increased wildfires, which I witnessed myself burning from a distance while there.
Perhaps due to the public's rush to see the glaciers before they are gone in addition to last year's National Park Service centennial promotions, Mow said that 2016 park attendance grew by 23% over the previous year, and that it's on track to grow by an even greater rate this year. Thanks to car congestion and long-term construction on Going-to-the-Sun Road (I can see why the park's early road builders felt the need to wax poetic in naming its main thoroughfare), Mow is already thinking about how to keep the park open to anyone at any time, while maintaining emergency services and the visitor experience. Mow also mentioned important work he and others are undertaking through the Crown the Continent Geotourism Council, which brings together state government, the forest service, the National Park Service, area coal companies, Indian tribes, National Geographic, and Canadian provinces to collaborate on how to best protect the land.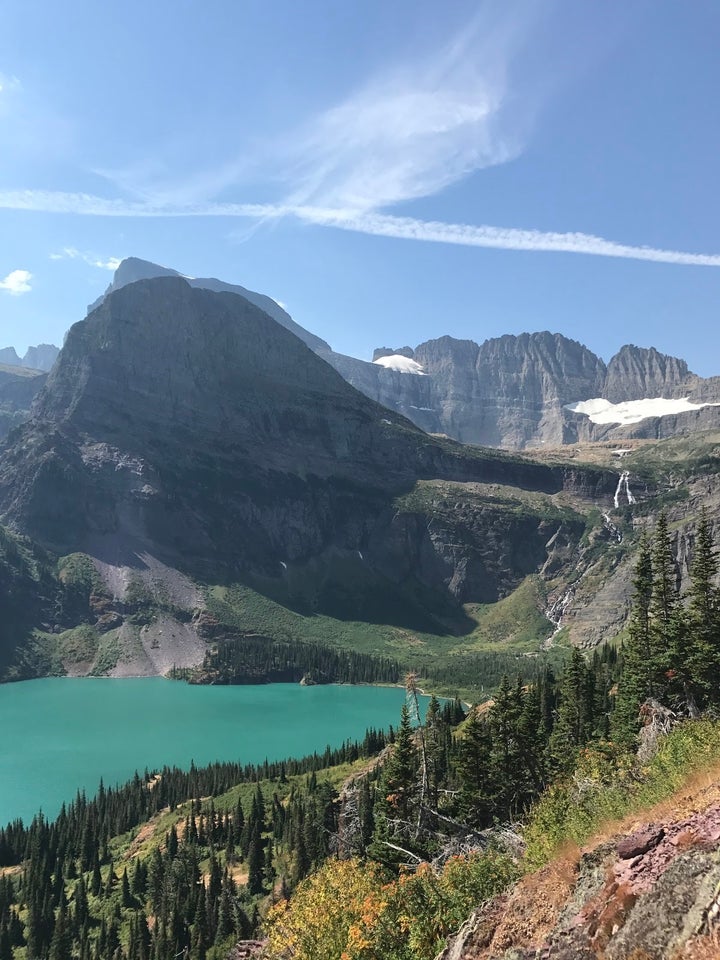 As my family explored the park, I was grateful that Mow, Fagre, and their colleagues are engaged in such thoughtful work to protect the park for today and with an eye toward many generations to come. When I hiked to the park's most famous set of glaciers, called "Many Glacier," I was awestruck by the beauty of the glaciers themselves, the surreal color of the lakes, the purple and orange wildflowers, and even the grizzly bear we saw eating huckleberries not far from our trail. As an aside, I must give a shout-out to my 8-13 year-old daughters, niece, and nephew who joined the grown-ups on a challenging, longer-than-expected, 14-mile hiking adventure.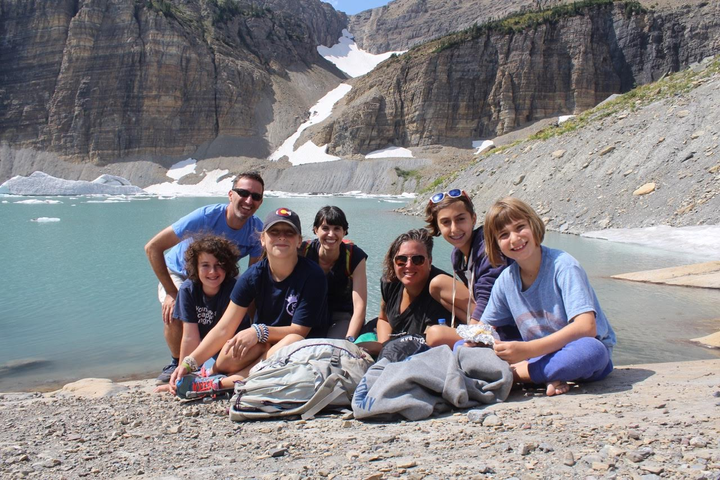 With my own professional focus on transportation issues, I asked Mow about how the park is tackling vehicle pollution. He shared that some visitors leave their cars parked in lots and take advantage of free summer park shuttles to visit various park destinations, thus cutting down on the number and impact of vehicles. He also shared that there are two electric vehicle charging stations at the McDonald Lake Lodge. With congestion and pollution on the rise, I hope this park and others will increase clean transportation offerings, including bike programs, more electric vehicle charging stations (as advocated in this action alert and especially as longer range electric cars hit the market and vacationers drive electric), and tailpipe-free electric shuttle buses that other parks have started to introduce.
The 58 national parks and more than 115 national monuments have been treasures that Americans have enjoyed and their staff have run without regard to political preference. My in-laws are among many seniors who have enthusiastically purchased their $10 lifetime National Park senior passes (prices have gone up since their purchase, but it's still a good deal). Many of our military service members appreciate the opportunity to experience the healing power of nature through initiatives like Sierra Club's Military Outdoors program and the free annual park pass for military families.
Recently, however, the Trump administration has taken steps to roll back protections and support for our public lands. Proposed budget cuts threaten to reduce current visitor services and extend the already lengthy maintenance backlog in our parks. The popular Every Kid in a Park program's future is uncertain. It was extended for a third year, but may no longer be available next year when my younger daughter would qualify for the free park pass for fourth graders. And the Department of the Interior is proposing to dramatically shrink the boundaries of public lands like national monuments across the country, including iconic landscapes like Giant Sequoia National Monument, to make way for drilling, fracking, logging and mining. That same push for dirty fuel development is driving the Trump administration to review and potentially weaken rules for oil and gas drilling inside our national parks. I fear the Trump administration will break with previous norms, threatening the foundations of our shared public spaces in dramatic ways.
Even without meeting with Mow and Fagre, Facebook's Mark Zuckerberg posted these words during his trip: "I'm spending the afternoon at Glacier National Park in Montana with some National Park Service Rangers. The impact of climate change is very clear at Glacier...In a couple of decades, there may not be any glaciers left in the park at all...Thanks to all the rangers for all you do and for showing me around such an amazing place. We need to make sure parks like Glacier — and the planet overall— are around for future generations to enjoy."
Mow and Fagre said that every new administration and Congress have made some small changes to the ways the parks are run. They have been serving in various park-related posts over decades through Republican and Democratic leadership, but their focus has always been not on the politics of the day but on serving the public and protecting the parks. For that, and for the glorious parks and monuments themselves, we are immensely fortunate.
Sierra Club intern Alexandra Dobell contributed to this article. Photos courtesy of Gina Coplon-Newfield.
Support HuffPost
The Stakes Have Never Been Higher
Related
Popular in the Community