Throughout my life there have been many numbers of significance. For instance 4 -- the number of children I have had the immense pleasure of being a father to; or the age when my daughter Alex first voiced her desire to host a lemonade stand to help doctors on their way to finding cures for all kids with cancer. Then there is the number 1 -- the number of years that my daughter lived without cancer, or at least without us knowing what was causing her unhappiness as a baby; or the date in August when we lost her to the disease. While there are many more, the number that holds the most significance each June for me is 50 -- no, not my age (I'm not there yet) -- but rather the number of states who anted up in response to my daughter's call to action and had a volunteer-run lemonade stand in 2004.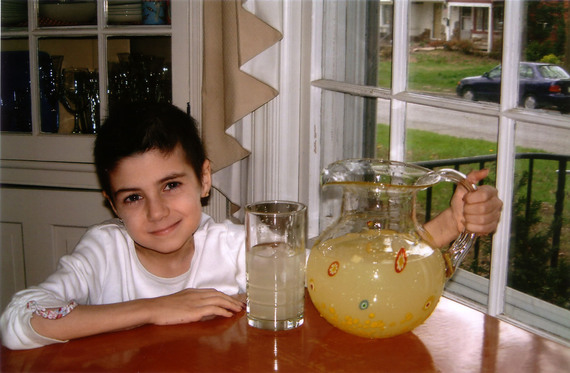 In case you are not familiar with my daughter Alex's story, she was diagnosed with cancer just short of her first birthday (see above!). She would battle cancer for the rest of her life, and at the age of four, after receiving a treatment that she herself "knew was working," Alex told my wife Liz that she wanted to set up a lemonade stand and give the money to "her hospital" so they could help other kids like they had helped her. This was when the mini-movement began, and for the next four years Alex held very successful lemonade stands in our front yard, each year gaining a little more steam and raising more money. Then, in 2004, when Alex was very sick, we reached a tipping point. When speaking to a reporter on the phone, Alex said that the goal of that year's lemonade stand was $1 million. How would she achieve that goal? Well, she had a plan -- if other people held lemonade stands and sent in their money, together it could be done. Even thinking back on it now, only a child could dream that big and have the foresight to believe it possible.
Back in 2004 there wasn't an Alex's Lemonade Stand Foundation, instead, there was Alex working as hard as she could to raise money to give to researchers to help kids with cancer. After Alex's declaration that she wanted to raise $1 million, we began receiving inquiries from people across the country asking how they could help. Following Alex's lead, when people called, we asked them if they would host an event the same day as Alex, which marked the beginning of what would become Alex's Lemonade Days. In 2004, it was just one day, Lemonade Day. We decided after fielding many calls that we would try to secure a lemonade stand in every state. We kept track of everything in a handy dandy spread sheet and on paper. We were thrilled when at the end of our efforts, not only was there a stand in every state, but there were also stands in many countries, and Alex would reach her million dollar goal.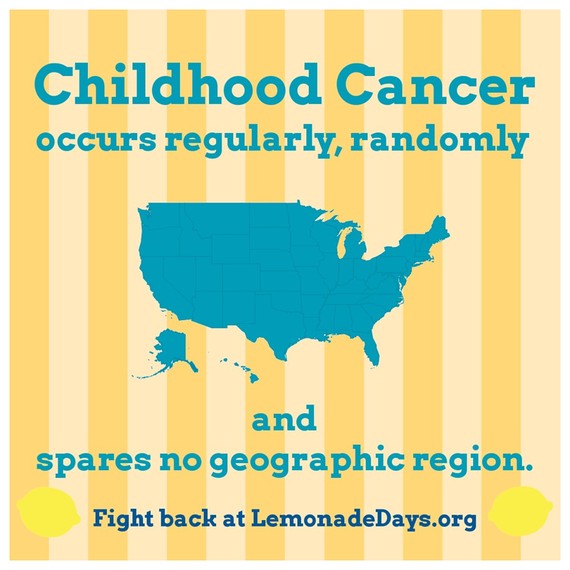 Today, each June the weekend before Father's Day, Alex's Lemonade Stand Foundation continues to work toward having lemonade stands in every state and several countries. Though we like to think we are more polished today, we learned everything we know from our leader, Alex. This is where the number 50 comes back to us. This year, we have designated a Hero Family State Representative in each of the 50 states to represent their home base, and to prove that childhood cancer really does affect children all across the country, and in every state. We are thrilled to have grown enough to have the network of families across the country, but we still need help to put an end to childhood cancer once and for all. We will invite volunteers and supporters everywhere to once again host an Alex's Lemonade Stand during Alex's Lemonade Days (June 12-14) in an effort to move us closer.
I will end with one more significant number, which by definition is perhaps not a number at all, but the number 0 -- which I hope is the number of children who will face the same fate as our daughter Alex when our work here is done.
Calling all HuffPost superfans!
Sign up for membership to become a founding member and help shape HuffPost's next chapter