Check out the video that accompanies this article: http://youtu.be/vI2nzUK35X0
The cherry blossom tree is truly a sight to behold, especially when it is in full riotous bloom. There are several varieties of the cherry blossom tree, and while most of them produce flowering branches full of small pinkish-hued flowers, some of them produce actual cherries.
In Japan, the cherry blossom is more than just a beautiful flowering tree. There are thousands upon thousands of cherry blossom trees in Japan, and each year the Japanese people closely anticipate and follow the blossoming of the trees. When the trees are in bloom, people come in large groups with their families and friends to view the flowers and to enjoy festivals with food, drink, and music.
The significance of the cherry blossom tree in Japanese culture goes back hundreds of years. In their country, the cherry blossom represents the fragility and the beauty of life. It's a reminder that life is almost overwhelmingly beautiful but that it is also tragically short. When the cherry blossom trees bloom for a short time each year in brilliant force, they serve as a visual reminder of how precious and how precarious life is. So, when Japanese people come together to view the cherry blossom trees and marvel at their beauty, they aren't just thinking about the flowers themselves, but also about the larger meaning and deep cultural tradition the cherry blossom tree.
At moto, we are always looking to create dishes that are powerful without being overpowering. The cherry blossom tree and its message seemed to fit perfectly into that niche. The fragile beauty of the cherry blossom tree and its symbolic message might sound difficult to turn into a dish, but I knew pastry chef Claire Crenshaw would be able to brainstorm an interactive and stirring dessert creation. Soon, the Cherry Blossom Bonsai was born, and the beautiful creation ended up being almost too good to eat -- but don't worry, it's worth every bite!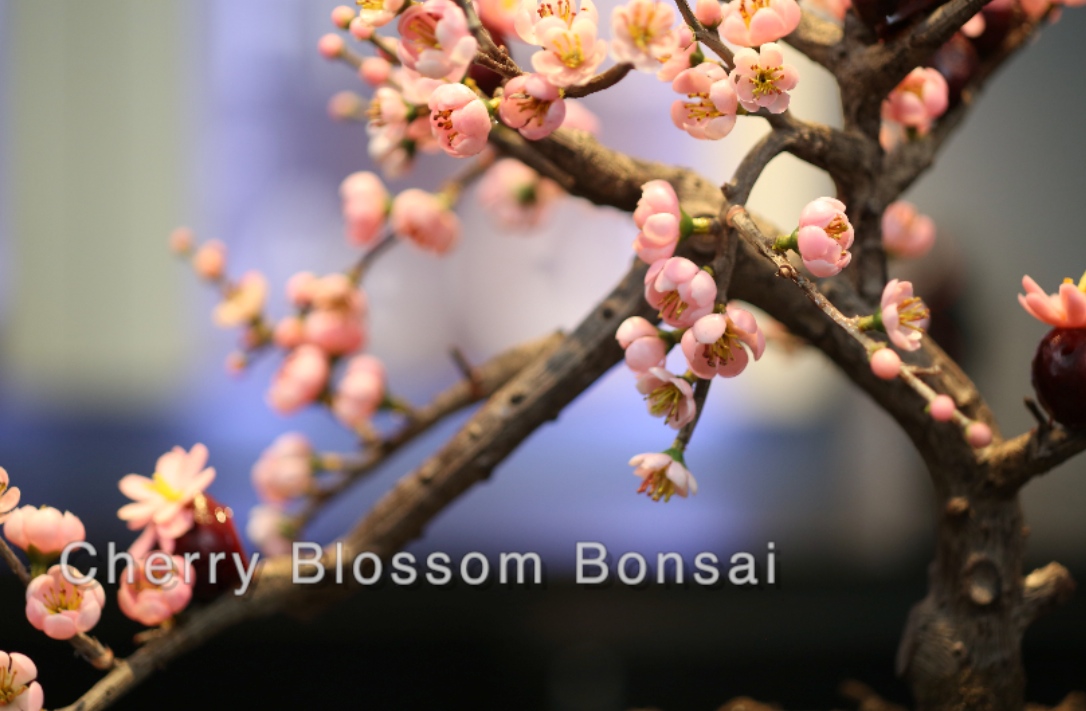 First, here's a little backstory on Chef Crenshaw's creation behind this dish. She says, "I was first drawn to the cherry blossom because cherry season was approaching. I wanted to create a unique and fun cherry dessert without destroying the integrity of the cherries themselves. What's funny is that I never use to like cherries! Then, l I had the opportunity to go cherry picking in upstate New York. We picked pounds of cherries and ate about the same amount. They were delicious and ever since then I have been a fan."
In order to create the Cherry Blossom Bonsai, Chef Crenshaw takes cherries and fills them with a rich coffee cream. She then dips them in cherry tuile which is sweet and flavorful. Then, in order to get the image of the a flowering cherry blossom tree, she sets them in a edible pink "flower" and fills them with orange zest in order to imitate the inside of a real cherry blossom. Chef Crenshaw says, "We worked with the bitterness of the coffee and added the sweetness of the natural cherry and the acid from the orange zest. It gives the dessert a unique flavor profile in just one bite."
Then, Chef Crenshaw places these delectable cherry flowers strategically on the branch of a real cherry blossom tree, allowing guests to pick and pluck their own cherry from the tree when it arrives at their table. "Placing the finished cherry blossoms and cherries on the tree is my favorite part," she says, "There are even times when I can't find the real cherries mixed with the fake ones! It's a mind game for me every night."
It's a visually awesome dish that blows guests away when they first lay eyes on it. It's hard to believe that it's actually an edible dessert, but trust me, it is... and it's truly delicious. But, like the real cherry blossom trees, it's always gone much too soon!
Related