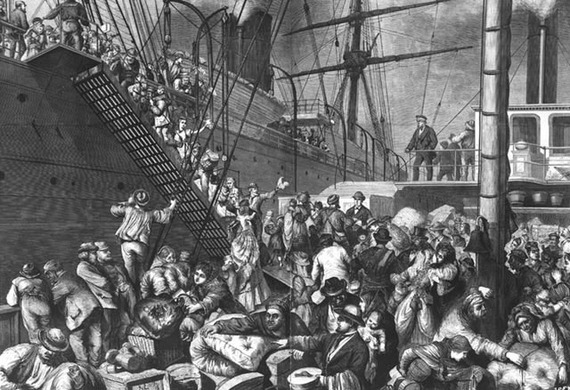 America's largest ethnic group has assimilated so well that people barely notice it. So ran a headline in The Economist (Feb 7). Those of us who sight and study and report on ethnic groups are also busy studying their role in religion in American public life.
Of course, everyone knows about whom, in this case, we are reporting. Ask the politicians, the media leaders, and the pollsters about them. First, of course, are the African-Americans (41 million as of 2011) who topped the Irish-Americans (35 million), followed by Mexican-Americans (32 million). Let's toss in the English, an historic stock, with 26 million. Don't forget others in the top ten, among them the Italians, the Poles, and more.
Oh-oh! We forgot the Germans, who are Number One in "ancestry group population," with 49 million.
Who noticed and who notices them? The Economist did and does, because of the visit last week of German Chancellor Angela Merkel. Her headline in the Wall Street Journal (Feb 14-15) read "Crises in Ukraine, Greece Test Merkel's Influence, Stamina."
The polls tell us that Merkel may be "the most important woman in the world," but her picture, with France's President François Hollande, was buried in a corner of page 7.
The press has noticed that Germany has noticed crisis-level and "toxic" mistrust and anger among Germans over spying allegations involving the U.S. at a time when "free trade" talks are crucial. "Ami Go Home" is the new "Anti-Americanism, [which was] always strong on the German left, [now] beginning on the right."
While the polls debate their issues, let's use the Merkel visit to read The Economist's conjoined stories about Germans in America as the silent minority.
The news stories talked about how "inert" stories about Germans in America are. There is reason to ponder why those of the German-Reformed, German-Lutheran, and German-Catholic cohorts are not more "-ert."
German-American theologians like the Niebuhr brothers towered in the century past. Culturally, musicians like the so-often-performed Bach also resound under steeples.
(An aside: The "Marti" family is a Swiss-German clan to hundreds of Germans in our personal tribe. But "we" assimilated, along with the rest. We counted 29 (!) uncles and aunts and their spouses in our parents' generation, but cannot recall any of them or our grandparents visiting Germany or Switzerland, or communicating with "the old country." Ever. Compare them to Italian-Americans and others who kept close ties.)
What happened? First, World War I, when for a year German-Americans were suspect, as we fought "the Huns." But soon, after suffering, they turned super-patriotic. World War II found the U.S. fighting Germany in its abhorrent Nazi incarnation, when most German-Americans were again in the super-patriotic front.
But those "enemy" events led many to disguise or drop or render "inert" mention of their roots. The Economist mentions the names of the assimilated Pfizer, Boeing, Steinway, Levi-Strauss, and Heinz. These were not singled out ethnically as were figures like Dukakis and Cuomo and Kennedy, who were very visibly Greek- and Italian- and Irish- Americans.
Germans, says The Economist, imported Christmas trees and Easter bunnies and pretzels. "They built big Lutheran churches wherever they went." Assimilation has great significance in American religious history, as in politics.
The Economist, reporting on the Merkel-Obama (etc.) visits and events: "Unlike Indian-Americans, who went wild when [Narendra Modi] their new prime minister visited America, German-Americans will barely notice."

We are told that Chancellor Merkel is the daughter of a Lutheran minister and is herself Lutheran. But so far as we know, the German-Americans joined Scandinavian- and other Lutherans, plus German-American Catholics, who, again for many reasons, "inertly" "barely noticed."
U.S. Census Bureau. "Ancestry: 2000." Census 2000 Brief. Issued June 2004, U.S. Department of Commerce Economics and Statics Administration.
This post originally appeared in Sightings, an online publication of the Martin Marty Center for the Advanced Study of Religion, University of Chicago Divinity School.
NOTE: This article is not available for republication without the consent of Sightings. Please contact the Managing Editor, Myriam Renaud, at DivSightings@gmail.com.