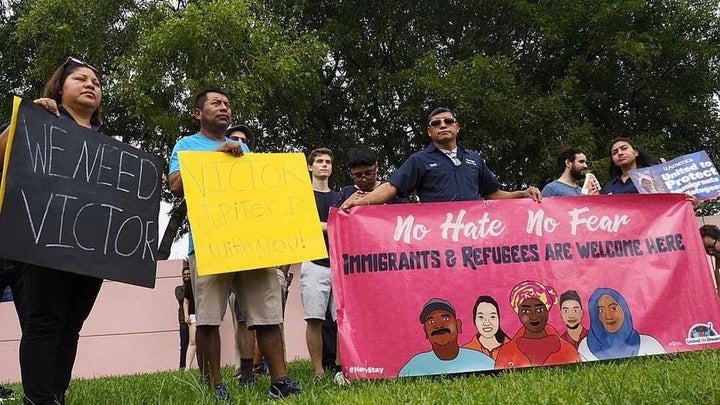 In South Florida, people are disappearing from our community, as undocumented immigrants are being detained and deported during scheduled check-ins with Immigration and Customs Enforcement (ICE). Standing outside the Miramar ICE facility in Broward County, the machinations of Trump's deportation force are in plain sight.
At the Miramar facility, a line of people waiting for hours under the hot Florida sun for their immigration check-in is a daily sight. Most of them are immigrants who have committed no crime other than overstaying their visa or an unauthorized border crossing. Others are seeking asylum or are in the country with work visas.
The Trump administration is using what immigration activists call the "silent raids" to deport immigrants like those who show up to the check-ins at the Miramar center. According to statistics from ICE, 41,318 undocumented immigrants were arrested and scheduled for deportation in the first four months of 2017, marking a 38 percent increase over the first four months of 2016. Of those 41,318 immigrants detained, over 10,800 have no criminal record, marking a 153 percent increase from last year.
Here in South Florida, real families are feeling the impact of Trump's anti-immigrant policies. After following the law and showing up to his ICE check-in at the Miramar ICE office, Espilvio Sanchez-Benavidez was detained. Espilvio had immigrated to the United States in 2013 to flee political violence and persecution in Nicaragua, where two of his family members were murdered due to their opposition to the ruling government and where Espilvio received death threats.
In 2015, Espilvio's asylum was denied and he was order to check-in regularly with ICE, but last March he was detained when he showed up to his appointment at the Miramar ICE office. Espilvio was later deported, leaving behind his wife and children.
Memos issued by the Department of Homeland Security and signed by then Secretary John Kelly, show the broader focus which the Trump administration has on arresting and deporting any undocumented immigrant living in the United States, even those without a criminal record. The memos show that any immigrant living in the U.S. without authorization and who has been convicted, charged or even suspected of a crime, even a minor traffic violation, is an enforcement and deportation priority.
The Miramar ICE office is an example of just how effective Trump's deportation force can be in its mission to deport and break up immigrant families. South Florida activists have taken notice however, and have been organizing to call attention to what's happening in our community.
Rallies and press events have repeatedly forced the Miramar building to shut down operations, and every Thursday a group of activists show up to talk to those waiting in line for their check-in and keep record of those who are detained if they don't come back out. I was present last week and saw several people crying after their check-in because a family member or friend was detained.
"I'm from Argentina. During the military dictatorship there in the 1970's, there was a peaceful movement of resistance led by Las Madres de Plaza de Mayo, who demanded justice for the children who were disappeared by the military secret police," said Maria Bilbao, an organizer with the organization United We Dream. "Members of our community are literally disappearing from our community and families are being broken up, we are going to be outside this sinister ICE building demanding justice for our loved ones."
There are over 450,000 undocumented immigrants in South Florida who could be impacted by Trump's policies. The activists are hoping to uplift the stories of those who are under threat of detainment and deportation when they follow the rules and show up for a scheduled check-in.
"There are so many irregularities and suspect activity happening at the Miramar ICE office, it shows the importance of building our own circles of protection within our communities," said Yaquelin Lopez, a member of the immigrant rights group Women Working Together USA. "Rain or shine, we are at Miramar every Thursday because, now more than ever, it's important that our community stays informed of their rights and abuses perpetrated by ICE agents."
Another activist named Maria Perez expressed her pain when encountering the family members of those who don't come back out from their check-in: "It pained me to see a young girl come out of the building crying because her mother was detained and transferred to a detention center. I could see her desperation and I'm glad that we are there offering our support and prayers. That's what humanity should be about, supporting one another."
Rosana Araujo, also a member of Women Working Together USA puts it more bluntly: "The Miramar ICE office reflects a silent and oppressive immigration system that separates families and destroys the hopes and dreams of many."
Thomas Kennedy is a communications fellow for the Center for Community Change.
Popular in the Community