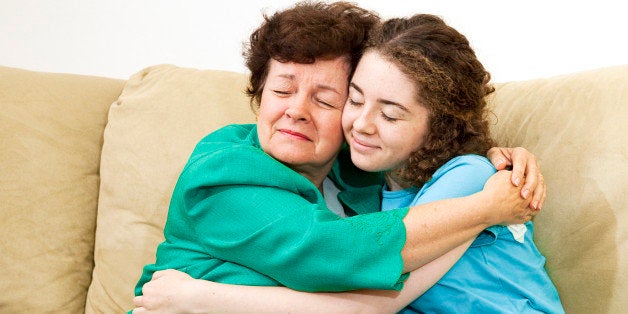 When a mother first learns that she is pregnant, there is a flurry of emotions. And learning that she is having a girl? What a thrill! There's nothing quite like the bond between a mother and her daughter. But sometimes anxiety sets in or self-doubt arises: How will I know how to take care of her? Raise her? Protect her?
Thank goodness, there is no shortage of resources to help an expectant mother prepare for the journey ahead. From books and blogs to coaches and conferences, there is an overwhelming amount of information out there to guide women through one of the most complicated jobs they will ever face -- raising a daughter.
During the infant stage, mothers can access tips on holding, feeding, burping, bathing and calming their tiny daughters. As your toddler becomes school ready, there is a plethora of early development tools to help moms foster creativity, social skills and strong values in their girls.
And then the teen years! We all know about the well-documented trials and tribulations of raising teenage daughters. Between social media, boys and mood swings, there have been many books published to help moms navigate this tough period. And when it's time for college, many schools help mothers learn to let go and support their daughters from afar as they adjust to their newfound independence.
But, what happens when she graduates? Another phase with a brand new set of challenges awaits. Watching your daughter come into her own is no easy task. Finding the right balance between stepping in as a parent and letting her build her own life can be difficult.
She will likely find a new place to settle and build a career. She will search for love and explore potential partners. She may even adopt a lifestyle or set of values that is worlds apart from the way you raised her.
How should a mom handle these shifts? Some continue to share their opinions, offering advice and warning against potential pitfalls that might arise. Others sit back and listen, providing unconditional support, and let their daughters learn for themselves. And some stay silent -- the balance between "mother" and "friend" is so delicate that it can be paralyzing.
For these moms, it might seem best to brush these silent struggles under the rug. To pretend that the tensions don't exist and put a smile on nonetheless. This approach is often easier than having the hard conversations, especially when you have very little quality time together. Daughters are moving farther away and taking on more ambitious careers than any generation we have seen before. Working on your mother-daughter relationship is rarely a top priority.
But it should be. Sharing how you feel, learning to listen and finding a way to support one another in adulthood requires forging a new kind of relationship and sometimes having tough conversations -- but it's totally worth it.
Raising a daughter to adulthood might be one of the most gratifying and challenging jobs in the world -- but as we all know, the task doesn't end with graduation. Some of the most complex, multifaceted parenting challenges come later in life. Why do moms rarely talk about these challenges once their daughters become adults? There are many support systems to guide us through the childhood phases -- why are there so few places to go for help navigating the mother-adult daughter relationship?
Many mothers and daughters are silently struggling to learn how to relate to each other later in life. It's time we build the research, resources and community to help us all better understand the intricate mother-adult daughter relationship. We hope you'll join us in the conversation.