I look to the East for my inspiration, because I believe understanding -- not indifference -- promotes peace.
I was reminded of this recently when I heard Italian journalist and writer Oriana Fallaci say, in an old TV interview, that we "don't need soldiers and armies but we must use the power of passion if we wish to combat hatred". Her rhetoric was aimed at the Muslim world, where she prophetically perceived, years before IS and the likes, misdirected passion aimed at creating hatred and wars.
While I don't agree with our respected Italian journalist on a lot of points, I do wholeheartedly take her words as gold when it comes to combating hatred. It's only a positive, passionate heart that will see this chaotic world as a grand possibility, a chance to discover something magical and wonderful rising from its metaphorical ashes. And at our most basic level, it's our senses that allow us to perceive the humanity around us -- the sights, sounds, touches and smells of the world.
It is on this last sense, the olfactory one, that I wish to concentrate for this blog. In particular, what comes from the East, the so-called Orient, a word that has now fallen on hard times, both literally and in a sense, figuratively. The Middle East has exploded in wars and revolutions, while the far East falls under tidal waves, hurricanes, monsoons and earthquakes. And yet, when we step into a store to purchase a new fragrance, or shop for perfume to gift our loved ones, we can't avoid the oils, scents and ingredients hailing from the East.
At the recent Pitti Fragranze, a grandiose scent event that takes place every year in Florence inside the historic Stazione Leopolda, I met, talked to, smelled and tried on everyone and everything that has to do with perfume. And I came away with a few notes of the Orient. From Oud, a prime ingredient in many luxury perfumes today, to distant memories of Morocco, Afghanistan and Iran, I found the Middle East within Florence.
Richard Lüscher Britos -- '32ºN 08ºE' Marrakech
Three childhood friends started the brand Richard Lüscher Britos out of their passion for cultural and biological diversity. Their fragrances are inspired by "terroirs", a French term typically used to describe the particularity of a wine, due to the environment where it is produced. Marvin, Lukas and Serena, hailing from Switzerland, vouch for their perfumes to be fair trade, with ingredients produced in a sustainable manner, transparency of origin and harvesting and a pure nature -- 75% of the components in Richard Lüscher Britos perfumes are organic.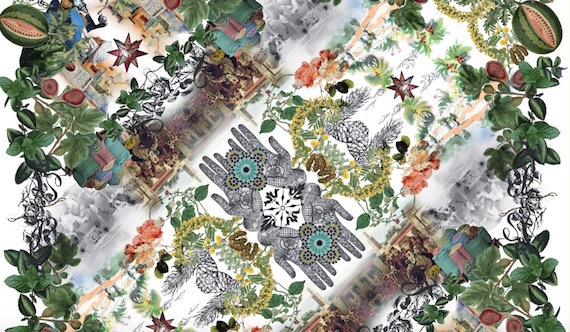 Now that said, a perfume has to smell great, inspire visions of faraway lands and distant memories to impress me. And their latest scent, the "Sixth Terroir" is inspired by the city of Marrakech and bears its coordinates "32ºN 08ºE". It's a magical journey down the alleys of the Red City, complete with Moroccan mint tea, honey sweet roses, hints of figs and oasis sands. Lukas Lüscher explained the thought process behind the scent:
Hospitality is sacred in the Arab world. People could not have survived in those harsh desert environments without helping each other. And it is out of the spirit of this sacred hospitality that our scent is created. If you find yourself in Marrakech, you would probably be invited by a kind host inside his home, where he would offer you a cup of sweet mint tea. It's a ritual of welcoming the guest, and igniting a conversation. After a leisurely tea, you would then probably venture out into the alleys of the city, and there you would smell the fragrance of spices.
On a personal note, this scent felt joyous and fresh, the mint tea and watermelon notes simple and sweet while the spices made it dance in a new sphere, a bit like what happens to Marrakech's main square, Jamaa el Fna, when it changes from the morning market to its evening open-air-restaurant and magical meeting place. I fell in love with "32ºN 08ºE" and I'm about to finish my sample... Which means a trip to the world wide web to figure out where to buy it.
Otta - An Iranian Renaissance in Florence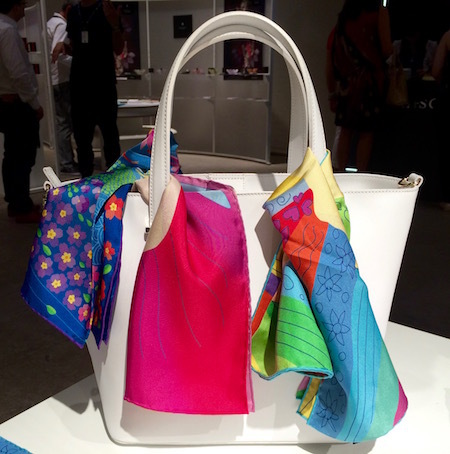 Iranian-born Roshanak Nouri is an artist, a wearable artist. Her beautiful, handmade in Italy silk scarves combine the beauty of a Persian garden with the skills of Florentine craftsmanship. Nouri believes in Renaissance, as a sort of personal word -- she felt reborn in the city of Florence which she now calls home -- and also a rebirth of style, of certain influences in a new environment. Which means that Persian garden gets reinvented with Florentine flowers, or the portrait of a woman is interpreted in a beautiful Iranian palette.
Even the name of the company is an ode to Florence, though of the city seen through classical eyes. In fact, during Dante's and Boccaccio's era, Otta was the ancient Italian way of saying "hour".
Otta scarves can be worn by men and women alike, and I personally loved the idea of wearing one as a men's pocket square, each day changing the colors according to the fold. Nouri's creation are also perfect tied on a handbag or, of course, worn as a traditional foulard. Whichever the way, Otta scarves feel like the perfect accessory for this trip down the Silk Road.
From Morocco to Afghanistan with Coquillete Paris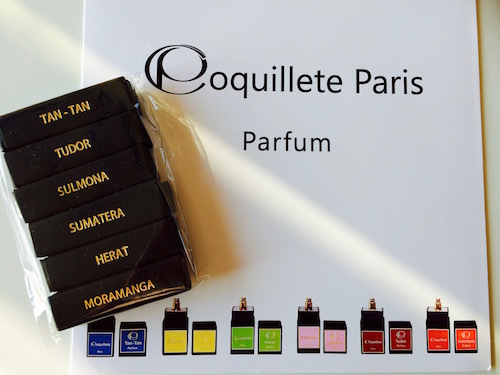 Nothing says successful perfume to me like having a few people stop you on the street to ask "What are you wearing?" I'll admit this happened a couple of times when I was wearing both Coquillete Paris' 'Herat', inspired by a poetry contest for young Afghan women, and 'Tan-Tan' which is named after the Moroccan desert city where the Venus of Tan-Tan, an ancient artifact which may be the first ever made outlining a woman's naked form, was found.
'Herat' is, almost tongue in cheek, an interpretation of Afghan hashish, the company claims, combining tobacco and jasmine notes with actual wood amber hashish, myrrh and vetiver. It smells like a beautiful jasmine incense, but more feminine and delicious than any words could describe. 'Tan-Tan' is instead a mystical blend inspired by pine and absinthe, interpreted by combining notes of Moroccan white fig, bergamot, jasmine, patchouli and sandalwood. It feels like a magical day in the desert, surrounded by a breeze from the ocean.
Only downside is I'm running out of the precious juice (as perfume insiders call actual liquid perfume) wrapped in those cute little black boxes that I received as samples... Again, a trip to the internet is needed!
The Leather of Andalusia by Rania J.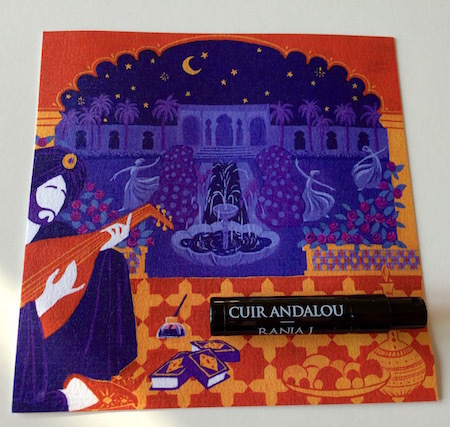 Talking about the Arab world cannot exist without talking about perfumers from the Middle East. Rania Jouaneh is one such perfumer and nose based in Paris, whose childhood traveling around the MENA region has given birth to a wonderful niche line of perfumers named after her -- Rania J. I stumbled upon two samples of her 'Cuir Andalou' -- Andalusian leather -- almost by accident in Florence -- a happy accident!
The fragrance is perfectly unisex, as most great perfumes are these days, irreverently smoky with a delicious flowery finish. It combines notes of leather, of course, pachouli, saffron, neroli, rose and violet, with a balance of oud, and vetiver -- notes that add that more masculine touch, and round it out to perfection. The packaging is also divine and made me think of both Rumi's poetry and Kahlil Gibran's The Prophet.
And, Jouaneh has the perfect quote on her website, one I deeply believe in when it comes to scent:
She envisages her perfume as a key accessory, one to be worn as jewelry for the skin.
Creating an India Scent Story with CRS TrendLAB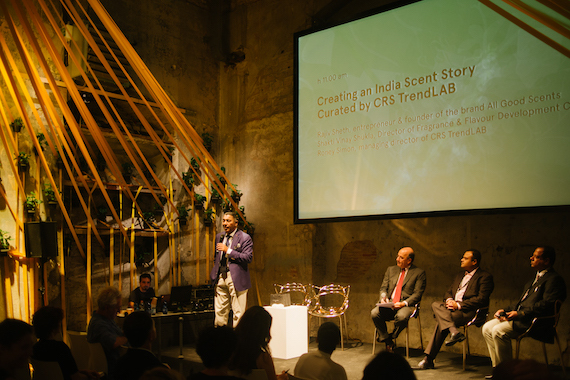 I'll admit, I've grown very fond of Annou Iyer and Roney Simon directors of CRS TrendLab, a marketing, consulting, imports and distribution company based both in Delhi, India and Torino, Italy. They share an enthusiasm for cross-cultural exchanges and sharing experiences that will open up the world to new opportunities. And they do it through fashion, and now fragrance.
This time around at Pitti Fragranze, CRS TrendLAB offered a great talk, an introduction to the world of scent in and from India, featuring Shakti Vinay Shukla, the Director of the prestigious Fragrance & Flavour Development Centre and Rajiv Sheth who is an Entrepreneur and Founder of the brand, All Good Scents, India's first and very unique online fragrance perfumery.
It's unbelievable to realize that India is an untapped market, when it comes to the distribution of international luxury perfume labels to the upwardly mobile middle class, which has boomed in the last ten years. But the market is also relatively unused for prime resources, and India is where Ayurveda comes from, after all, a practice founded on essential oils and natural Attar.
The earliest scents known to India were the healing scents practiced from the times of pre-Vedic and Vedic periods, introduced through Ayurveda. Ayurvedic remedies with the use of aromatic herbs and fragrant plants for well-being, hygiene, treatment of ailments, beauty and age-control is well known even today.

Ayurveda is India's traditional, natural system of medicine that has been practiced for more than 5,000 years. Ayur (Life) Veda (Knowledge or Science) provides an integrated approach to preventing and treating illness through lifestyle interventions and natural therapies.

The distillation of scents, perfumes, fragrant liquids and ointments is one area where the knowledge of chemistry was applied in India since ancient times.
My own journey into Indian fragrances started as soon as I set foot on the ground of the Chatrapati Shivaji International Airport in Bombay. There, wafting from all sides, was a mixture of engine oil, tar, burning tires and jasmine hair oil that will forever represent the perfume of India for me. It's a scent I chased around temples, through souvenir shops and finally found, in a completely different incarnation of rose oil, outside the main palace in Udaipur.
So, I personally can't wait for the first best-selling Indian perfume, one I hope will pay tribute to the cacophony of scents that represent this wondrous country!
"India Scent Story" photo by Vanni Bassetti, all images used with permission.
Related